Barn dinners, kitchen takeovers, pop-up events, seasonal restaurants—temporary food events come in many shapes and sizes with just as many monikers, but there is no denying the sharp increase in these ephemeral culinary experiences over the past few years.
"From a chef's perspective, when you own a restaurant, it's really difficult to step things up and evolve," says Rei Peraza, former chef/owner of Panzur in Tivoli. "Pop-up dinners allow you to be creative and have fun. They are, in essence, catered events that you are calling shots on—and maybe also an opportunity to manipulate or infiltrate the market."
In the Hudson Valley, many of the pop-up pioneers are familiar faces—iconic local chefs, like Peraza, who've shuttered their brick-and-mortar restaurants. "New World Home Cooking had reached a plateau," chef Ric Orlando says. "With all the new places that had opened, we decided that we had done all that we could do, and I wasn't making a ton of money."
Since closing the restaurant in April, Orlando has made multiple guest appearances on the culinary scene from a one-night buffet at Stockade Tavern to a sit-down tasting menu with wine pairings at event venue 7 Miles to Kingston. Pop-ups events emerged as a way to stay connected with his loyal customer base and make some cash on the side.
But they are also spreading the wealth. "The Hudson Valley is an interesting market," he says. "From Mother's Day till the last leaf falls, there are lots of people around, but after that, it becomes a dog-eat-dog market. Everyone is trying to create different forms of energy to draw people in."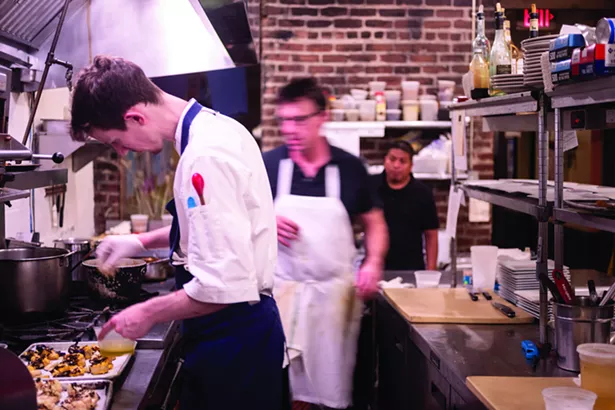 Orlando has been approached by a handful of local restaurants hoping to have him do a kitchen takeover this winter. "In some way, shape, or form, we have to get residents to get out of their houses to support restaurants during the colder months," Peraza says emphatically. "Otherwise restaurants just stay open trying to hemorrhage as little cash as possible." Pop-ups can provide a welcome financial boost to both parties.
But pop-up dinners are not necessarily cash cows. After Orlando worked a food booth at the Empire State Record Fair in the back of BSP Kingston in July, his wife figured that between prep time and onsite time, he had netted $9 an hour. "I'm not going to get rich doing it around here," he says. "But it is fun. And a little money in the pocket doesn't hurt."
For Orlando, it's about the quality of life that he gets from not owning a restaurant. "As a chef or an owner, when it's busy, you have to be hands-on. And when it slows down, you have to be hands-on, because you can't afford to pay people," he says. "This is the first time in 20 years that I'm not going to bed every Thursday or Friday night with spreadsheets dancing in my dreams."
That said, Orlando has been anything but idle—a podcast, a cookbook, a memoir, a documentary film series, a culinary tour series, and a line of CBD hot sauces are just some of the spinning plates. "I'm in my fifties now, and my time is best-spent working on the projects that I've been incubating in my brain," he says.
The Snowbird Model
From June through October, a handful of New York City's culinary elite set up shop in the Quarter Moon Café in Delhi for a hyperlocal seasonal restaurant. A collaboration between Bovina native Carver Farrell (former owner operator of The Pines and Willow), Joe Aponte, Stephanie Hirsch, and Katie Phelan,
Goldenrod
was an innovative vegetable-forward restaurant open for dinner Thursdays through Sundays.
"I think the temporariness of pop-ups is a pretty big draw, but I never really liked that aspect," Aponte says. "It's just like, 'Here it is. Then, poof! Done. It just vanishes." A seasonal restaurant offered the perfect solution—a culinary destination that offered consistency to its customers and creative freedom to its proprietors, without the ball-and-chain of a year-round restaurant.
With the season over, Aponte and Hirsch (spouses) will head back to their homebase in Los Angeles. After winter, he and Farrell will look for a new spot upstate to host their concept. "I was really fortunate at young age to work at a couple kitchen jobs that had an amazing schedule," Aponte says. "I got a taste for having a life and not working a 65-hour week. Now, I want to make my own schedule. When I'm in California, I want to sit on beach, go play golf, and smoke a cigar...Unless I open a full service restaurant."
That unless is always looming—an elusive, cryptic balance these pop-up chefs are always weighing in their minds of the trade-offs between free time, financial gain, improvisational liberty, and market demand.
An Intense, Indulgent Experience
Despite the seasonal fluctuations in the Hudson Valley market, Peraza is toying with opening another brick-and-mortar. In the meantime, since June, he has been focused on a monthly pop-up dining series at venues around the Hudson Valley. Past venues have included his home, The Inn at Ca'Mea in Hudson, and the banquet hall at Farmers & Chefs in Poughkeepsie.
These high-end dinners cost upwards of $200 per person and offer a 10- to 15-course tasting menu with drink pairings. Trained at the Culinary Institute of America, Peraza feels an itch to constantly innovate. The pop-ups provide an opportunity for him to hone his edge and continue exploring while he figures out his next project. "When you own a restaurant, you have a financial responsibility. You have customer base. You have box you are working within," he says. "So the pop-ups are selfish in a way."
Peraza's tasting menus offer a highly seasonal, progressive experience that is complemented by the custom dishware, curated decor, and drink selection. "To prompt an internal evolution, I had to make this about the process, about technique, about self-exploration, and food exploration," Peraza says. Without the overhead of a brick-and-mortar restaurant, the pop-ups allow Peraza to more value for the money. In a given evening, you might taste between eight and 15 wines.
"The point is to have a fun, intense, and indulgent experience. I love the pomp and circumstance of sitting down for a few hours and connecting to food as an experience," Peraza says. "In the end you get sustenance, but dining can bring you so much more pleasure and memories."
Biologist by Day
For Stephen Bewsher of the Hudson Valley Kitchen Club (HVKC), this idea of experience-driven dining gets to the heart of it. "I'm not a huge fan of going out," he says. "It gets old after a while; I would rather cook at home. But if I hear about something different happening, I would be interested."
Though he worked in cooking and catering through high school, college, and the Navy, Bewsher does not consider himself a chef (his day job is in a biology lab.) "I like to cook," he says. "But what I like most is bringing people together." The premise of his nascent business is to pick an organizing concept—whether that be a guest chef, album release party, or game night—choose a venue, and pool local resources to create a meal around it. "The sky's the limit with this sort of thing," he says.
HVKC's inaugural event was a pop-up dinner at Miss Lucy's Kitchen in Saugerties, featuring Bewsher's friend Eoin O'Donoghue of Marea restaurant in New York (and formerly of Morimoto and Daniel). Despite the impressive CV, O'Donoghue is still a relatively junior member in his kitchen, meaning he largely runs a station without many opportunities to design dishes.

"I challenged him by saying, 'I don't want to see anything on menu that you can get at a restaurant across the street. I'm giving you opportunity to be artistic and crazy,'" Bewsher says. "I feel good about it. People had things in front of them that they could only get if they went into Manhattan. And hopefully they left with a few new friends.
The biologist-by-day, event-planner-by-night is using his new platform to as a testing ground for the next phase of his life. "I look at stats and numbers all day long," Bewsher says. "Hopefully, whatever I do in the next chapter will give me the satisfaction I'm looking for."
Despite the widely divergent manifestations that pop-up events take, it's clear that a key function they provide is a safe sandbox for exploratory play. And whether these culinary luminaries move on to new cities or states, pivot careers, or stay in the Hudson Valley and open full-service restaurants, their wayfinding journey is a delicious experience for all of us bystanders, so play on chefs.

Upcoming Pop-Up Dinners
On November 10, Ric Orlando will host a New World feast at 7MilestoKingston featuring a four-course meal of indigenous dishes from the Americas and accompanying cocktails. $145. 7milestokingston.com/events
Also on November 10, the Hudson Valley Kitchen Club will host Asian Night Out at Oriole 9 in Woodstock. This pop-up event will feature Asian bites and cocktails by chef Leon Biscoe and proprietor Jessica Anna, along with a Mahjong game night. Facebook.com/hudsonvalleykitchenclub

On November 17, Rei Peraza will host an Autumn Tasting Menu event at The Inn at Ca'Mea in Hudson. This hyper-seasonal tasting menu is produced in collaboration with local farmers and foragers and includes beverage pairings. Peraza will host a Winter Tasting Menu event on December 15. $250. Exploretock.com/chefreiperaza/