So often history relegates the partners of famed artists to the one-dimensional role of muse or, at best, private critic. For decades, such was the public story Lee Krasner, whose own artistic career was eclipsed by the success of her husband, Jackson Pollock. Only recently has the extent of her influence on Pollock become clear, as her own body of abstract expressionist paintings and collage works has gained notoriety.
Acclaimed French playwright Fabrice Melquiot's latest play, "Pollock," places the pair on level footing in a charged drama about the combative love, mutual inspiration, and groundbreaking art created by this pioneering couple during their 11-year marriage.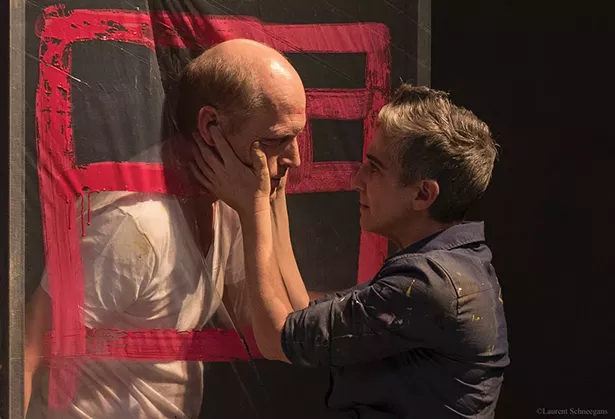 "Pollock" brings to life the tense and formative marriage between Jackson Pollock and fellow artist Lee Krasner.
The play, which premiered in New York last year to critical acclaim, makes its Hudson Valley debut in the state-of-the-art black-box theater at PS21 in Chatham, October 4-6. "Lee Krasner was an incredibly important painter overshadowed by Pollock's fame, and this play speaks equally to both artists," says Elena Siyanko, Executive Director at PS21. Through tight dialogue and weighted silences, this two-actor production weaves a complex emotional tapestry depicting the influence each artist had on the other's work and life. French director Paul Desveaux commissioned Melquiot to write the play and translated it himself. "You don't see a lot of contemporary theater in America written in another language and translated," Siyanko says.
Because "Pollock" focuses on the human condition more than the art itself, familiarity with the methods or work of the two artists isn't unnecessary; rather, the art is secondary to the human story. As actors Jim Fletcher (Pollock) and Michelle Stern (Krasner) play out nonlinear, true life-inspired scenes of frustration, brilliance, madness, and creation over 75 minutes, the audience gains insight into Pollock's genius through his relationship with Krasner. "When I commissioned the play, I wanted to put the emphasis on Lee Krasner, as history had slightly forgotten about her," says Desveaux, through a translator. "I don't think she was a muse for Pollock. He doesn't paint her, never sketches her. She was a partner, a collaborator who pushed him."
The actors use paint on stage, but not in historically accurate methods. Desveaux says it's meant to be symbolic. "I asked Melquiot to work on a text that would not be a biopic but an impressionist portrait of the couple," he says. "I imagined a studio space where the actors would be able to leave marks of their movements with paint."
The intimate 99-seat theater at PS21 is located on 80 acres of orchards and meadows in Columbia County, with views of the Catskills and an animal sanctuary on the premises. Though the play is not intended for children, during the October 6 performance, kids can participate in a collage-making workshop inspired by Krasner's techniques, while learning more about the artist.
"Krasner worked on a new definition of the contemporary art form based on Pollock's experience," Desveaux says. "We should not forget that Krasner was first recognized by Piet Mondrian and the European School before Pollock. She is an artist who devoted her life to another artist."