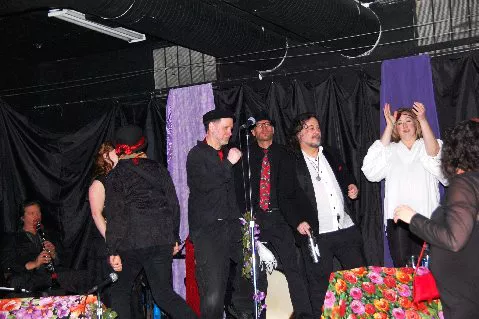 POETRY BROTHEL
Saturday, August 3, 8pm
at New World Home Cooking
1411 Rt 212, Saugerties, NY
Maybe you've never heard of a Poetry Brothel before, but it is a growing worldwide phenomenon. Started by a group of Poets in NY, they came up with a formula to present live poetry in a performance venue. Some groups formed in Europe as well, and it is spreading across both Continents.
I found out about it when I saw a documentary about the Poetry Brothel of Barcelona. I was intrigued by the atmosphere, playing with the forbidden but purveying something all these people loved – poetry. .
Ever since being bored by the poetry read by my 3rd grade teacher in a lifeless monotone, Poetry has slowly insinuated itself to me. Then I ran into some performance poets in NYC, sassy, creative, passionate, bending the lines of what I thought poetry was. I began to go to their nocturnal haunts. These gatherings to spew life's pains & passions were exciting, and very alive. I actually got to meet Allan Ginsberg and see him perform, shattering forever the memories of staid, formal poetry, I was hooked. .
Poetry Brothel has always been performed in major metropolitan cities. Until now. Ulster County has the arts community to dig it, after a great bash in Kingston, we now come to New World in Saugerties. .
What you will see if you come are a number of things. The first is good poetry, performance poetry, lively, at times provocative, funny, and deep. It will be given by poets in costume and in character. They are a trope that will entertain and tantalize you. Our band – Caprice Rouge will play all night bringing you the atmospheric Klezmer Music (that has always been party music) to spice it up further. It will frame the poetry and at times join it. Festivities will also include a belly dancer and a juggling team and some hot singers. Other surprises lurk too. .
And perhaps the purest poetry experience of all is the Brothel Part. The performers are part of a poetry brothel, showing their wares. And if you like the work of a poet, they can be had – for the incredible price of $3. For your three spot, you will be taken off to the side of the room, and this poet will read to you, alone. Ya gotta come…
Visit our Facebook page
here
!