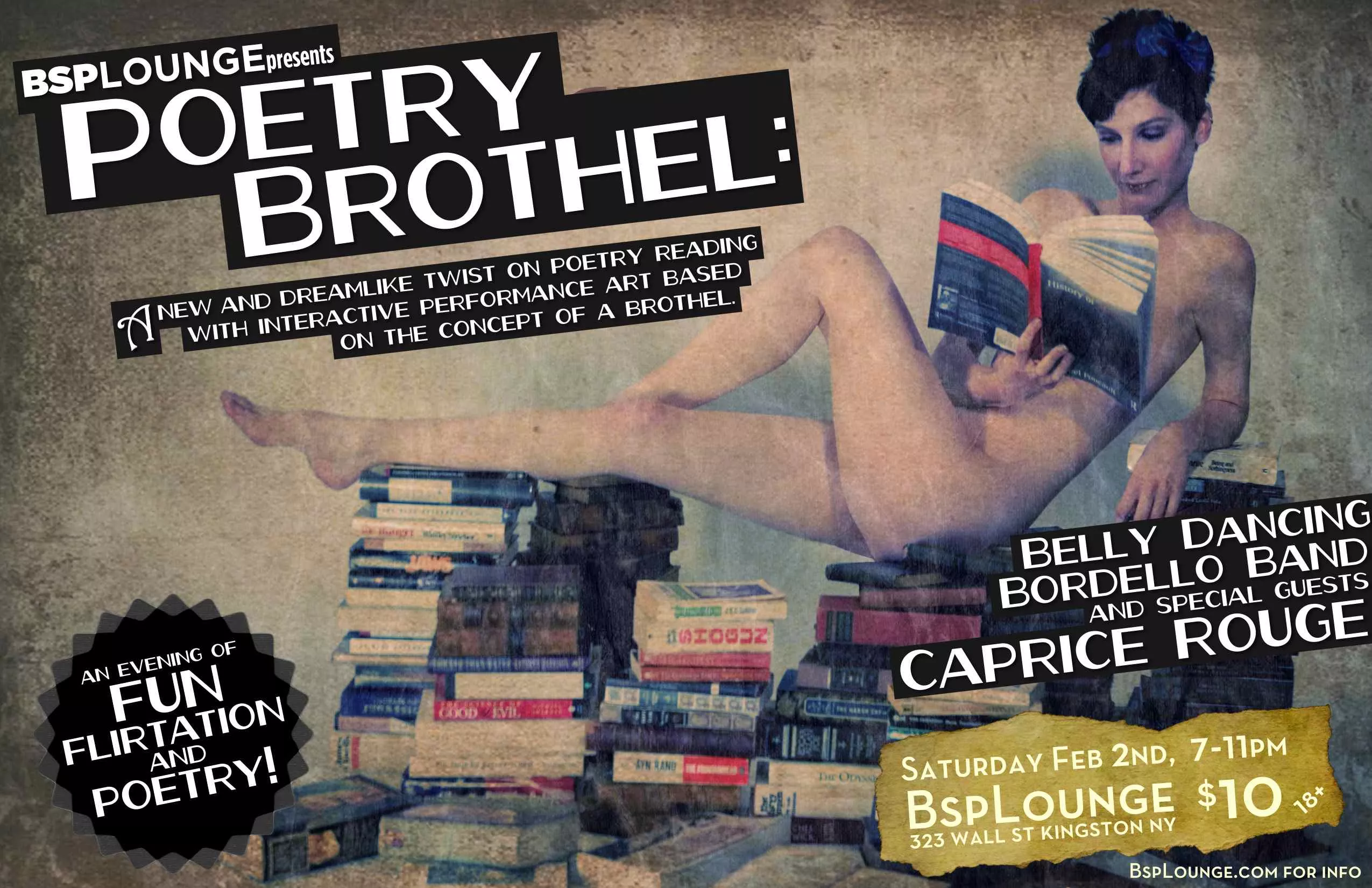 Join us for a night of Fun, Flirtation, and Poetry!
7-11pm, Saturday February 2, 2013
$10 tickets - Click
here
to purchase
18+ || Live Bordello Band + Belly Dancing + Caprice Rouge!
Maybe you've never heard of a Poetry Brothel before, but it is a growing phenomenon. Started by a group of Poets in NY, they came up with a formula to present
live poetry
in a performance venue.
I found out about it when I saw a documentary about the Poetry Brothel of Barcelona. I was intrigued by the atmosphere, playing with the forbidden but purveying something all these people loved – poetry.
Ever since being bored by the poetry read by my 3rd grade teacher in a lifeless monotone, I've had a journey with the muse of myself and others. Years later I ran into some performance poets, sassy, creative, passionate, bending the lines of what I thought poetry was. These gatherings to spew life's pains & passions were exciting, and very alive. Then I actually got to meet Allan Ginsberg and see him perform, shattering forever the memories of staid, formal poetry, I was hooked.
Poetry Brothel is the next step in that evolution. It has spread through Europe and the US with rumblings in South America. But never before has it come to anything other than a major metropolitan city. Until now. Kingston and Ulster County have the arts community to dig it, and we are kicking off at
BSP
– a pulsing hub of the arts in Kingston.
What you will see if you come are a number of things. The first is
good poetry
, performance poetry, lively, at times provocative, funny, and deep. It will be given by poets in character and in costume as mythic word slingers, and characters from the imagination. They will be accompanied by live music that will frame the poetry and at times join it. Festivities will also include a belly dancer and a juggling team with just one juggler. And perhaps the purest poetry experience of all is the Brothel Part. The performers are part of a poetry brothel, showing their wares. And if you like the work of a poet, they can be had–for the incredible price of $3. For your threespot, you will be taken off to the side of the room, and this poet will read to you, alone.
Come join us of the Inaugural Poetry Brothel. Performers include poet/author Eliz Cunningham, local theater luminary Cait Johnson, poet Brett Bevell, storyteller Maura McMahon O'Meara ,poet and musician Lorah Yaccarino and music by Caprice Rouge. Check out the Facebook Event Page
Here
!
Get directions and more details
here
!