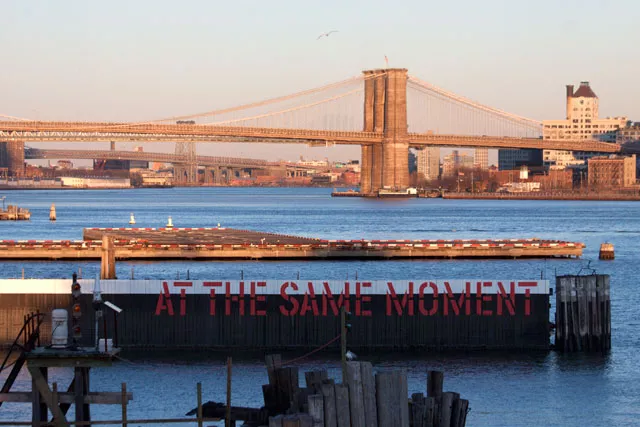 Eric Francis Coppolino
The Brooklyn Bridge.
How did you come out of the three-fer series of eclipses that ended last Friday night? To recap, we just lived through a partial eclipse of the Moon in Scorpio (a Full Moon) on April 25, an annular eclipse of the Sun on May 9 (a New Moon), and a penumbral eclipse of the Moon (a Full Moon) in Sagittarius on May 25. Usually eclipses come in pairs; three is a substantial increase in the energy.
We have all been put through the paces. The proverbial poo hit the turbine with the Boston Marathon bombing on April 15 and the energy has barely relented since. The closest we've come was Friday's Full Moon in Sagittarius passing by. That may have felt like climbing a high mountain, taking a look around and then falling asleep next to your backpack for six hours.
If you're feeling stirred up, unsettled, or restless, I would not be surprised. This kind of astrology can provoke anxiety and depression. The news that's been coming along with the astrology can have the same effect. I would offer the reminder that this is not an easy time in history to be alive. It's lovely that most of us have houses that keep out the rain, and enough food to eat. The spiritual and psychological strain at this time in history is unlike any other, and in truth it's more than most people can bear.
One of the most typical approaches is denial. There's never been a more opportune moment to practice blissful ignorance as a way of life—that is, until something deeper calls you.
That may be happening soon, if it's not happening now. This week, the cluster of planets that's been following the Sun all year begins to enter Cancer. There's a lot of energy in that first degree of Cancer (where the Sun is when summer begins, which happens in a few weeks). Friday, though, Mercury enters Cancer, where it will be into early August. That's in part due to a Mercury retrograde that begins at the end of June, though we're a bit ahead of ourselves on that topic.
In the next few weeks, Venus, the Sun and Jupiter enter Cancer. There's a lot going on in the water signs this year, and what happens this month is central to that. Saturn is in Scorpio and Chiron and Neptune are in Pisces. All these planets in Cancer will complete a grand trine in the water signs. This is rare and beautiful astrology. It'll be excellent for anyone with a strong water sign signature in their chart (Sun, Moon, rising or any strong planet in water signs).
Others may need to do some adjusting to a world where feelings really count. I'll have plenty more to say about this though here's what I suggest straight away. Do what you can now to get yourself into an emotional place where you feel good. I don't mean where you're successful or conquering the world, I just mean feeling grounded, nourished and like you can handle your life. Get clear with the people around you and resolve dramas before they happen.
Remember that water signs imply that things may make less sense on the rational wavelength and more sense on the intuitive wavelength.
Once that grand water trine really takes hold in late June, with Jupiter's arrival (and we'll get our first taste of it this weekend), emotional patterns will tend to increase in momentum as if in a vortex. Therefore, make corrections as soon as you see something that needs to be addressed. Keep clarity with people. Put crazymakers as far away from the action as possible, which means don't invite them into your house.
The world and our society are in a depleted, stressed out situation right now, and many people are feeling this. Many people are feeling this as anxiety, depression or exhaustion. Now is the time to get into the mode of slowing down a little and taking better care of yourself. Eat real food. Get actual rest. Get near some water. Don't forget to drink a little of it, too.
Interesting blog posts continue at Planet Waves as do lots of interesting new podcasts on Planet Waves FM.