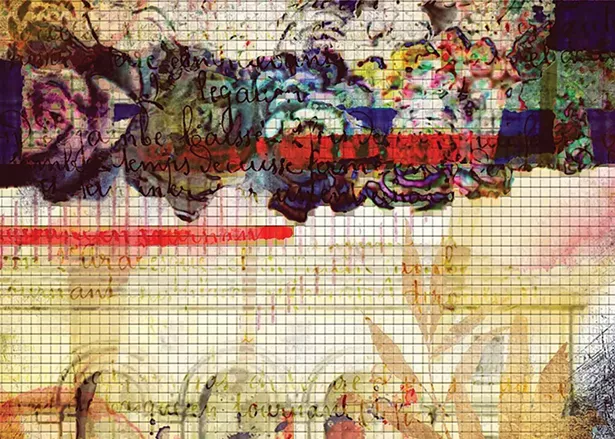 Flowers of the Republic, a watercolor mixed media collage by Christine Yates.
On Valentine's Day, I was eagerly waiting for the White House press briefing to begin. It was delayed several times, hour by hour, and finally the 4pm scheduled event was canceled.
That day's press briefing would have focused on a newly revealed debacle in the White House, which started as the revelation that Rob Porter, a top staff member accused of beating two of his wives, had been denied security clearance, but was still handling the president's most highly classified documents.
The White House was claiming that the security clearance process was still in motion, though the FBI director, a Trump appointee, said in a congressional hearing earlier that week that the security clearance report had been turned over last July.
Security clearance is an elaborate, detailed (but routine) character check, going back to one's teenage years, to make sure that people who work at the top levels of governments are qualified to be handling the nation's most sensitive secrets—such as the names of American spies working in the Kremlin, pending military plans, and anti-terrorist strategies.
This has been turned into a scandal over the White House hiring a wife-beater (who according to press reports was also involved romantically with Hope Hicks, one of the president's closest advisors), and the president's position on domestic violence (he's opposed to it, thank goodness).
Yet the actual theme of this incident is how many top White House officials don't have security clearance or, said another way, have "interim clearance," which as I understand it means they were denied, but are still doing their jobs. According to current press reports, there are 47 who report to the president on "interim" clearance (meaning no clearance but we'll let it slide), more than one year into his administration.
Why exactly is that? Is this about many people around the president having dodgy, potentially criminal elements in their past? That would fit the picture, wouldn't it? One focus here is Jared Kushner, the president's son-in-law, who is one of those "interim" clearance people. Could this involve his father, Charles Kushner, who was convicted of 18 federal counts of illegal campaign contributions, tax evasion, and witness tampering? (Tampering is putting it mildly—it was more like vicious intimidation.)
The wider context is that the president, his campaign, and his administration are being investigated by federal prosecutors in many matters related to involvement with Russia in the tipping of the 2016 election. As of late 2016, there was no doubt, according to US intelligence agencies, that this actually occurred.
Campaign and administration officials have denied, again and again, contact with Russians, and were found, again and again, to have had repeated meetings and communications. What's known as the "Russia probe" is piecing together exactly what happened. Was there any cooperation between the Trump campaign and the Kremlin?
While this is happening, many people at the top echelon of the Trump administration are not properly qualified to be handling top-secret documents, yet they may have ties to the Russians. This matters for every reason, but especially because, once again, all US intelligence agencies say they believe that Russia is currently messing with the 2018 congressional election. Under better conditions, that election might tip the balance of Congress and make it possible for there to be an impeachment of an obscenely corrupt and incompetent president.
And hey, loads of people think he's doing a great job, and lots of others are rooting for him because he's not part of the crooked Clinton clan or the Democratic National Committee.
The Mother of All Freedoms
As it turned out, the press briefing was canceled due to the Valentine's Day Massacre, the mass shooting in Parkland, Florida, where a former student has been charged with killing 17 students with an AR-15 rifle.
This one seems like the same old story: mentally disturbed, gun-obsessed teenager, posting all kinds of disturbing messages to Instagram, who wanted to be a professional school shooter, does just that. Everybody dropped the ball: Rhe school expelled him instead of referring him for a psychological evaluation; the FBI couldn't figure out who he was (for real?)—and the other students were expecting it to happen.
So, all at once, the media mind—the collective mind described by the content of TV and social media—transforms from a serious national security issue to a mass shooting. This was the first widely reported school shooting of 2018, though it was the 18th in the first six weeks of the year.