Driving through a residential neighborhood in Poughkeepsie you come upon a sign that says "Farm Fresh Beer" with an arrow. Turning down a gravel driveway, you arrive at
Plan Bee Farm Brewery
, one of the most innovative breweries not just in the Hudson Valley, but quite possibly the US.
Situated on a 25-acre farm, the microbrewery offers a variety of complex and critically acclaimed sour farmhouse ales that are made exclusively with New York ingredients, from hops to malt to fruits and yeast cultivated at the farm itself. This fully integrated process distills a taste of place that is pure and a farm atmosphere for visitors that is literally buzzing with energy.
"We cultivate our yeast from our raw honey and honeycomb from our beehives located on the farm," say Emily Watson who co-owns the brewery with her husband Evan Watson. "The bees forage in less than a two-mile radius so we know they are capturing wild yeast and other microflora right on our farm." The couple has planted buckwheat and white clover and the property has acres of crabapple trees, wild flowers, and goldenrod, offering the bees plenty of nectar sources to choose. "This means our beers have a terroir that is completely unique to our farm and could not be replicated," Emily explains.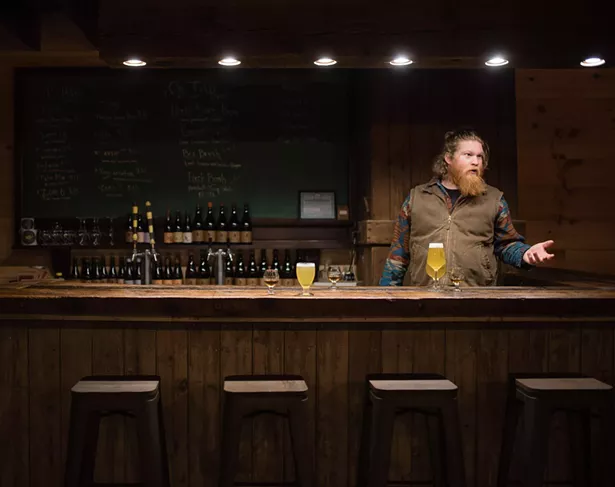 Derek Dellinger
Evan Watson in the new Plan Bee taproom.
The brewery has been selling its beers since 2013 but became a lot more visitor-friendly on August 3 when it opened its indoor taproom. Previously the brewery had operated an outdoor, tented taproom that was only open seasonally. The "new" taproom is in the property's original barn, which was built sometime in the 1830s. This historic
farm structure was extensively renovated over the past three years
, but maintains its charming feeling of antiquity. "Most of the interior wood is original and was sourced from the woods on the farm," Emily shares.
An open barn door beckons visitors inside, where you find a beer lover's paradise in a low-key pastoral-speakeasy atmosphere. In addition to beer, there is kettle korn and beef jerky for sale. A large window between the brewery and taproom allows you to see the wild beer fermenting in oak vats, and if you're lucky, a glimpse of Oscar, the brewery cat. "Plan Bee isn't just about the beer," Emily says. "It is about the experience of coming to the farm and seeing the grain in the fields, the bees buzzing around the hives, the fruits growing in our raised beds, and the smell of the barn which all contribute to the taste of our beers."
That said, the beer itself is amazing. The Amour, fermented from local strawberries, offered a refreshing jolt of ripe strawberry goodness, while a cask conditioned Blueberry, made with local berries and farm-grown lemon and lime basil, was as complex and intriguing a beer as one can find, with its pleasant wild ale funk mingling with a subtle blueberry tartness. Finally, the Pickle, one of the most unusual beers I've ever had, has a refreshing taste that is shockingly reminiscent of pickle juice, and somehow, for this beer, that's a great thing.
These beers owe much of their flavor to the wild yeasts used in their creation. "We are the yeast shepherds — the yeast does the work of building flavor," Emily says. "We just try to keep the yeast happy and wait for it to taste just right in its development. Our beers are alive and instead of trying to manipulate wort with a mono-strand, we encourage lots of life to keep it interesting. That is why we coolship-cool all our beers, open ferment in oak, and barrel-age many of our styles."
Evan and Emily met in college in Ohio and moved to New York City after they graduated. Their "Plan A" was for Evan, a guitar player and blues roots singer-songwriter, to pursue a career in music. He did that for a time, signing a record deal and touring the country.
"We enjoyed that lifestyle for over five years but wanted more," Emily says. "So we had to come up with a Plan B. We formulated the idea for a 100-percent sustainable, all New York-ingredient brewery."
Today, sourcing New York brewing ingredients has become easier than it was when the Watsons started five years ago, as more malt and hops have become available in the state. But the process of making beer remains as challenging and rewarding as ever.
"It is a lot of work to make beer the way we do, but for us it is a lifestyle," Emily says. "Our brewery is just an extension of us and how we choose to live our life. We want people to come to the farm to be a part of our world, to see what we have created, to be inspired or to find a little peace. We make 500 barrels a year and we have no plan of getting any bigger. As a family farm and brewery, we hope to pass this on to our children and stay a part of the community for generations to come." Cheers to that.
Plan Bee Farm Brewery
115 Underhill Rd, Poughkeepsie, NY 12603
(765) 307-8589
planbeefarmbrewery.com
Taproom hours: Fri-Sun, 12-9pm