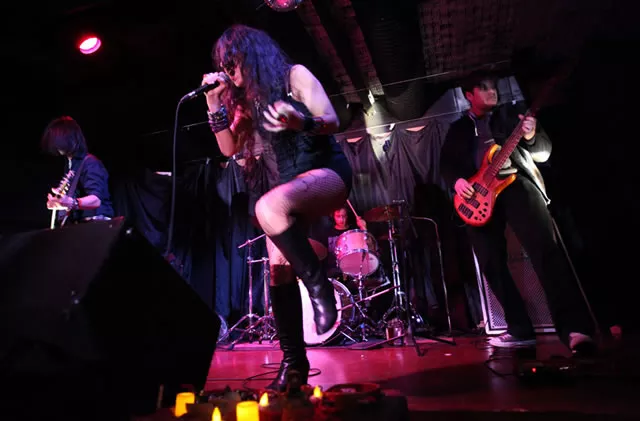 Eric Francis Coppolino
Vajra performs at Backstage Studio Productions this past Saturday night
The Pisces Full Moon happened earlier this morning, though you may feel like your emotional tides are still in flux. For many, this has been a trying week. The Full Moon can resolve deadlocks, and in Pisces, that's saying see if you can take a spiritual approach to resolving deadlocks. Spiritual means loving, friendly and communicative—but also honest.
This is emphasized with the Moon and Sun both in aspect to the Galactic Core, the heart of our galaxy. It's also emphasized by the state of the world, which seems to rain on us with one grief and stress after the next. Even if you're not someone who watches CNN around the clock, you may still be feeling it—and world events emerge from the same astrology that influences us personally.
We're also in the last official days of summer here in the Northern Hemisphere. It's a time of year when the pace of life picks up, the days are noticeably shorter and we start to live in a more compressed phase of time.
Libra is part of the cardinal cross, along with Aries, Cancer and Capricorn. The first degree of Libra is an extension of the Aries Point (the first degree of Aries)—where the personal and political intersect; that is a fact of life in our era of history. This can be overwhelming, it can be interesting and it can feel like a call to action.
Aries and Capricorn are hosting Uranus and Pluto, respectively, and they are at a 90-degree angle to each other. The Uranus-Pluto square is the era-defining astrological event powering much of the upheaval and urge for change we are witnessing (and feeling within us).
Any time a major planet enters one of the cardinal signs while Uranus and Pluto are making their square, it focuses and makes tangible the combination evolutionary/revolutionary energies these planets represent. The Occupy movement, whose two-year anniversary was Tuesday, was a manifestation of this astrology.
The encampments may have been forced out of Zuccotti Park ages ago, but many of the ideals and some genuine social-justice action have had a lasting impact. Mayors in numerous US cities, such as in Richmond, California, are now standing up for underwater homeowners. Nobody is going to forget what "the 1%" and "the 99%" stand for anytime soon.
Now, the Sun is entering the Uranus-Pluto configuration via Libra. Libra is an air sign, but one with the initiative-taking mojo of a cardinal sign, and with a mission: justice, balance and beauty (Libra is ruled by Venus—which means that relationships also come into focus now).
Between today and the equinox, Mercury (already in mid-Libra) squares Jupiter in Cancer (exact Thursday night at 10:20 pm). This is often about exaggeration—in this case, the influence of emotions. Notice if your mind seems to jump from specifics to the big picture, especially if you find yourself overestimating or overstating things without knowing all the details. Yes, optimism is a valuable trait. So is being able to follow through with what you promise. Mercury square Jupiter presents us with that dilemma.
As for the Moon, it enters Aries just before 1:00 pm EDT today—where it will make many aspects to intense planets. Moon in Aries is a clue to watch for any impulsiveness or triggers to your temper. This is especially true as the Moon conjoins Uranus (always full of surprises) tomorrow morning.
On Saturday the Moon ingresses Taurus, putting it in another sign ruled by Venus, the day before the equinox. The Moon is also exalted in Taurus (meaning it has a special affinity for that sign), bringing some additional, steady grounding to emotions that may have been on edge this week. This will likely help smooth out any of the edginess that sometimes accompanies the Sun in its last degree of a sign, especially a sign ending a season.
Once the Moon and Sun are harmonized by their shared Venus rulership, see if you can't start the workweek Monday feeling a little more beautiful and balanced—and ready to engage with the world.
I've covered the Full Moon in my most recent edition of Planet Waves FM. On that page you will also see links to my coverage of the Navy Yard shooting incident and its astrology.
Additional research and writing: Amanda Painter at Planet Waves.