Images courtesy of Pinkwater Gallery
Pinkwater Gallery features artwork and furnishings in a home-style atmosphere.
<!————StartFragment————>
The leaves are burnished, a chill teases the breeze, and the streets of Kingston are buzzing with activity. The city's coming alive for the season, and Anne Sanger, owner of Pinkwater Gallery, is here for it.
"I'm excited about Uptown Kingston's resurgence," Sanger says, as she prepares for a full slate of autumn events that will welcome visitors and locals to the city, including the O+ Festival from October 8-10. "People are excited to be out and about."


And for something new this year, Pinkwater Gallery will be participating in the Upstate Vintage Antique Show in Stone Ridge on October 23 and donating the proceeds from the sale of an artwork offered exclusively at the show to benefit Girls, Inc. in Kingston<!—EndFragment—>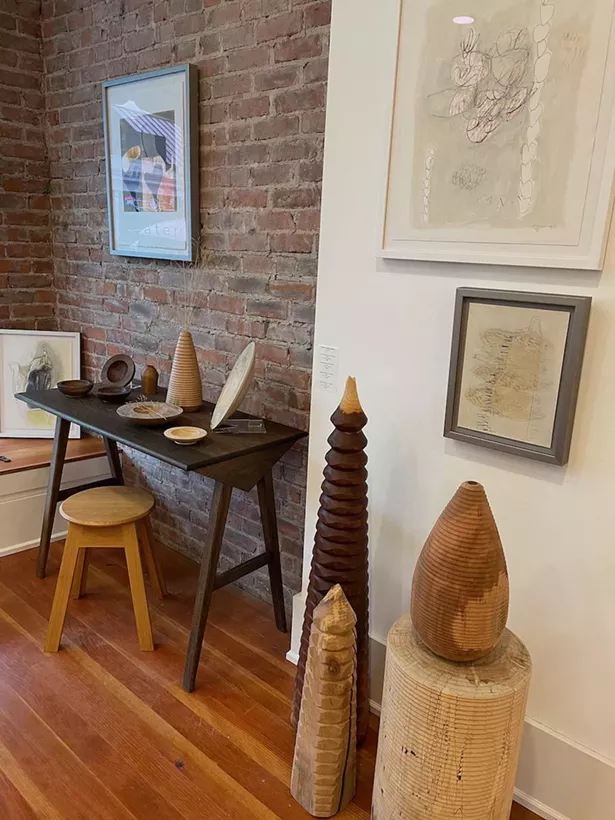 Images courtesy of Pinkwater Gallery
The gallery, which Sanger opened on North Front Street in 2019, is a glorious mix of furnishings, jewelry, and artwork that is as "at home" in your home as they are within the gallery's walls, and Sanger says that's purposeful.
"Art is for everyone," she says. "It can be intimidating, but it really shouldn't be. We should be surrounded by beautiful things."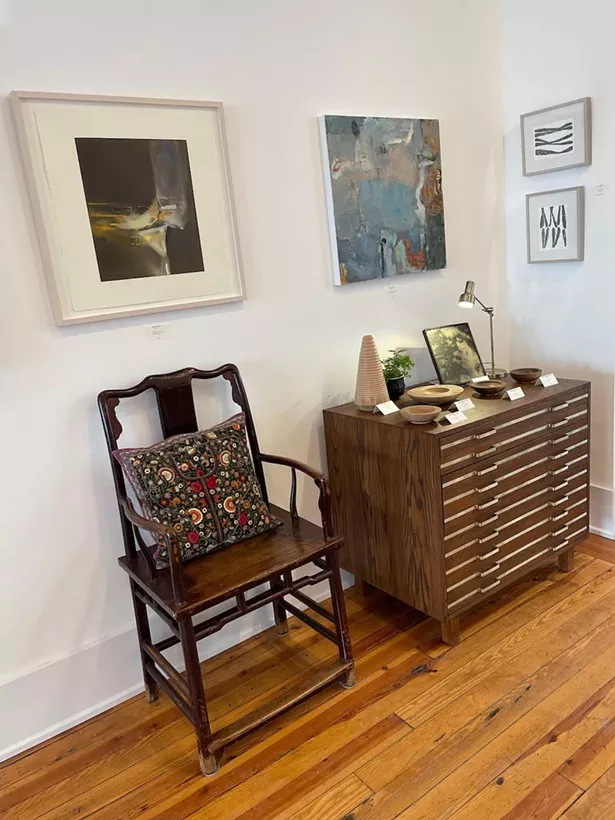 Images courtesy of Pinkwater Gallery
To that end, Pinkwater Gallery feels like you've entered your best friend's living room. A live-edge, hairpin-leg table houses framed art by mixed-media artist Wendy Stefanelli, while Sanger's beagle Vladimir (Nabokov, not Putin, she points out) lounges on a fluffy rug underneath. You're encouraged to linger, soaking in the varied works that line the gallery's walls.

And it's definitely diverse: from abstract oils and acrylics to fiber arts and encaustic photography, there's a flavor for every taste. Expanding on that theme, the price points vary, too—you can find both high-end and more affordable furniture and artwork here.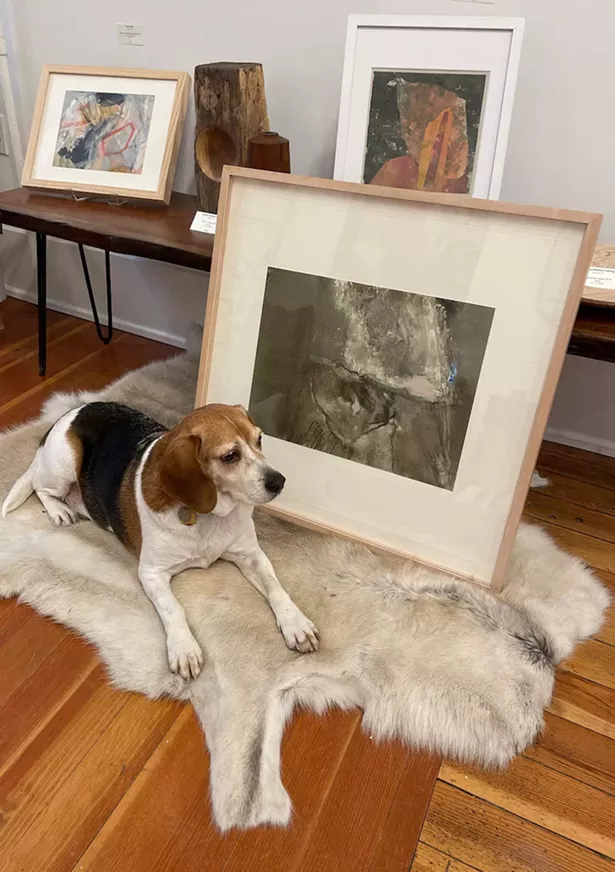 Images courtesy of Pinkwater Gallery
Vladimir the beagle adds to Pinkwater Gallery's homey ambience.
Rustic wooden vessels and vases by Claudio Sebastian Stalling perch on pedestals, contrasting Meredith Rosiér's moody abstracts nearby. Most of the artists represented at Pinkwater call the Hudson Valley their home. The objective, Sanger says, is to get local art into people's homes: "This is a great way to support the community and enlighten everyone about the talent that's right here in the Catskills."
Images courtesy of Pinkwater Gallery
<!—StartFragment—>And if you're unsure about making a big purchase without test driving it, Sanger lends artwork to customers residing within 25 miles of Kingston for a few days, if needed, to make sure they love it.
"My philosophy is that the point of art is to live with it and enjoy it, every damn day."<!—EndFragment—>