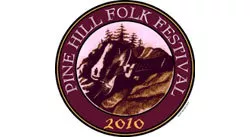 A full day of music and fun will be served up on Saturday, October 2nd 2010 at the Pine Hill Folk Festival. Concerts, song circles, locally made food, artists & artisans, storytelling, demonstrations, and children's activities will transform the Pine Hill Community Center into a vibrant village with a Catskills flavor. The grand finale of the day will be a concert by Mike & Ruthy and The Saturday Night Bluegrass Band, followed by a lively contra dance with a hot band and caller. Truly something to celebrate is the fact that all this amazing talent and expertise comes from right here in the Catskills.  See www.pinehillcommunitycenter.org for details and directions or call 845-254-5469.
Starting with a "World Music of the Catskills" performance/workshop at 11:00am, the day progresses with storytelling, craft and skill demonstrations, performances, and special programs for young people. Locally made food and crafts will be available throughout the day. An afternoon concert from 4:00-6:00pm will feature well known local performers James Krueger, Elly Wininger, and Whitman and Pantell. The evening concert which begins at 7:30, will open with Mike & Ruthy: "Gorgeous acoustic music which exceeds a genre such as folk or singer/songwriter. Two perfectly connected musicians who belong to the absolute top," followed by The Saturday Night Bluegrass Band, a troupe of veteran players who have been performing individually in the area for more than 30 years. The band consists of Brian Hollander, guitar, dobro, vocals; Tim Kapeluck, mandolin, vocals; Geoff Harden, bass, vocals; Guy 'Fooch' Fischetti, fiddle; and Bill Keith on banjo. They play bluegrass and acoustic music that is sometimes traditional, often eclectic, and sung with sweet three and four part harmonies. Through their weekly performances in Woodstock and shows throughout the region they have attracted a large following. But don't leave yet! The fun continues after the concert as the floor is cleared for a community contra dance with plenty of instruction for the uninitiated. Providing dance music will be Rosie Newton, Stephanie Jenkins and Ed Lowman, with the sparkling Eric Hollman as caller.
This is an indoor rain-or-shine event, a chance to spend the day with friends and neighbors in a spontaneous village where all things Catskills come together. Give the big box malls a rest, and experience a unique array of offerings from our home-grown talent. This project is made possible (in part) through a grant from the Dutchess County Arts Council, administrator of public funds through the New York State Council on the Arts' Decentralization Program.