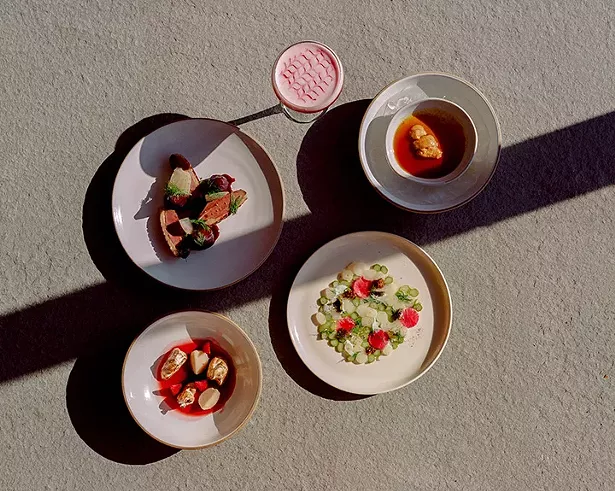 Sean Davidson
Some of what's being served at Piaule, clockwise from top: Vintner's Specter (a riff on a New York sour using red wine and wild blueberry syrup); sea urchin in miso broth; asparagus carpaccio with mustard seed; strawberry consommé, toasted meringue, preserved green strawberries and rhubarb curd; roasted duck breast with beets.
When you're served an amuse-bouche shortly after being seated, you know you're in fine dining territory. This small dish, offered as a gift from the kitchen, sets the tone and expectations for the experience to come, announcing that you're not in Kansas anymore. (Apologies to the Restaurant Association of Topeka.)

The evening I ate at Piaule in early December, our server brought out tempura-battered and fried delicata squash, the two rings placed seemingly haphazardly atop a puddle of maple cream in an irregularly glazed ceramic bowl. The ethereal batter was grounded by the earthiness of the squash; the cream finish a sweet, round note—this is the flavor profile all mediocre sushi joint vegetable tempura wants to be when it grows up. It's a heavy lift to make food that tastes this good look this effortless. Welcome to Piaule.
It's a long, winding drive through the woods to get to the restaurant, which is located on the grounds of the Piaule hotel, a few miles from downtown Catskill. There are two dozen freestanding modernist cabins tucked into a gravel clearing amidst the trees on the property. Travel + Leisure named Piaule as one of the best new hotels in the world in 2022. Cabins start at $450/night.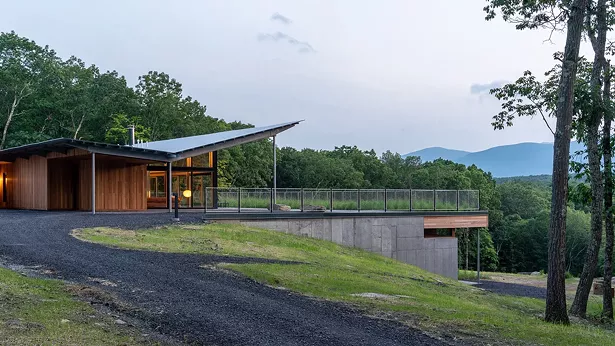 Sean Davidson
An exterior view of the main building at Piaule.
Piaule is part of a trend of boutique Catskill hotels featuring ambitious food programs, a whole subgenre of restaurants tucked into lodges, inns, and mountain houses. A partial list includes Deer Mountain Inn, Prospect at Scribner's, Foxfire Mountain House, the Public House at Urban Cowboy Lodge, and Trotwood at Glen Falls House. Set to open later this year: restaurants at the recently debuted Hotel Lillien and soon-coming Eastwind Oliverea Valley. It's a boom time for fine dining in rustic settings.
The Piaule restaurant is located in the main building, a low-slung edifice of cast concrete and unfinished oak that's minimalist but not aggressively so. There's a spa and pool downstairs. The top floor is a large open room with a reception desk, lobby at one end and dining area semi-open kitchen at the other, bisected by a two-sided fireplace. (This is what I imagine most of Stockholm looks like, or how a Swede would design the waiting room to the afterlife.) The entire western wall is windows with uninterrupted views on the Catskills. Through the glass is a sprawling stone deck.
The executive chef at Piaule is Ryan Tate, formerly of Crimson Sparrow, Shale Hill Hospitality (Millstream Tavern, the Old Dutch), and Deer Mountain Inn. Before moving upstate, he worked in and opened some notable kitchens in Manhattan. Here's how Alexandra Marvar summed up Tate's CV in a profile of his time at Deer Mountain Inn in 2018: "When Tate helped open Tribeca's Le Restaurant, his food—artful, adventurous, and surprising dishes offered exclusively as a five-course $100 tasting menu—earned him a star from Michelin (and several from other critics). Before that, he had been chef de cuisine at Soho's Savoy. After Le Restaurant closed, the West Village's Blenheim welcomed him with open arms as executive chef. Blenheim got a nod from Michelin as well—inclusion in the Michelin Guide—the review stating: 'When a restaurant sources ingredients from its own farm in the Catskills, it clearly takes its farm-to-table ethos to heart.' But, as Tate's upstate move goes to show, when it comes to farm-to-table, you can always up the ante."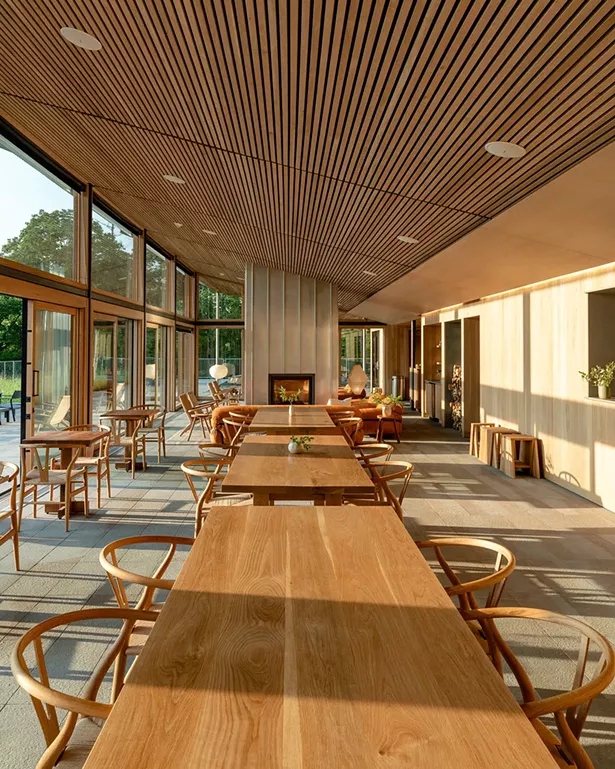 Sean Davidson
The entire western wall is of the dining room is windows with uninterrupted views of the Catskills.
At Deer Mountain Inn, Tate was serving a seven-course tasting menu that was scrupulously local, with maple syrup from trees on the property and foraged moss and clover. At Piaule, the menu is still mostly locally sourced—about 70 percent according to Tate—but not in a doctrinaire way.
"Locavorism as a religion is hard," says Tate. "I want to find a local farmer who grows the best carrots and buy them until the farmer runs out of carrots. But then what are you gonna do? Not everybody has a neighbor who grows carrots or raises chickens." Piaule's network of local vendors includes Veritas Farms, Black Horse Farm, and Farms 2 Tables.
When asked who the restaurant was designed for, Tate admits it was created with hotel guests in mind—it's a hotel restaurant after all; but don't let that dissuade you, it's open to the public . "Piaule is designed to be an immersive experience," Tate says. "You're going to this place, you don't know where it is. You're on an adventure just driving down the road. You have to surrender to the experience. The element of surprise is really important in hospitality."
Sean Davidson
The view of the Catskills from the deck at Piaule.
Dinner at Piaule consists of a three-course prix-fixe menu for $95 per person. (There is a supplemental caviar menu with one-ounce portions ranging from $40 to $180.) The limited menu—there are four choices for the starter, main, and dessert courses—changes every six to eight weeks depending upon the season, availability of ingredients, and the whim of Tate and his chef de cuisine, Colin Crompton, who oversees day-to-day operations in the kitchen.
After the amuse-bouche, we ordered drinks. My dining companion had a glass of Cava, a perfectly serviceable Mestres 1312 Reserva Brut ($15). I ordered one of the signature cocktails, Sap & Smoke ($18), an adventurous take on the Old Fashioned. I've had whiskey drinks with bacon in them before—there's a piece of maple-candied bacon in this one as well—but never had I been served a booze that had been mixed with bacon fat. Sounds gross, tastes divine. The bartender, Khristoph Marczinkowski, who oversees the cocktail program, explained the process to me: A bunch of bacon fat is dumped into a vat of rye and left to steep overnight in the freezer. The next day the fat is scooped off and you're left with delicious, artisanal, bacon-scented rye.
For the first course, I had beef tartare, which was served with horseradish gelee and pomme galette. A brief aside on the pomme galette: These two Tater Tot-sized, fried potato balls—with tiny stacked layers of potato and fat dusted with chunks of salt—are worth the trip to Piaule alone. The tartare itself was about as subtle as raw beef topped with onions can be while not drawing too much attention to itself.
Sean Davidson
Sea urchin in miso broth.
"The preparations are complex, but I never want it to appear that way," says Tate about his approach at Piaule, which combines classical technique with Japanese and Korean ingredients. "Math and cooking are both magic to me; you shouldn't have to show your work. You should be able to enjoy something without it feeling contrived or garish."
My dining companion had the chicken consomme, which was served delightfully as a pour-over: Our waiter brought a bowl with the matsutake mushroom, caramelized leek, pine, lemon, and chive, and then doused it in broth. Suffice to say that the simplicity of consomme has always been lost on me. It tasted fine to me, my dining companion quite liked it.
For mains, I ordered the suckling pig and my dining companion got the roasted duck breast. The pig was a pork-three-ways with a piece of belly, loin, and chop served with mustard greens that were the best version of creamed spinach—take that, Peter Luger. Both the pork and duck were succulent and the sauces—a rich brown butter foie gras in the case of the duck—were restrained.
For dessert, I ordered the cheese plate. It was fine. I'm not knocking the River's Edge Maple Smoked Chevre—a delightful goat cheese, especially when paired with roasted beets and drizzled with cherry gastrique—but don't make this mistake yourself. Get the Burnt Wood Ice Cream, which my dining companion ordered. The dish consists of vanilla ice cream—into which a piece of burning wood has been thrust—next to marshmallow fluff on top of a cake of chocolate ganache with feuilletine (crisp crepe batter crumbs) sprinkled over the top. You guessed it: The fanciest s'more ever made in the Catskills, and likely the most delicious.
There were lots of dishes we didn't get to try, like the kanpachi crudo and the cauliflower chawanmushi (a Japanese steamed custard; add a gram of black truffle for $30) for starters; ricotta gnudi with chanterelles and herb-basted wild monkfish for mains; and blueberry shortcake and sticky toffee pudding for dessert.
The wine list is small but well curated, featuring a few local standouts like Milea Estate Vineyard's 2021 rose and Eminence Road's Lamb's Quarters 2020 Chardonnay along with some interesting orange and pet nat selections, curated by Amanda Legg, food and beverage manager. (Tate is a self-proclaimed wine autodidact). Bottles range in price from $46 to $300, with most under $80. The beer list is regionally focused, offering cans from the likes of Crossroads, Arrowood, Subversive, and Hudson Valley Brewery ($8-$9).
The bill, for two, with a few drinks, was over $300 with tip. Which raises the question: Is Piaule worth it? A common lament I hear (and say) is that dining out in the Hudson Valley is more expensive than ever. Burgers are $25. Bottles of wine can't be had for less than $50. Even a plate of pasta at a neighborhood "family" restaurant might be $30. Talk to a restaurateur and they'll tell you why: their basic inputs—food and labor—have gone up in price as well. But the restaurant at Piaule is a breed apart, rarified air. If you're paying $500 a night for a cabin, perhaps $300 for dinner isn't a big deal. Value is relative. And some might say that the view of the Catskills from the deck is priceless.
The food at Piaule is painstakingly crafted, inventive but not showy, and tasty. Comfort food at the edge of its comfort zone. There's a damn good reason Tate is a Michelin-starred chef. If I could afford to eat there more, I would. It's definitely a birthdays-and-anniversaries joint for most of us locals. And for the record, my birthday is November 5, in case anyone wants to join me at Piaule.
Piaule
333 Mossy Hill Road, Catskill
(518) 719-1919; Piaule.com
Dinner served Thursday to Monday, 5-9pm.