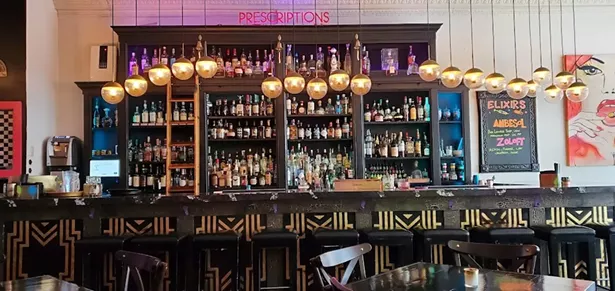 Craving sophisticated eats in an atmosphere that's both street-wise and urbane? Pharmacy Kitchen and Bar can fill that 'script for you. The Goshen restaurant, celebrating two years in business this month, serves up inventive craft cocktail "prescriptions," wood-fired steaks, and other creative entrees amid an edgy, moody atmosphere.

Housed in a c.1861 building on Goshen's Main Street, the bar and restaurant is named for the brick storefront's decades-long tenure as a pharmacy. The name was a no-brainer, according to owners Karyn Scordo and Franz Brendle. "Goshen is a small town, and this had been a pharmacy for years," Brendle says. "We wanted to pay homage to the business and its longevity."
The bones of the place continue that homage. Whitewashed, punched-tin ceilings tower overhead, and frosted pendant lights that hung in the former drugstore continue to illuminate the space. Floor-to-ceiling shelves, painted black, climb the wall behind the quartz bar. Other cubbies near the kitchen display old medicine bottles and drugstore ephemera. And guests' bills are delivered to them in actual prescription bottles after their meals. "Luckily, the former owner left a lot of amazing things," Scordo says. "The artist in me had a great base with all of this to build on."
The duo took the theme and ran with it. Now, guests can order Afrin (mezcal, peach, jalapeno, lime); Vitamin C (Irish whiskey, orange, ginger, and lemon), or other, similarly named tonics. Shots are served in plastic syringes, laid out with shot glasses on gold trays lined with small brown paper bags that were left—you guessed it—by the former business. In a stroke of COVID humor, there are even Pfizer, Moderna, and J&J "shots." Bitters, shrubs, and tinctures for those shots and cocktails are all handcrafted by staff at the Pharmacy, and sit in Mason jars stacked on the shelves behind the bar.
But the Pharmacy offers more than just a great cocktail menu that changes seasonally. There's a killer wine list with choices like a 2016 Faust Cabernet from Napa; 2017 Duckhorn Merlot; and 2016 Cakebread Cellars Chardonnay. And their top-shelf liquor is, literally, top shelf, retrieved via a library ladder by the bartender who rings a bell upon reaching that top shelf. You'll find Pappy Van Winkle and other finds housed up there. "A lot of liquors we have are those you can't really get anywhere else around here," Scordo says.
On Wednesdays, customers get to sample a high-end drink without the dizzying altitude on their tabs. Whiskey Wednesdays feature a $5 ounce of special whiskeys and bourbons. Past offerings included Blantons, Peerless, and Great Jones Bourbon.
Brendle had run the Zagat-listed Nina fine-dining restaurant in Middletown and its speakeasy spinoff, the Bullroom, as well as Craft 47—a craft beer, burger, and tapas place on Main Street in Goshen that's Scordo's specialty. After Craft 47 became successful, Brendle eyed the former drugstore across the street.
Photo by Franz Brendle
A vintage cash register and assorted bottles fill the shelves in the upstairs lounge at Pharmacy Kitchen & Bar in Goshen.
"We planned to open at the end of March 2020, then COVID hit," Brendle says. "We waited until we could seat 50 percent [per health regulations at the time]." The restaurant opened on July 8, 2020.
Now at full capacity, the restaurant seats 95 customers, and they regularly fill the 2,800 square feet that comprise the main dining room/bar and an upstairs lounge. Customer favorites—besides those shots—include steaks cooked on the wood-fired, Argentinian parilla grill that was hand-fabricated by North Fork Iron Works on Long Island. Customers can watch the grilling happen in the open kitchen, which also has two gas-fired ranges. Surrounding the kitchen is a gold-topped half-wall emblazoned with neon-colored graffiti. Artwork with the same theme covers the walls, courtesy of artist John Stolz, whom Scordo also commissioned to create art for their other restaurants.
The wood-fired eats are as luscious as the artwork. Truffled deviled eggs ($4 each) are a delicious way to start. Or try oysters (market price) or Hudson Valley duck confit tacos, with fire-roasted tomato salsa and kimchi ($18). Salads range from traditional Nicoise ($19) and cobb ($15) to a Caesar salad with fire-grilled Romaine ($11).
The burgers here are fire-grilled, from the Pharmacy burger with house-cut fries ($16) to a Surf and Turf with lobster ($21). In the mood for sandwiches? The portobello banh mi is a must: A fire-grilled portobello is topped with pickled carrots, daikon, and jalapeños, with cilantro-garlic aioli on a baguette ($14).
The Pharmacy's bowl selection is expansive, ranging from tuna poke ($28) to slow-braised short-rib Hungarian goulash over spaetzle ($30). Other entrees include a grilled rack of lamb or coq au Vin (each $28).
But the customer favorites are the steaks. The Pharmacy's USDA prime steak selection is mouth-watering: 18-ounce aged New York strip ($42), filet mignon ($44), ribeye ($49) and T-bone ($53). Treat yourself to an indulgent 32-ounce aged porterhouse ($59)—who says you need to wait for a special occasion? Each steak comes with a choice of sauces or butters and a variety of potatoes or French fries. Steakhouse sides like creamed spinach ($10) and truffle parmesan risotto ($12) are available a la carte.
If you have a large group, or want to host a private party, head upstairs to the lounge. It's open for Friday- and Saturday-night dinners, but otherwise available for private parties. As atmospheric as the space below it, the huge room has chandeliers that once hung in the Bullroom (the downstairs bar, by the way, was built with doors from there, too). A long cream-and-black banquette that once graced the speakeasy lines one wall of the lounge, banked by wooden tables. Scattered throughout the room are divans, settees, and leather benches and stools that beg for a languid evening of good conversation and fun. Here, too, are relics from the former pharmacy: Ancient cash registers are perched above the dumbwaiter, a sign for Baxter's Pharmacy hangs on the wall, and a framed photo captures a 1950s-era image of the drugstore itself.
The decor (carefully designed, even in the restaurant's three bathrooms) is as captivating as the food, a fact of which Scordo is proud. "Franz loves when people love the food, and I'm all about 'What did they think of the decor?'" she says.
Pharmacy Kitchen and Bar resists categorization, but for Brendle that's alright. "Everybody tries to put a label on things," he says. "We're a casual, eclectic place with high-end food and drinks."
62 Main Street, Goshen
(845) 360-5440
Wednesday-Thursday: 4pm-9pm
Friday-Saturday: Noon-10pm
Sunday: Noon-8pm
Monday: Noon-9pm