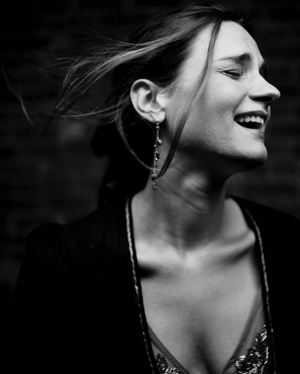 At first, Madeleine Peyroux sounds relaxed, even for a cool-jazz artist. She sings gracefully, treating each note with equal care. Enunciating smoothly, as if every lyric contained subtle wisdom. Never rushing, never straining. When singing atop a gently played piano or lightly strummed acoustic guitar, Peyroux even sounds like she's attained that most elusive state—tranquility. But sometimes, on a song such as her rendition of Harry Nilsson's "Everybody's Talking," there's a catch in Peyroux's voice. A hesitation, a quiver that calls into question whether this songstress was ever as comfortable as she seemed.
Don't expect a direct explanation from the artist herself. Peyroux has been reluctant to court fame, rarely giving interviews or relinquishing a morsel of her privacy. What is known: Born in Athens, Georgia in 1973, Peyroux grew up in disparate places—Paris, Brooklyn, Southern California. At 16 she precociously sang and busked on the street with a group of musicians called the Riverboat Shufflers, moving on to the Lost Wandering Blues and Jazz Band, with whom she recorded her first album, Dreamland. That debut, an intriguing mix of conventional jazz standards and originals, brought her notable attention, mostly for her voice's startling resemblance to that of Billie Holiday.
By Careless Love, her sophomore effort, she had plainly evolved as an artist. Alongside more jazz standards, she included reinterpretations of newer classics, such as Bob Dylan's "You're Gonna Make Me Lonesome When You Go." Like her less contemporary covers, Peyroux was able to tweak the original's conventions and transcend mere homage, with markedly different instrumentation and her emotive voice. Slowing down Dylan's jangling ditty to a restrained swing, Peyroux's singing is mostly absent of Dylan's original smirking humor. She goes straight to the heart of the song, lonesome and resigned. As she sighs, "You're gonna have to leave me now, I know," tiptoeing the line between maturity and fatalism, she further complicates Dylan's giddy melancholy.
Peyroux's singing style is often indirect—skipping around a song's rhythm, dangling onto notes until the very last moment—but her accompanying music is always simple and direct. Her band-mates perform with an unpretentious confidence; drums are lightly brushed, acoustic guitars gently plucked, and pianos delicately played, the notes softly descending around Peyroux's coos. Of course, the band can also give one something to dance to. On her latest release, 2006's Half the Perfect World, Peyroux and the gang perform the original "A Little Bit" with audible enthusiasm. Organ interlocks with electric guitar to form a rich, rolling, and melodic backdrop for Peyroux's clever quips—"There's a heaven down here / We can find it if we try / I don't want all of it / All I need is a little bit."
One hopes Peyroux continues to write originals like "A Little Bit"; maybe even releasing an entire record's worth. Because, when singing her own words, Peyroux sounds her most honest and vulnerable. She sounds, simply, human.
Madeleine Peyroux will be performing with her band at the Bardavon, 35 Market Street in Poughkeepsie on Friday, June 27, at 8pm. $42/$37. (845) 473-2072; www.bardavon.org.