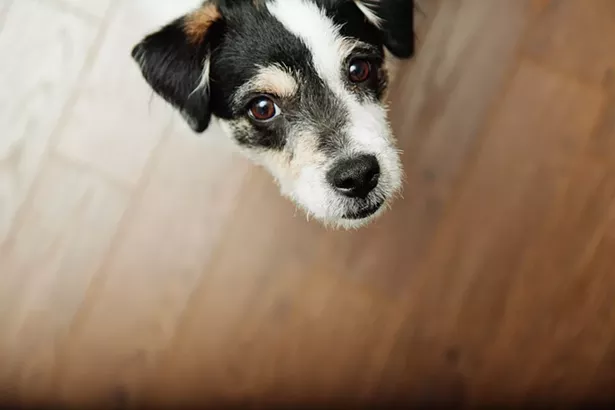 If you're one of the 85 million American households with pets, you are familiar with the many issues associated with animals and flooring. While food spills, drool, dander, and bathroom accidents start the list, pet claw scratches, pet slipping, and pet comfort also must be considered. Among the many types of flooring available today, only a few are top contenders for the most ideal choices for both you and your furry friends' health and happiness.
Hardwood Floors
Although real hardwood flooring is gorgeous, completely renewable, and in style these days, it unfortunately is not the ideal choice for pet owners. Claws can scratch its beautiful sheen and potty accidents can result in irreparable stains if not cleaned immediately. Pets also have a tendency to slip on any polished surface and don't usually seek out your home's hardest spots to take a nap. However if your heart is set on the warm, classic look of real wood, as a compromise choose very hard species like beech or oak, which are fairly resistant to scratching. Sealing wood floors will also help prevent against liquid damage.
Cork Flooring
One of the best choices is cork flooring, which is completely renewable as well as naturally scratch-resistant. With antimicrobial and hypoallergenic properties, cork offers many benefits including comfort. Its "elastic" surface provides enough of a cushion to ease tired pet feet and legs. Similarly, your pet can rest relatively comfortably on it without seeking to invade your bed or couch. However, cork must be sealed to be moisture-resistant, an important concern when living with animals.
Vinyl & Linoleum Floors
Other alternatives, albeit a compromise in the comfort department, are vinyl and linoleum flooring. Resistant to wear and tear, scratching, and stains, both vinyl and linoleum are moisture-resistant, bacteriostatic (resistant to growth of bacteria), and extremely durable. Choosing a slip-resistant surface can address any fear of pet or human falls. Of the two flooring types, linoleum is by far the healthier both for your home and our earth. Made from all natural components, environmentally-friendly linoleum itself has no harmful contaminants to emit compared with vinyl flooring which is made from synthetic materials. Both vinyl and linoleum can reduce the level of noise in a room which could be helpful with strident dog-barking control, for example. They are both quite affordable as well.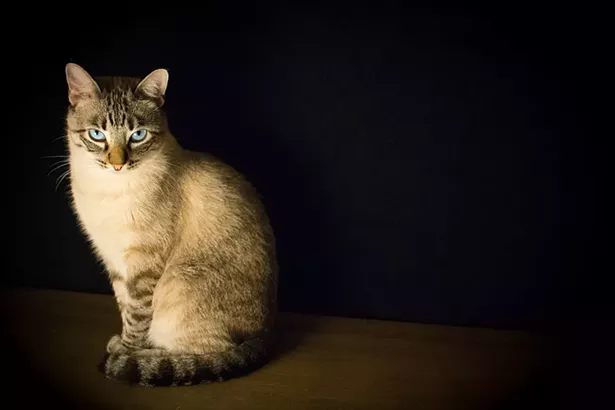 Laminates & Porcelain/Ceramic Tile
Like other hard flooring surfaces, laminates and tile are great for protecting against spills and bathroom accidents but are uncomfortable for sleeping. And laminates can suffer fatal damage if repeated spills seep into spaces between planks. They also present a high risk of slippage unless they are textured. Porcelain and ceramic tile can be cold, which can be a pro or a con depending on the breed of pet you have. These choices can be suitable to homes with pets by addressing the caveats mentioned with logical solutions like quick spill clean-up and providing a soft pet bed.
Carpeting
While most people would proclaim carpeting as an obvious and logical omission to this list, ironically that would be a mistake. There is a unique type of carpeting that surpasses all other types of flooring for this purpose. In 2005, Karastan introduced one of the most innovative types of carpeting fibers in 50 years: SmartStrand® Forever Clean, which is designed to alleviate every flooring problem intrinsic to a pet residence. First, it totally resists moisture absorption which means any pet accident or child spill will remain beaded up on the surface of the carpet so you can easily sponge it up with no trace of a stain or odor at all. Second, its exceptional durability makes it able to resist the most damaging matting and crushing pressure and forever bounce back to its original state of full-bodied beauty. Third, since it is no secret that pets seek out the most comfortable places to take a snooze, it's important to note that this carpet is luxuriously soft, inviting both you and your pet to sink your toes into it. And last but not least, this extraordinary carpet is a totally renewable resource, ideal for protecting our planet. And one more thing: It is on sale with big discounts from July 30 through September 4th at Foster Flooring.


Foster Flooring is generous with its professional guidance to help you solve all of your application challenges. And, once you decide on the perfect product, Foster also has a full staff of skilled specialists who can assist you with meticulous, expert installation to assure complete satisfaction, even if you plan to do it yourself.
Within Foster's huge showroom, you can find bargains among remnants of high-quality carpeting. You can also create your own area rug or staircase runner.
Located in northern Dutchess County's Staatsburg Village just south of Rhinebeck, New York, this 8,000 square foot gallery is only a stone's throw from the historic Mills Mansion on the Hudson River. (845) 889-4747