Page 3 of 5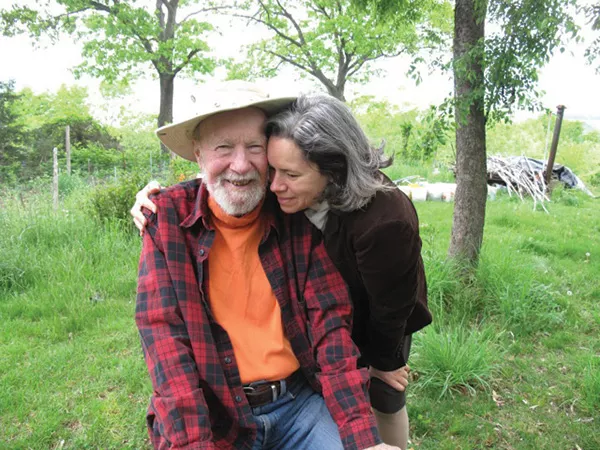 Pete and Natalie Merchant
[The day of Seeger's death] was a sad day for the Valley, although we had years to prepare for it, the realization that Pete Seeger was gone was difficult to fathom. "Patriarch" is defined as "the oldest and most venerable member of a group or tribe." Pete Seeger was most certainly that to me and so many of my friends and neighbors living here in the Hudson Valley who believe in the transformative power of music and care deeply about our community and the environment.
Because Pete was so generous with himself, so many of us had the privilege and pleasure of being in his company over the years. And there was a glow that came over everyone's faces in his presence, it was the sort of expression you see on the face of a kindergarten child when something delights or astonishes them. Pete was always the oldest and wisest man in the room. He was the best storyteller, he had the best stories, and he encouraged everyone to gather 'round and listen. And when Pete asked you to sing along, you couldn't help but join in. His legacy will be heard and felt every time we sing one of the songs he taught us.
—Natalie Merchant, musician and activist
Between the summer of 2007 and the fall of 2009, I spent crazy hours on the phone with Pete Seeger. We talked about John DeAngelico's Kenmore street guitar shop. We talked about how to plane a piece of ironwood. And we talked about the Republican boot-stomp results of having too many lefty stickers on your instrument case. The conversations wheeled, in one way or another, around Pete's iconic longneck banjo. Eventually, the chats led to the publication of a collection of stories I wrote for Fretboard Journal. But Pete and I also talked about the important things. Cookies. How to make a great salad. Man's fondness for hitting things. We talked about peace, and the lack of it; science; politics; sunshine; Pete's wife Toshi; Peekskill; Woody; the borscht belt in the 1940s; unrest in the 1960s; the sloop Clearwater in the 1980s; and what makes a great song in any decade.
Between the phone calls, we'd run into each other here or there. He was always in motion, always on his way somewhere. That meant he only had half an hour to regale you, instead of hours to spin fascinating yarns. I've come to think of those collected sessions as a second college education. Pete was my teacher. He was our teacher. It will take us lifetimes to truly learn his lessons. But we have to try. Treat yourself. Have a cookie. Then get off your ass and make the world a better place.
—Michael Eck, musician and Chronogram contributor
When Pete arrived backstage at the Saratoga Performing Arts Center late on a Saturday night last September it had already been a long weekend for the 94-year-old. He'd done two gigs on Friday, squeezed in a marathon interview with a foreign journalist that morning at his house in Beacon, and was slated to play again on Sunday. Yet despite the hour, despite the fact that his bones were creaking in the light rain, and the crowd of 25,000 strong was the loudest and most lubricated he'd seen in many years. Pete wanted to be there.
As he limbered his fingers on his long-neck banjo backstage, Neil Young stopped in to pay his respects, leaving like a smiling schoolboy showing off the book—Pete's autobiography, Where Have All the Flowers Gone: A Singalong Memoir—his mentor had personalized. Pete wanted to be there that night because he had something to say. Something about fracking. Rural New York was his backyard. He'd never lived anywhere else but this state. When John Mellencamp brought the surprise guest on stage, 25,000 roared. After a solo version of "If I Had a Hammer," flanked by Mellencamp and Willie Nelson, Dave Mathews and Young, Pete's version of "This Land Is Your Land" included some New York-specific lyrics that, he teased the crowd, "You've never heard before!" The next day, Rolling Stone called Pete's surprise performance "the emotional highlight" of the event. As always with Pete, the message had come first.
—Jon Bowermaster, author and environmental activist
Pete had grown up hearing about the floating bathhouses dotting the perimeter of Manhattan at the turn of the last century, and for much of his life imagined a similar flow-through pool in the Hudson River. He was sure that if people came to the river, swam in it, felt it, they would learn to care for the river. River stewardship, he knew, could begin with knowing what it was to be in the river. And building a small pool for kids seemed to be a good way to start. So with water quality in the Hudson much improved by the late 1990s, he worked with a group of volunteers to design, build, and install a small pool at the river in Beacon. Now, each year since 2004, the group organizes the Great Newburgh to Beacon Cross River Swim to raise money to operate the pool. And each year, Pete would join us at the Newburgh marina to sing a song or two before we jumped into the river. There were kids, teenagers, dad, moms, grandparents, athletes. Each of has our own reason for wanting to swim across that shining river—it could be celebrating a birthday, rejoicing in an anniversary, marking the end of chemo, or just wanting to take a dip in the river. But when Pete sang "This Land Is Your Land," with the wide, gray water streaming behind him, everyone down at the waterfront knew the swim was about something bigger. Even the most seasoned athlete training for a triathlon could be seen tearing up. We all knew the words, the notes, the tunes that run in our veins and in our heritage just as strong and as sure as that current runs in the Hudson. We all sang along. We all felt the power of the river, the power of community, the power of song. And then we all splashed in to the Hudson River.
—Akiko Busch, author of Nine Ways to Cross a River