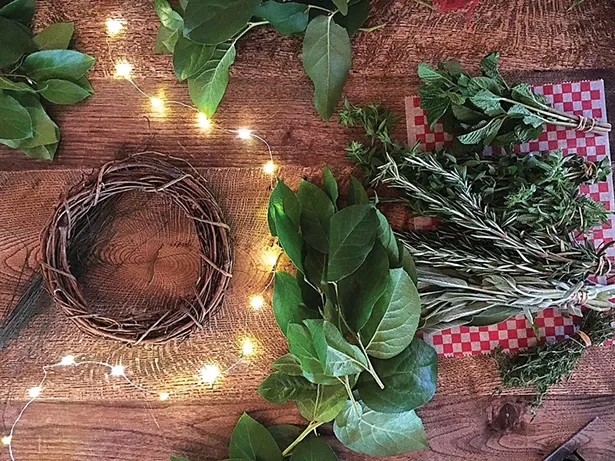 For Pennings Farm in Warwick, like many family farms nationwide, survival has meant diversification. The original orchard is still in production, yielding a bounty of apples, apricots, nectarines, and peaches every fall, but this is only one facet of a larger operation, which now includes a farm market, pub and grill, beer garden, ice cream stand, and garden center. The Pennings Farm Cidery is the most recent edition to the complex, featuring a production facility and tap room, flanked on three sides by groves of apple trees. The diversification has paid off, according to Phyllis Emmerich, marketing and special events manager at the farm. "There is hardly any shoulder season anymore," she says. "The number of visitors and types of visitors may change slightly, but it stays busy year-round." Among the farm's distinctive offerings are their monthly workshops, which tap into the farm's diverse offerings. In the upcoming Culinary Wreath Workshops on February 7 and 21, guests will make edible wreaths using fresh herbs from the garden center. They will also get a bundle of recipes from the grill's chef and a drink ticket for the pub, encouraging them to shop at the farm market and try the selection of brews on tap. Other upcoming events include the Gilded Growler craft beer tournament, which kicks off February 23, and the Henna & Hops workshop on March 7.

This year marks the second annual Gilded Growler competition. About one dozen Hudson Valley craft breweries will vie for the Gilded Growler trophy. Pennings Farm will host tastings every Friday from February 23 through April 6, and tasters will vote for their favorite beer. Then on April 6, the champion craft brewer will be announced and presented the Gilded Growler trophy. Last year's winner, Westtown Brew Works, and runner-up Glenmere Brewing Company will return. Newburgh Brewing Company, Keegan Ales, Pine Island Brewing Company are also participating.
Learn more about
farms in the Hudson Valley
.