Photo: Roy Brueckner
The goal of River and Mountain Midwives is to provide safe, dignified birthing care.
Healthcare is one of Ulster County's largest economic sectors, in terms of sheer size, number of jobs, and economic output. Helping people to get well and stay that way is a multifaceted effort that takes a community to pull together and create.
Ulster County 2040
envisions a local care system where seniors can age in their communities, and children can grow up healthy in body, mind, and spirit. That system includes local wellness experts like these, who have made this area their home.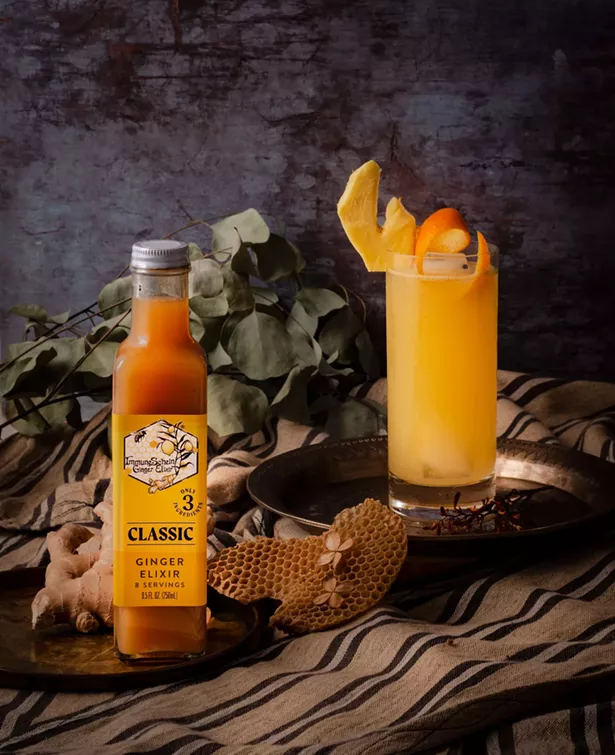 Image courtesy of Immuneschein
Immuneschein creates ginger-based elixirs that are as tasty as they are healthful.
Immuneschein
When Corinna and Jason Geib moved to the area in 2012, they knew that Ulster County's culture was right for
Immuneschein Ginger Elixir
s, a line of organic, health-focused elixirs based on ingredients like ginger, elderberry, and turmeric. Their award-winning tonics, along with a vast selection of teas, chocolates, and other goodies, are available at the company's Tea Haus in West Hurley, as well as online and at locations across the tri-state area. "From farmers' markets and festivals, we knew we had a receptive market, partly because of population and income but mostly the mindset," says Jason. "So many people are into alternative medicine, and there are so many visitors from everywhere," he says. "And 'made in upstate New York' connotes artisanal excellence."
Image courtesy of Etain Kingston
Etain Health recently remodeled its space in Kingston.
Etain Health
"We chose Ulster County for its community, values, location, and opportunity for future growth," says Jes Feuer of the medical cannabis dispensary
Etain Health
. "In the heart of the Hudson Valley, the diversity of the residents has contributed to our success in the area. We've just redesigned the Kingston location, implementing our new branding and bringing in a variety of local health and wellness items to give our patients and local customers a destination for concierge medicine in Ulster County."
Photo: Roy Brueckner
River and Mountain Midwives assist families through safe, comfort-driven births.
River and Mountain Midwives
River and Mountain Midwives
provides prenatal, postpartum, and primary health care to moms and babies in Ulster County. Susanrachel Condon of RMM loves the diversity, both demographic and geographic, and interagency cooperation she's found here. "New York allows us to deliver newborn care and see the parent and baby together at home, and especially in such a sprawling region, people benefit greatly from having care that travels to them," she says. "And we've worked with the Department of Social Services and Family of Woodstock to get clients out of unsafe living conditions. We try to be there for everyone, from movie stars to regular folks—and the mindset of the area is great for midwifery, from ultra-Orthodox Jews and conservative Christians to freethinkers. Whoever you are, we strive to be the midwife you need us to be."
Image courtesy of Samadhi
Luis Mojica teaches a class on holistic addiction recovery to certified recovery peer advocates and volunteers at Samadhi Recovery Community Outreach Center.
Samadhi
Recovery from addiction or mental health challenges requires healing the trauma that led there.
Samadhi
, a community-based recovery outreach center in Kingston, uses mindfulness and alternative treatment modalities such as trauma-focused cognitive brain therapy and sensorimotor psychotherapy to stop the automatic compulsions that are the hallmarks of addiction. "We needed a place where people could be listened to and helped," says Executive Director David McNamara. Samadhi serves about 200 people per month at its center. In mid-February, Samadhi will launch a van-based mobile outreach team to serve people in the community who may be unable or unwilling to visit the center. In addition to treatment, Samadhi has trained 78 people who formerly experienced addiction to become certified peer recovery advocates in Ulster County, and placed 37 of them in practices over the last two years—and five of them are employed by Samadhi. "They went from the person being served, to the person serving," McNamara says.
Image courtesy of Shakti Yoga Woodstock
Shakti Yoga helps students increase flexibility, strength, alignment, and confidence.
Shakti Yoga
Linda Lalita Winnick says Ulster County has been fertile ground for the seed that has become
Shakti Yoga
, a school based on in-depth understanding of safety, anatomy, and physiology and informed by yogic philosophy and an extensive Ayurvedic background. "I moved here in 1999 and my business grew naturally; people were open to yoga learning that was more a homemade experience than a corporate one," she says. "We've had studios in various towns and found a warm welcome. I'm well established and thankfully not in need of the pandemic resources offered by the county right now, but I have found the county and the town very helpful and supportive—I'm sure if I did fall into need, they'd have my back."
Image courtesy of Wild Earth
Wild Earth shares the beauty of the natural world through diverse outdoor programming.
Wild Earth
In 2004, a group of Ulster County parents and community leaders were concerned about the growing disconnect between children and the natural world, and decided to do something about it. Since then,
Wild Earth
—hosting summer camps, after-school programs, and school partnerships—has brought nearly 4,000 people into closer contact with the wilderness that's just outside their doors. "Our goal is to have kids be outside in nature with positive role models," David Brownstein, co-founder and executive director, says. "Now we are prioritizing social and emotional wellness, as well as physical wellness." Wild Earth has partnered with schools in Kingston, Ellenville, and Newburgh, and has expanded to include programs for adults, too. Participants experience the outdoors at their schools, at Scenic Hudson's Juniper Flats Preserve, and at Wild Earth's 135-acre home base in Kerhonkson.