Designer and costumer Patricia Field might be most well known for making "Manolo's" part of the everyday lexicon via clotheshorse Carrie Bradshaw in "Sex and the City," but her influence reaches much further. It's Field's outside-of-the-box approach to fashion that has allowed her to bring new artists to the forefront of fashion while showing off exciting ways to express art through style. Her latest project takes this passion and skill to all new heights. ArtFashion is a collection of made-to-order, handmade garments created by designers handpicked by Field herself. According to a description of the project on her site, Field was "weary and uninspired by the era of 'fast-fashion' and mass production." This led her to push back against what she considered the homogenized culture to which fashion currently subscribes.
Her eponymous store that stood as a New York staple for close to 50 years closed in 2016. It was known for its punk offerings as well as its other weird and wonderful clothing, hair pieces, accessories, and more. ArtFashion picks up where her store left off. The project features 10 focused fashion artists whose work ranges from custom denim jackets to a necklace made from drips of silicone. Scooter Laforge, Zachary Sierra Laine, Kyle Brincefield, Jojo Americo, Ben Copperwheat, Madly Made, Iris Bonner, Suzan Pitt, Ssik, Kevin McHugh, Suzanne Mallouk, Lara Padilla, Jody Morlock, and Steven Wine make up the brands featured in her project. Each one is a regular feature on Field's very active social media channels, garnering the attention of her 70,000 followers.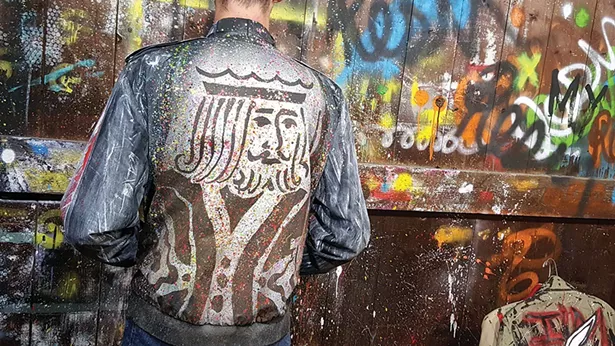 Jacket by Zachary Sierra Laine.
On October 6 and 7, Field's imaginative world of art and design will be unveiled in Catskill with two fashions shows at Joe's Garage at 7pm and 8:30pm. The space will be filled with the work of artists including Portia Munson, Justin Love, and Nina Isabelle, and the runway will be filled with local talents as well. On October 7, a dance party with DJ Tedd Patterson will follow the show. Field will also host a pop-up shop at Joe's Garage on October 7 from 11am-7pm, and on October 8 she will be doing a live Q&A to celebrate the Greene County Council on the Arts upcoming "Centennial: She" exhibition. This exhibition marks the 100th anniversary of women getting the right to vote in New York.
Since she took a step back from the traditional fashion world, Field, a two-time Emmy winning costumer, has focused her career on the arts. Recognizing upstate New York as a place for growth in these areas, her show adds a significant amount of attention to the potential of exciting shows and exhibitions of this caliber. "I'm so excited to bring my ArtFashion to Greene County," says Field. "All indications are very positive, which gives me so much inspiration. I am hoping to expose and entertain everyone with my runway and exhibition of the talented artists that I represent."
Ticket prices are available for $20 online and $25 at the door. There will also be a VIP "Pre-Runway" package provided by the GCCA that costs $100 per person and includes a champagne reception, meet and greet with Field and the designers, photo/video op, sneak peek at final rehearsal/fittings, and behind-the-scenes and preferred VIP seating during the runway show. October 7 and 8. (518) 943-3400.
Patricia Field wearing a dress by Lara Padilla.