Lovers of fine films, community appreciation of culture, and warm summer nights still have time to make plans to head to Cold Spring this July, as Magazzino Italian Art Foundation will continue to screen a series of films in its central courtyard for the second half of their annual summer film program, Cinema in Piazza.
The program had previously kicked off on Saturday, June 22 with a night of documentaries on Arte Povera and Italian artist Mario Merz, in collaboration with Artecinema, Naples' international contemporary art film festival. And now, from July 12 to 14, 2019, Magazzino will present its second annual curated film festival, "Up the Boot"— a three-day film festival featuring a curated selection of Italian films spanning the 1960s to present day.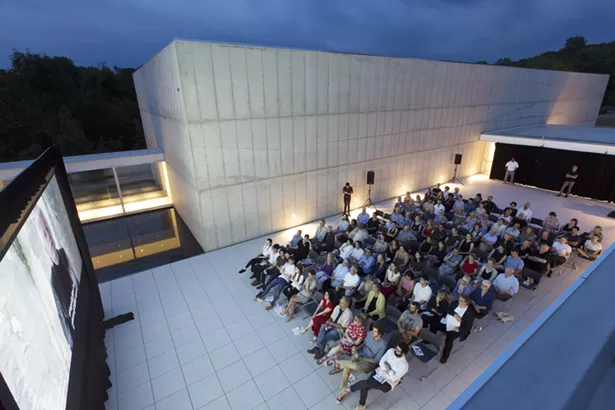 Photos by Alexa Hoyer. Courtesy Magazzino Italian Art Foundation.

"We're thrilled to host the second half of Magazzino's annual Cinema in Piazza with the Up the Boot film festival. Magazzino's goals as a cultural institute, opening a window to different genres of modern and contemporary Italian art movements, includes creating a place for conversation, with interest in the creative successes of generations of Italian film directors," says Vittorio Calabrese, Director of Magazzino Italian Art, who curated the selection alongside The Nation Film Critic Stuart Klawans.

Crossing genre and time, Up the Boot is slated to include films by Italian directors Alice Rohrwacaher, Edoardo De Angelis, and Pietro Germi.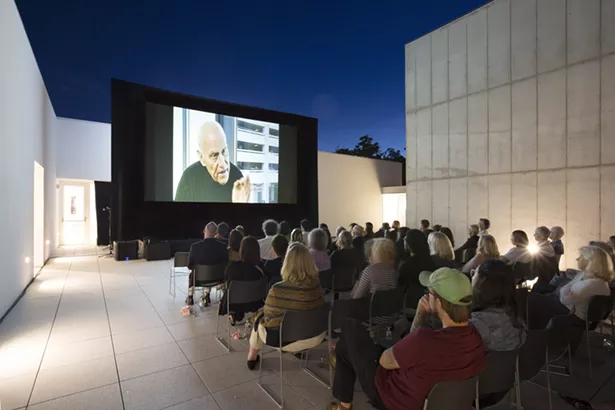 Photos by Alexa Hoyer. Courtesy Magazzino Italian Art Foundation.
The weekend will begin at 8pm on Friday, July 12, with Rohrwacaher's Le Meraviglie (The Wonders) from 2014. "A semi-sweet, semi-autobiographical film about growing up in the 1990s on a ramshackle farm as the daughter of back-to-the-earth political activists," per the Magazzino's website. "As surrogate parent to the younger children and heir apparent of the farm, 12-year-old Gelsomina (Maria Alexandra Lungu) knows how to manage the household and the money-making bees, while the encroachments of commercial farming come closer and closer. But she isn't prepared for the almost magical apparition of Milly Catena (Monica Bellucci), the gaudily dressed host of a cheesy TV game show that Gelsomina finds herself desperate to win."
On Saturday, July 13, the festival continues with De Angelis' Il vizio della speranza (The Vice of Hope). From 2018, the film is described as "A compelling drama about the crime-ridden community of Castel Volturno, not far from Naples, and a young woman's crisis of conscience. Maria (Pina Turco) has worked for years in a gang that traffics in infants, keeping pregnant women in hand until they deliver the goods. But when Maria herself becomes almost miraculously pregnant—it had seemed impossible—she dares for the first time to act out of hope."
Photos by Alexa Hoyer. Courtesy Magazzino Italian Art Foundation.
On Sunday, July 14, the weekend will close with a screening of Germi's Divorzio all'italiana (Divorce Italian Style) — a 1961 satirical comedy about "the bored and near-impoverished Baron Cefalù (Marcello Mastroianni), who longs to marry his gorgeous teenage cousin Angela (Stefania Sandrelli). But first, he must rid himself of his cloying wife, Rosalia (Daniela Rocca)—and the only practical method, he concludes, is to act out a role in the ongoing theater of his little town and kill her."

Each film offers opportunities for attendees to engage meaningfully with parts of Italian culture, offering community members a chance to address and look more critically at tropes, misconceptions, and often over-looked realities they may have internalized via popular culture.

"Alongside the master filmmaker Pietro Germi (Divorce Italian Style - Divorzio all'italiana), we've included and opened the floor to the works of two young and rising directors Alice Rohrwacaher (The Wonders - Le Meraviglie) and Edoardo De Angelis (The Vice of Hope - II vizio della speranza)," Calabrese says "Each chosen film not only celebrates Italian culture, but confronts stereotypes and outside misconceptions of Italian life; the stories are all set within the countryside or suburban settings, the non-central locations countering the often-popularized urban settings typical of mainstream media. We look forward to welcoming the growing new community and generations taking part in Magazzino's exciting events this season and years to come."
Tickets are available to purchase via Eventbrite. All proceeds from ticket purchases will be donated to RxArt.