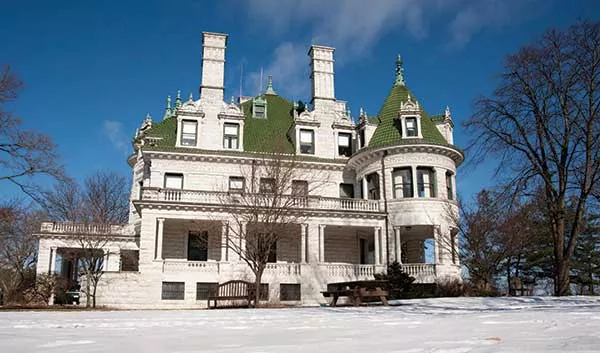 Roy Gumpel
Morrison Hall at OCCC in Middletown.
Sarah Wells was 18 when her employers sent her sailing up the Hudson with two carpenters, three native guides, some livestock, and a pile of supplies in 1712. As far as anyone can tell, there were no other European women anywhere in what would become Orange County.
An orphan and indentured servant, Wells had been promised 100 acres of the rich black-dirt land, and she hung in there and prevailed. Two marriages and 12 kids later, she passed away at 102. The area Girl Scouts Council bears her name, and over 6,000 souls bear her DNA—several hundred of whom still gather in Orange County for family reunions.
Direct descendants still live in the stone houses built by Wells's first husband, John Bull; there is a Bullville, and a fine county park named for another family member, Thomas. Twentieth-century descendant Amy Bull Crist would become the county's first female superintendent of schools, one of many achievements that led to the handle "First Lady of Orange County" being applied to this descendent of the first European woman.
And central Orange County is still a place where people of all descriptions grow up or show up with a gleam in their eyes and build empires of all sorts. Take musician Howard Garrett, who happened to drive through Montgomery 26 years ago with his wife Judith. "I stopped to make a phone call—this was 1986, and the pay phone only cost five cents," Garrett says. "I went into the Corner Deli and spoke to the owner, and he told me there was only one cop in town. And then driving on Route 416, it was just so beautiful in all directions."
In Massapequa, on Long Island, "things could have been run by a king, for all I knew." But in Montgomery, living in their beloved Victorian "painted lady," Garrett found it was easy to befriend the people running things—and the resulting collaboration gave birth to a top-quality series of free concerts.
"It's a well-run village with a lot of harmony," says Garrett, who was also instrumental in starting General Montgomery Day, which brings around 30,000 visitors to the village each autumn. "I think people enjoy living here. There are always things to do. In a couple of blocks you've got at least a half-dozen great restaurants, antique shops, gift shops. We love the Charles Street Café, the Wildfire, Copperfield's, the Italian at Vic's, the Ward's Bridge Inn—that building goes back to the 18th century. There are cool little museums—there's one devoted to fireman and another devoted to farming history. There's actually more to do here than on Long Island, oddly enough."
Over the years, Garrett has seen the fine arts blossom in his village: Shawn Del Joyce runs the nonprofit Wallkill River School of Art and Gallery, which represents 40 artists, offers lessons for all ages, and advocates for preservation of the local open spaces. Montgomery is also where Mikey Teutel, recovering reality television star and arguably the most (some might say only) likeable character on "Orange County Choppers," has established his own artistic outpost—the Wolfgang Gallery, where he shows his own whimsical abstract paintings and assorted work by other artists, including well-received works by military artists both active and veteran.
County Seat
As cultural affairs director of SUNY Orange and a member of the Orange County Arts Council, Dorothy Szefc both enjoys and helps create the bubbling creative gumbo. "Just this week, we have so much stuff going on at the Middletown campus that it almost scared me to think of it—a string quartet, two female jazz greats on different evenings, a presentation on gardens and carbon footprint, a festival of Orange County short films, an opening for the Northeast Watercolor Society Show, a new play, a clinical neurologist from Yale," says Szefc. "We take the mission of community college very seriously—all our events are for everyone, there's an affordable admission for performances, and the other things are free."
When Szefc finishes her workday on campus, she heads home to Goshen, an achingly pretty village of towering church spires surrounded by rolling hills about 10 miles south of Montgomery. Goshen, the county seat, is where Noah Webster taught the children of signers of the Declaration of Independence at a schoolhouse that's now the town hall. It's where Willy "The Lion" Smith was born and schooled others in the Harlem stride school of jazz piano he helped to found.