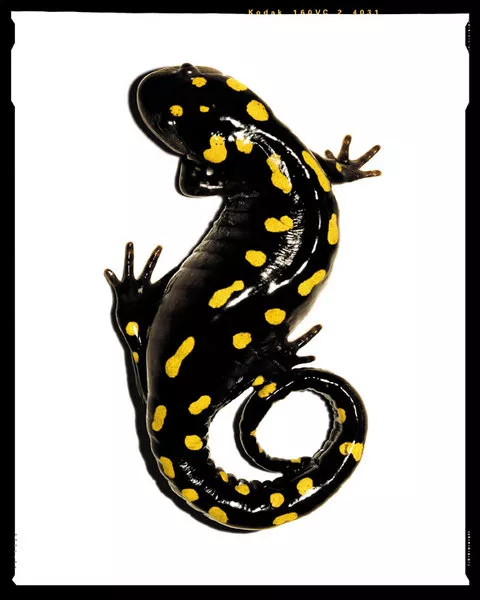 Sala-meander, Kenneth Cooke, 2008
In April of last year, Kenneth Cooke was walking the short distance between his studio and house in Germantown just after dusk when he spied a yellow-spotted salamander. While this species of amphibian is common throughout New York State, they are seldom seen because of their nocturnal schedule and a life spent mostly in the shelter or leaves and rocks. In spring, when the temperature begins to rise, the salamanders migrate to their annual breeding pond. In just one night, hundreds to thousands of salamanders across the region may make the trip to their ponds for mating.
Cooke, who had never seen a yellow-spotted salamander though he had lived in Columbia County for 11 years, described his encounter this way. "I scooped it up and called my wife, who was as excited as I was," he wrote in an e-mail. "We washed it off a bit and I hurriedly grabbed my gear to photograph it. Since it was looking for a mate, I didn't want to keep it for long, or traumatize it. I only got two shots before we released it to resume its mission." Portfolio: www.kennethcooke.com.