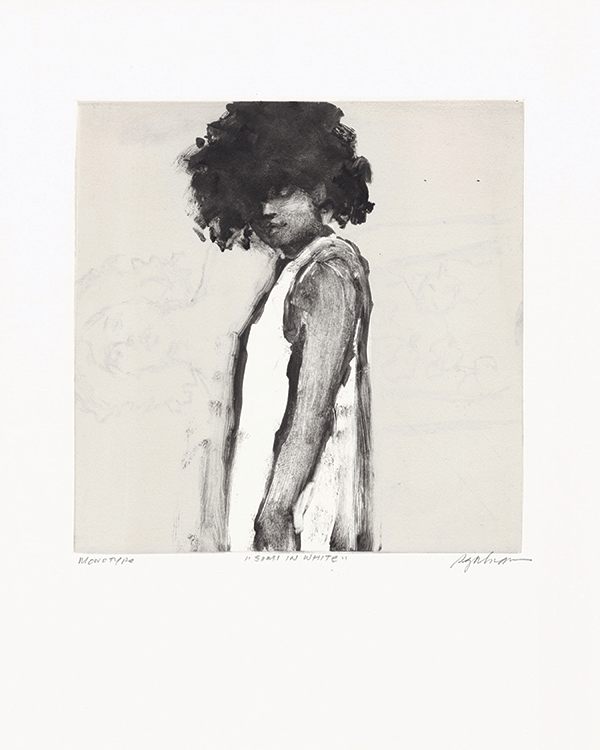 Simi Stone in White, Richard Segalman, monotype, 10 "x 10", 2014.
When an artist limits his palate to a few colors, the self-imposed restrictions can create new possibilities. Habits are broken, a new approach grown. Richard Segalman's new book of monotypes, Black and White: Muses, Magic & Monotypes, is a collection of what happened when he limited himself to one color: black. The images are stark, mysterious—there's a sense of something missing. Faces are often obscured or vaguely formed; long, thick shadows dominate the canvas. "I'm not interested in specifics or features," the 81-year-old artist says. "I care about the gist, the body language."
The gist Segalman searches for he often finds from the randomness that monotyping allows. The process involves painting on a smooth, nonabsorbent surface, like glass or zinc, and transferring the paint onto a sheet of paper by pressing the two together. "Sometimes I hit it on the first try, but I usually have to keep going for a long time, printing copy after copy. But when I hit it, it's like Christmas." The unpredictability inherent in Segalman's method can be observed in the smudges and rough lines in his work. The prints are unpolished and raw and there's a sense that the emotions he strives to convey are too. Under the surface of his prints there's a feeling of sadness and tension that his black-and-white monotypes capture best. "I want my audience to pick up on who I am. I'm trying to connect with them in my art because I'm not sure I can do that in my life."
"Richard Segalman: Recent Monotypes" will be exhibited at Inky Edition in Hudson from September 12 to October 4. An opening reception and book signing will be held on September 12 at 6:30pm. Inkyeditions.com.