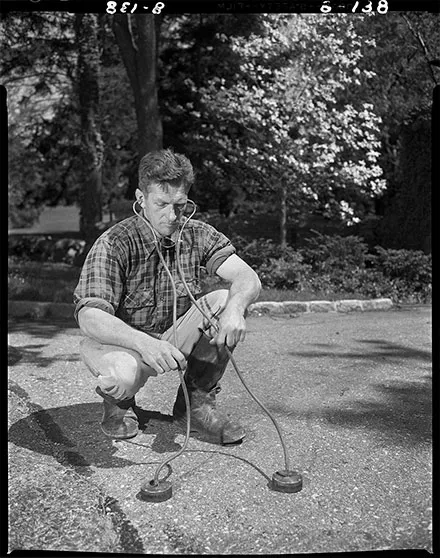 A man listening for water main breaks shot by an unknown photographer for the Greenwich Connecticut Water System.
One person's trash is Pete Mauney's treasure. The Tivoli-based photographer has been collecting tossed-aside film negatives for over 20 years from antique stores, yard sales, and eBay—where he used to buy negatives by the pound. Over 30,000 negatives shot by unknown photographers sit in boxes on a shelf in his studio.
Mauney's hoard contains a lot of weird images: a baby with a cigarette in his/her(?) mouth, a topless woman posing with a ventriloquist's dummy, Nazi memorabilia, and other awkward yet stunning photographs. In 2010, he began uploading photos from his collection to his blog, Global Pillage. Since then, he has posted over 550 strange, obscure, and jaw-dropping vintage photos. Take the image above, for instance: It's a shot of a worker for the municipal water service in Greenwich, Connecticut, using an industrial stethoscope to check for water main breaks. On the blog, however, this information isn't provided. The genius of Global Pillage is that it lets your imagination run wild, a refreshing change from the overdetermined content in most digital precints.