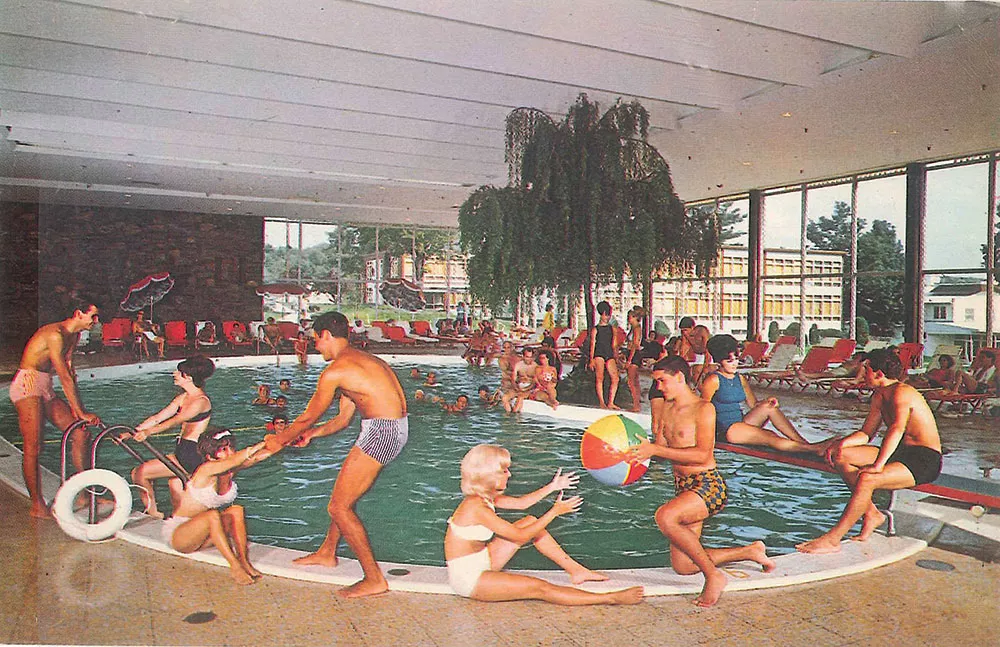 Postcard, ca. 1960, by Bill Bard Associates. Indoor pool, Laurels Hotel and Country Club on Sackett Lake, Monticello New York.
Marisa Scheinfeld grew up in the western Catskills, and like many other Jewish families, hers vacationed there. The "Borscht Belt," or "Jewish Alps," was a hotspot for seasonal entertainment, pleasure, and leisure. The area experienced a golden age from the 1930s into the `60s—but the resorts have been abandoned now for decades. Nature has taken over. Rust and decay have eaten away at buildings and structures where families once flocked for card games, dining, and ice-skating. Scheinfeld's photos in The Borscht Belt: Revisiting the Remains of America's Jewish Vacationland (Cornell University Press, 2016) contrast the present, overgrown spaces to the once carefully maintained and thriving vacation scenes. "Ruins can be metaphors for things that survived, persisted, and persevered despite the fact that everything around them as falling and crashing," Scheinfeld says, "Some people might consider them dead, but I see them as active and vital, a powerful force." A stark beauty occupies the snow-filled remains of what was once an indoor pool brimming with bodies. Kodachrome summer turns to monochromatic winter. Red pool lounge chairs are replaced with scraggily trees. The building in the postcard's background is nonexistent. People are replaced with piles of snow, and all that remains from the original image are fragments in a side-by-side comparison.
indoor pool, 2010, Laurels Hotel and Country Club on Sackett Lake, Monticello, New York. Photo by Marisa Scheinfeld.