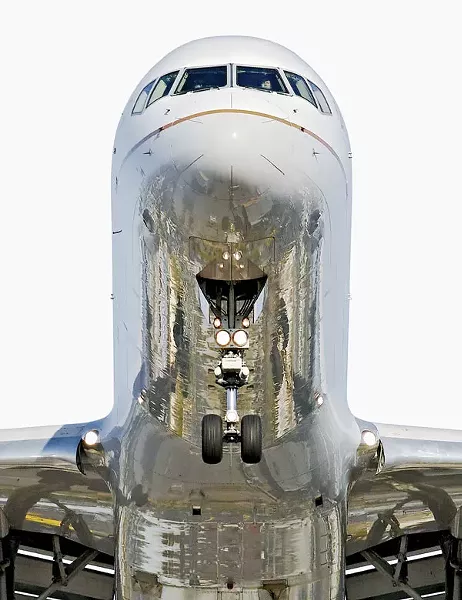 "Continental Boeing 757-200," Jeffrey Milstein, LAX, 2012.
If Jeffrey Milstein isn't in his Kingston studio, you might want to check John F. Kennedy International Airport. But he won't be at baggage claim. Comb the nearby side streets. There, Milstein will be preparing to photograph an airplane on its landing at 200 miles per hour, 180 feet above the ground.
Trimotor, Bell, Harrier, Bombardier, Raptor, Airbus, Boeing (747s are Milstein's favorite)—the photographer has been dangerously intimate with them all. The images featured in Milstein's solo show at the Smithsonian, "AirCraft: The Jet as Art," were taken over a four-year period, mostly in at the edges of airports in New York and Milstein's native Los Angeles. Various selections were exhibited in solo and group shows in Kansas, New York, California, Belgium, and Spain.
Milstein's goal in the AirCraft project was to emphasize the symmetry and shape of the aircraft, frozen in a moment of movement. "The photographs are like the butterflies pinned in photo boxes," he explains. "[Each] catches a moment of time that would otherwise pass you by."
Milstein's photos capture the absurd grace of a man-made metal mammoth in flight. "Airplanes are miraculous technology," he says. "That something so heavy can take off the ground—it amazes me every time."
"AirCraft: The Jet as Art" is on display at the Smithsonian National Air and Space Museum in Washington, DC, through November 25. Portfolio:
Jeffreymilstein.com