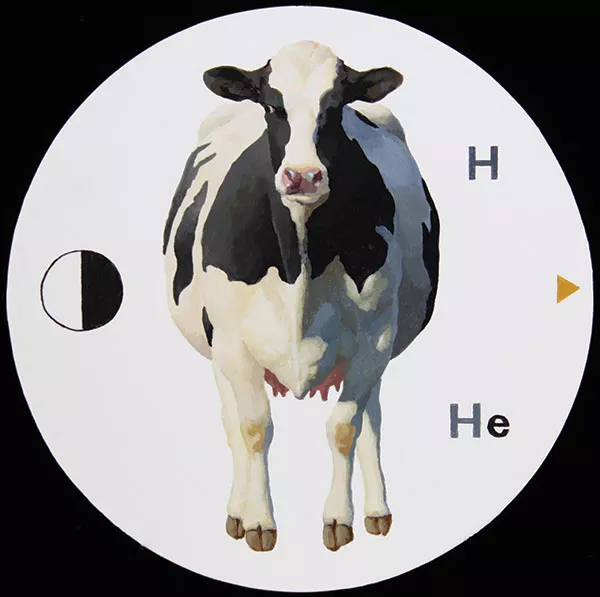 Helios, Craig Blietz, acrylic on panel, 10" diameter, 2014
While artist Craig Blietz is fascinated by the anatomy and physiology of common Holstein cows, it's the black splotches staining their hides that influence his work most powerfully. "I often refer to them as Rorschach ink blots—you look at them and you're not sure what you're seeing, but you can be sure that everyone is looking at something a little bit different," he says. He compares the undulating patterns of a herd in motion to a kaleidoscope.
His hyperrealist paintings have photographic accuracy, but the viewer is free to interpret each cow's individual markings differently.
Helios, this month's featured Parting Shot, is a part of his body of work titled "Code," for exactly that reason.
The elemental signs for hydrogen and helium dominate the cow's left flank, which are constituents of the sun, while the meteorological symbol for sky cover is depicted on its left. "The way the animal is illuminated is in the same way that the [sky cover symbol] is. It refers to the sun," Blietz explains.
Helios is on display in the exhibit "It's OK to Be a Realist" at the Ann Street Gallery in Newburgh through May 2. Blietzstudio.com; Safe-harbors.org