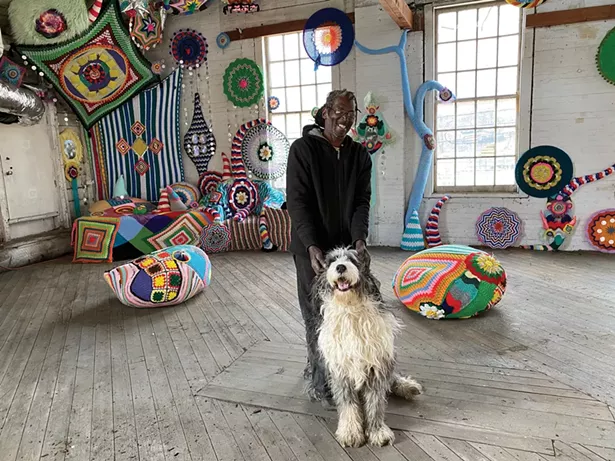 Photo by Stefan Saffer
Gallery visitor Josh Shaw with ArtPort dog-in-residence Rubi(n) in front of an installation by Jelia Gueramian inside the Cornell Steamboat Building in Kingston
The pandemic has posed a nearly impossible challenge for art galleries and museums: How to share art—actual physical work, not digital representations of such—in a safe and socially distant environment? One winning strategy: Have a gigantic space. ArtPort, an exhibition space housed in the cavernous Cornell Steamboat Building on Kingston's waterfront, has launched two ongoing exhibitions that capitalize on its spacious digs. Inside the building, "The Ripple Effect" features a sprawling installation by Brooklyn-based artist Jelia Gueramian. Inspired by a childlike sense of wonder, Gueramian uses found materials to create alternative worlds that invite viewers to awaken their senses and lose themselves in another reality. Outside, "ArtStream" is a collection of site-specific artworks, installations, sculptures, and performances that will evolve over the course of the summer.
Artport is open on Saturdays and Sundays from 12 to 5pm.