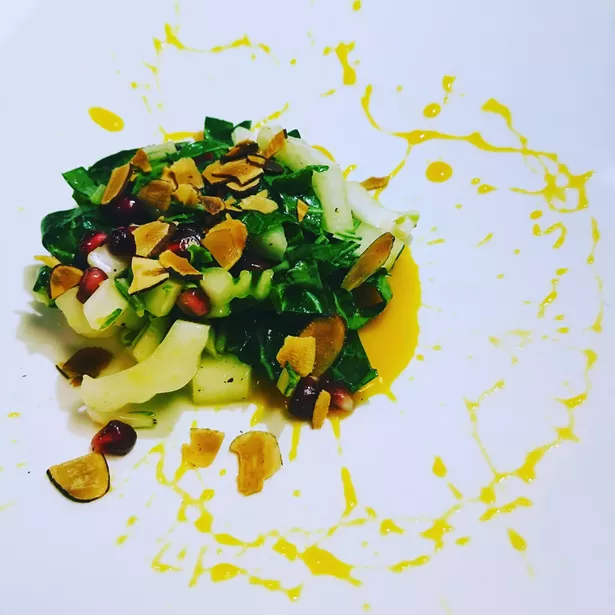 <!—————StartFragment—————>
Uptown Kingston just welcomed its newest restaurant, Palizzata, on July 4. Eschewing the chicken parm TexMex of Italian food, the family-owned establishment will serve up authentic dishes from northern Italy.
"Palizzata" is Italian for "stockade," a tip of the cap to both the restaurant's culinary heritage and its historic location. The dine-in eatery will open at the corner of Wall and John Street in the large, window-lined location that most recently housed the Mexican eatery Alebrijes and, in bygone years, the Kingston Tea Garden, with its iconic Chop Suey sign.

Palizzata is the newest culinary venture of Tony & Nick's Italian Kitchen owners Eric and Joseph Cafaro. The father-son duo opened Tony & Nick's in Ellenville about two years ago. It's a typical, family-style Italian restaurant serving up pizza, pasta dishes, burgers, and other Italian-American favorites.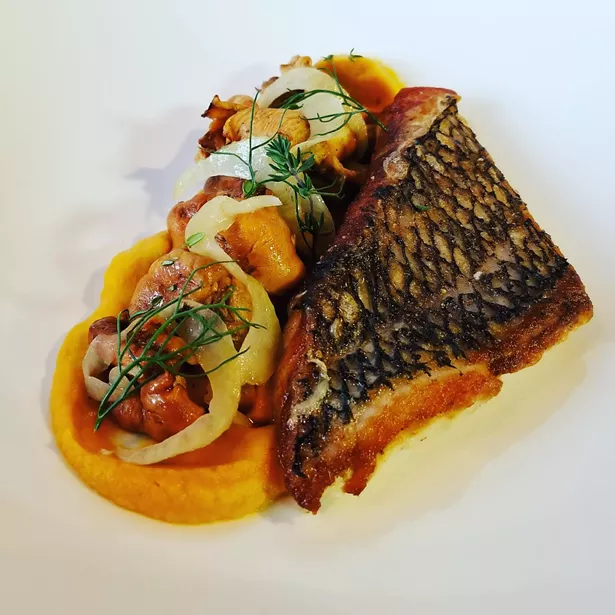 Black Seabass, Carrot Puree, Chanterelles
"Meatballs, chicken parm, veal parm—those are American dishes," says Palizzata's executive chef Joseph Cafaro. "When visiting northern Italy, I barely see meatballs, and chicken parm is not familiar to locals." While the Ellenville joint leans into the Americanized Italian food trend, Palizzata will present a more refined and authentic representation of Italian cuisine.
Joseph has visited northern Italy twice for two weeks at a time on family trips. The new restaurant features a sampling of what he learned from his European adventures and past chef positions. "It's going to be similar to a normal Italian-American restaurant," Joseph says. "I definitely take influence from our trip to Italy, but at the core, the cuisine is very simple—just mixed with Italian tradition."
The young chef's culinary roots lie in vegan, vegetarian, and gluten-free foods. At Tony & Nick's, the menu is majority gluten-free and vegan. Palizzata will serve half-vegan and half-non vegan to keep with Italian tradition. "In Kingston, there's a lot more choices and a lot more people," Eric says. "I don't need to worry about having meatballs if I want to stay authentic. We can focus more on authenticity and what we've come across in northern Italy."
Some dishes include Vitello Tonnato, a roasted veal loin with tuna anchovy sauce; Eggplant Parmigiana, a roasted eggplant with San Marzano tomatoes and mozzarella; and Porchetta, a pork loin wrapped in pork belly.
Palizzata will also be more upscale than the family-style vibe of Tony & Nick's. It will be "white-table cloth" kind of a place, with a room for private events. "We're overwhelmed with excitement about the space," Eric says. "I've watched the renaissance in the Stockade/Uptown district of Kingston, and I love the vibe there and everything about it."
What you can expect to transfer over from Tony & Nick's is the homemade mozzarella cheese, which they make in-house everyday.

Palizzata is at 298 Wall Street.
<!—————EndFragment—————>
Business hours are Sunday-Thursday 11am-10pm, Friday and Saturday, 11am-11pm, and closed on Tuesday.