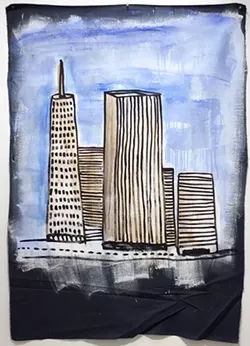 Metropolis Series No. 1, 2017 | Abel Ramirez
How would you describe your city to a stranger? Would you talk about the wisps of music and chatter heard through your window at night? Your favorite pizza place? Perhaps the region's politics and history? A key element of what gives a city personality and life is its aesthetic, and this notion is explored thoroughly by the 10 painters involved in "Painted Cities," the colorful group show currently on view at Carrie Haddad Gallery through February 18.
The gallery's first "Painted Cities" exhibition took place in 1993 and, according to curator Linden Scheff, sought to "echo the charm and energy of our own historic city of Hudson with its mile-long main street, diverse architecture, and proximity to New York City." Since then, the group show has grown to become an annual and sometimes biannual tradition for Carrie Haddad, showcasing the work of artists represented by the gallery who continue to produce work concerned with capturing urban life in painting.
This year's "Painted Cities," which will be on view at the gallery's Hudson storefront through February 18, uses the recognizable and accessible theme of cityscape as a jumping-off point to showcase the wide variety of styles and techniques of each painter in the show, with some artists depicting familiar upstate scenes and others drawing from New York City for inspiration. Whether in the expressive, candy-colored landscapes of Dan Rupe or in Paul Chojnowski's traffic scenes made entirely by burning and scorching paper, viewers will get a chance to see the inventive methods used by artists to describe the cities they call home.
Entering the gallery, some of the first works one will encounter are Patty Neal and Eileen Murphy's lifelike paintings of New York City, which play well off of one another. While Neal's thickly painted skylines show city structures from afar (through a window, across a body of water, or looking up from the street), Murphy's more delicately handled works bring the viewer into such spaces, capturing moments such as the space beneath an overpass from the perspective of a pedestrian looking up, as in Bedford Between S. 5th and 6th Streets.
Both Edward Avedisian and Darshan Russell seem to share an affinity for simplicity. Avedisian, the late New York painter best known for his color field paintings in the 1960s, uses abstracted Albany street scenes in these later-in-life works as blocky arrangements within which to place his hypersaturated color choices, whereas Russell, a self-taught painter, applies paint straight from the tube in thick, confident strokes to compose snapshots of urban life using extremely limited visual imagery. In her painting Long Distance Runners, for example, the story of four runners is told by simply showing us their legs and limiting the palette to six basic colors. While Avedisian abstracts his work in order to focus on more formal concerns, Russell's blocky, often cartoonish forms serve to convey moments of city life unencumbered by any unnecessary detail.
Another interesting contrast may be found between the works of Scott Nelson Foster, whose small-scale, black and white watercolor paintings feature old row homes, landmarks, and storefronts, and those of Richard Britell, who captures architectural details of zoomed-in classical buildings found in Manhattan. While Britell's vision of the city comes down to its nitty-gritty details (he notices every brick, every Greco-Roman meander circling an apartment window), Foster generates interest by avoiding too much visual information. Foster's paintings, in centering the buildings which are the focus of his work, create the sensation of reaching a destination point, of finding the one building out of many like it which one is looking for. For Britell, on the other hand, drama can be found in the minute architectural features that document the history of a city's structures.
Each of the artists in "Painted Cities" approaches the subject of cities differently by limiting their focus to a single facet of city life, from bustling traffic to natural beauty. With such a broad spectrum of methods and voices joining to convey this subject, one is left with the impression of the city as a sprawling, complex mixture of distinct experiences and identities.
"Painted Cities" is exhibited at Carrie Haddad Gallery through February 18. (518) 828-1915.