Nichole Cooley, head baker at Café le Perche, preparing baguette du Perche in the bakery. At 9:30am, this was the end of Cooley's nine-hour shift.
The European model of grocery shopping every day is becoming a thing of the past. In France, there has been some concern expressed at the decline of the local boulangeries; more and more villages and neighborhoods are losing their small bakeries as customers buy all their food at supermarkets, which offer pale imitations of the archetypal baguettes made by real artisan bakers. Vending machines that dispense bread are even proliferating, though connoisseurs are unimpressed with their offerings and the very idea seems like the sort of thing that would cause incensed farmers to protest en masse by dumping truckloads of melons in the streets.
In this country, however, bakeries are opening. As more people develop a taste for real bread, not the flaccid simulacra churned out by supermarkets, a new generation of bakers is working to provide their neighborhoods with authentic, high-quality baked goods. A superb example of this trend can be found on Warren Street in Hudson, where a team of young people is producing top-notch artisanal breads and pastries made from local, organic flour. Crusty, chewy bread with deep flavor and real character, traditional pastries, and sturdy bistro fare: Café Le Perche is something every town should have.
Open for less than a year, the café is the result of owner Allan Chapin's love for the baguette du Perche, which he was captivated by on one of his regular trips to France (he has a house in Paris as well as Claverack). Chapin brought David Lambert, the man who baked that baguette, over to meet with Don Lewis at Wild Hive Farm, carrying bags of French flour so they could figure out how to duplicate its protein content, flavor, and character using local grains. Lewis arrived at a blend of soft white winter and hard red spring wheat, ground quite fine: "The flour that [Lambert] brought from France was very fluffy," Lewis says. "Besides matching the gluten levels, which is easy, there's a particular feel to it." To maintain consistent results throughout the year, Lewis has to adjust the blend and grind depending on the season and the weather.
To ensure a steady supply of flour with no interruptions, Café Le Perche is participating in Lewis's CDA (Consumer-Driven Agriculture), paying a percentage up front to reserve their supply for the year. This helps guarantee a steady income to the farmers throughout the year and keeps farmland viable. Lewis has calculated that one acre of wheat makes enough flour for 3,000 baguettes. At current rates of production, the bakery uses an acre's worth of Hudson Valley wheat every 15 hours of baking: a tangible illustration of the effect that local food can have on the landscape.
In the carriage house behind the café sits the pièce de résistance: a 17-ton wood-fired oven made by Manuel Muñoz in Anjou. A hot, hulking presence—it fills the room and throws off enough heat that an open door on a cold day goes unnoticed—the oven has a rotating hearth 11 feet in diameter, operated by a shiny steel wheel to the left of the door. The oven is the same kind that Lambert uses, and baker Nichole Cooley speaks enthusiastically about what it allows her to achieve: 200 baguettes an hour, with fabulous crust and consistent results. Chapin found the oven on a farm near Le Perche, bought it, and had it taken apart and shipped to Hudson. Two French masons flew over as well to reassemble it on site.
Manager Jennifer Houle with freshly baked pastries at Café le Perche in Hudson.
The oven's firebox—which is below the baking chamber; there's no fire inside like a pizza oven—consumes a cord of wood a week, and the bakery orders the wood custom cut into the largest possible sizes to ensure a long, steady burn. Such is the efficiency of the oven that even when left alone overnight it only drops below the baking temperature of around 450˚F on the coldest of nights. It takes over a week to cool completely. A brick revetment was recently added, cladding the oven in appealingly weathered bricks that were salvaged from the renovations of the property and Chapin's house. Besides obvious aesthetic appeal, the bricks also add another layer of insulation that keeps heat inside where it belongs.
Cooley, 32, recently spent two weeks studying with Lambert at his bakery in Bretoncelles, learning the techniques and artistry behind his breads and pastries. She began baking with her grandmother, who "had a real sweet tooth," making pies and cakes of all sorts. Later in life, studying computer programming at Columbia-Greene Community College, she says at 23 she had an epiphany that she needed to get a job that did not involve sitting in a chair. So she enrolled at the CIA. "Growing up here, I always wanted to move away, but Hudson has become so hip and beautiful. I love living here now."
Most of her dough undergoes a one-hour autolyse, or rest, before salt is added. This gives gluten a big head start, as salt impedes its development. Then the dough is kneaded in one of the big industrial mixers against the wall, and then retarded overnight in the refrigerator. This allows the dough to attain a lovely sourness before it is proofed and baked the next morning. Cooley uses a time-honored technique to add further tangy character to her bread; she keeps all the dough scraps and trimmings and adds them to the next day's dough, so that 10 percent of each batch has had another day to ferment and sour. This technique, known in French as pâte fermetée, is essential to the baguettes du Perche, which have been awarded a prestigious appellation d'origine contrôlée classification.
With a hydration of 75-80 percent (which is quite a wet dough), Cooley says "Lambert told me 'you have to touch it like a lady' and handle it very delicately." It can be tricky to slide the loaves off the peel without losing their shape. "It takes a lot of flour and a strong wrist," Cooley laughs. While the Perchian brewads have a delicate, sour complexity, Cooley also makes sourdough using a wild yeast starter, which is even tangier. Lambert was skeptical of some of Cooley's additions to the repertoire—he didn't like sourdough—but he enthusiastically endorsed her versions of his traditional loaves, saying they were better than his competition back in France.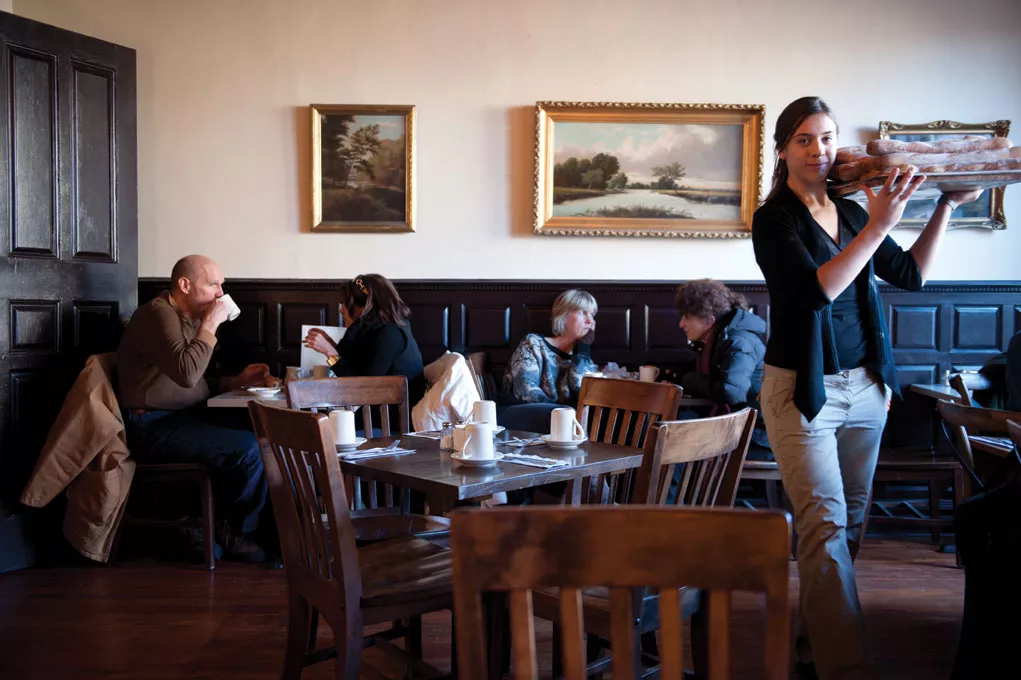 Hannah Otten carries freshly baked baguettes through the dining room at Café le Perche.
The bakery has a few wholesale accounts, and they're just the beginning; Manager Jennifer Houle, 34, says they are about to buy a delivery van and begin distributing throughout the area. They will also be doing a number of farmers' markets throughout the region beginning in the spring when the season gets going. The café is available to rent–there's a private room upstairs for smaller functions—and they hope to be able to do some off-site catering in the future. Cooley says that "If the demand was there, we could add another shift and produce three to four times as much bread as we are now," which means that there's plenty of room still to grow; the oven is so efficient that it's hot all the time and they are eager to use every BTU they generate. But both Cooley and Houle express concern about growing too large too fast and losing the quality that has earned them such praise so far. This has been a problem for other bakeries; as production and shipping distances increase, maintaining the handmade character and fresh-baked crust can be difficult.
Chapin was a regular customer of Houle's when she was manager at a Le Pain Quotidien store in Manhattan. He watched her work, and eventually proposed hiring her to run the new venture. "I was skeptical, but I loved Hudson," she remembers, and after 12 years in Brooklyn she was ready for a change. In February of last year, she moved up and oversaw the renovations: "The building was a shell; we did a ton of work." A local carpenter matched existing molding and paneling, and they used as much as they could of the original woodwork; some of the tellers' partitions from when the building had been a bank became the bar. It's charming, full of light, with an airy dining room in back and a large patio outside that offers al fresco dining with a view of the carriage house.
The menu is a local, organic take on French café fare, with many items, like crostini and sandwiches, featuring the bread. Staples like coq au vin, steak au poivre, and garbure round out the menu. Chef Robert Pecorino, 28, worked in Atlanta before coming to Hudson, and enjoys combining French tradition, Southern comfort, and local products: "Our climate here in the Hudson Valley is very similar to that of Le Perche; we grow a lot of what they grow. And honestly, in Hudson, if we weren't doing local, we'd be oddballs." And it's popular; the business is beginning to make money and locals and visitors alike are delighted to have such quality in town. "We have very loyal regulars," Houle says. "When we closed for two weeks [during Cooley's trip to France] there were some meltdowns and we got nasty e-mails" from frustrated would-be customers.
Café Le Perche is a small story, true, but it represents some trends that have big implications: Young people are moving upstate from New York City, the flour is keeping Dutchess County land agricultural, and people who don't bake at home can buy bread that is as good as any anywhere. As Hudson continues to grow and develop, this and other businesses will only add to its prosperity. It's a formula that other towns would do well to emulate. "Besides profit, it's a way of giving back to the community," Chapin says. "We have 20 employees, and they're all locals; if they weren't before, they are now."

Café Le Perche
230 Warren Street, Hudson
(518) 822-1850;
Cafeleperche.com
Open Sunday to Thursday from 7am to 8pm; Friday and Saturday, 7am to 10pm.