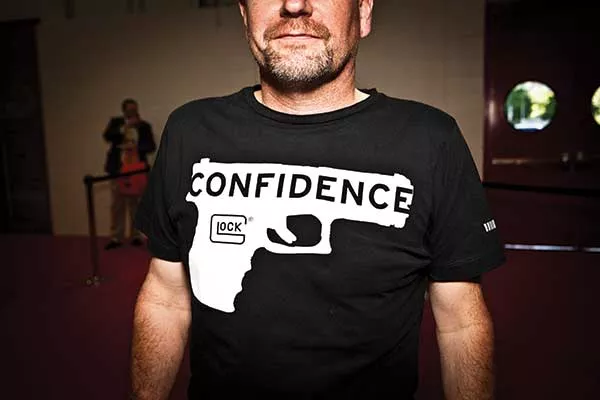 A photograph by Erin Trieb from the exhibition "The Gun Show" at Fovea in Beacon. Don Svetanics, 47, flew in from St. Louis to go with his brother, Jim, 45, to the NRA show held at the George R. Brown Convention Center in Houston, Texas on Friday, May 3, 2013.
The annual Oklahoma Full Auto Shoot and Trade Show is a family affair—kids practice handling .22 caliber rifles, and babies pose for photos next to AK-47s. "The people who attend it view it as wholesome recreation," says Pete Muller, who photographed the show in 2012. "They don't view it as aggressive or malicious. They view it as a fun, very controlled fair that revolves around very serious heavy machine guns."
The national conversation about guns has become increasingly complicated in recent years: from the fatal shooting of Trayvon Martin in February 2012—for which the killer was found not guilty last month on the basis of Florida's stand-your-ground law—to the Sandy Hook Elementary shooting in Newtown, Connecticut, last December. Despite such tragedies, there are many people in the US who stand by the Constitution's Second Amendment. After all, the right to bear arms is written into the DNA of our country. And guns don't kill people, people kill people, right?
The polarized debate on gun culture in the US is, of course, much more nuanced and complex than its extremes account for. "Guns seem to provide their owners with a certain sense of security and power," says Neil Harris, associate photo editor at Time magazine and curator of "The Gun Show" exhibit, which features photo-essays on domestic gun culture by seven American photographers. "But ironically, it's the possession and use of firearms that engenders so much fear, causes so much trauma, and actually erodes people's sense of security." The conversation surrounding guns in the US is fraught with such paradoxes, and Fovea's exhibit contributes to the debate in powerful, dynamic, and provocative ways.
Muller's Oklahoma Full Auto Show project explores inconsistencies and divergent viewpoints on the gun issue. "I really wanted to meet these people that had these kinds of love affairs with heavy machine guns," says Muller. "Their views are bound up with the polarized view about gun control on a national level. I wanted to get a more human perspective from their standpoint." The photo of Story Rush, a kindergarten teacher beaming as a fireball explodes out of her M1919 Browning .30 caliber machine gun, reveals different attitudes about guns, depending on who is looking at it. "I sent it to [Rush], and she was thrilled. To people at something like OFAS, they see someone having a great time," Muller says, adding that the photograph frightens others.
While the featured photo-essays explore the topic of domestic gun culture from different angles—Barbara Davidson's Pulitzer Prize-winning photo-essay on the effects of gun violence in Los Angeles; Erin Trieb's coverage of the 2013 annual meeting of the National Rifle Association in Houston; Drew Ludwig's experimental photographs of shooting target posters placed in schools—there's something central to the exhibit that touches on the issue more broadly. "It all seems to come from one instinct or urge that really is a fundamental part of American culture, for better or worse," says Harris, referring to the violent frontier ethos on which the country was founded. Muller adds that guns offer an avenue into the psychology of a group of people. "Through guns, you get at so many existential questions in a population—safety, fear, community, alienation." Men with guns made America. "I prefer dangerous freedom over peaceful slavery," Thomas Jefferson said. "The Gun Show" asks us to consider our country's complex relationship with guns, and how, in the pursuit of such abstractions as freedom and peace, they continue to shape our national identity.
"The Gun Show" will be on view at Fovea in Beacon through October 6.