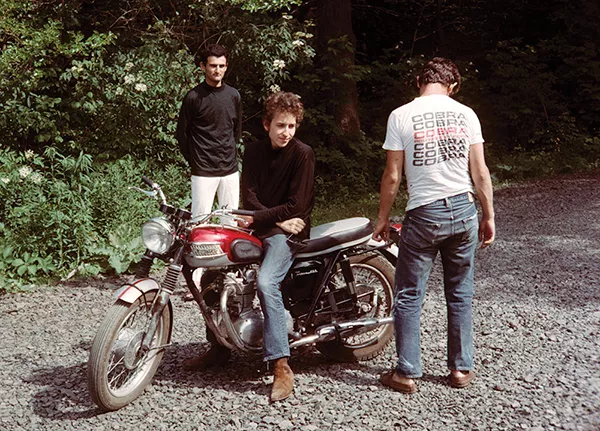 John Byrne Cooke
Bob Dylan on his Triumph Bonneville with Victor Maymudes (left) and Bobby Neuwirth, Bearsville, summer 1964
It often takes an outsider to see the forest for the trees. Americana's charter act, The Band, was formed in Toronto and four-fifths Canadian, and the pure passion for "exotic" traditional American styles that saw them remake rock music in the 1960s and '70s was inextricably intertwined with their predominantly non-native status. One might say that, similarly, the insights of Barney Hoskyns's Across the Great Divide, wdiely regarded as the definitive book on The Band, came from his own untainted perspective as an Englishman. With his newest book, Small Town Talk (Da Capo Press), Hoskyns returns to the local backdrop when Bob Dylan, The Band, Van Morrison, Janis Joplin, Jimi Hendrix, and others held court in the Catskills during "the Wild Years of Woodstock." And this month Hoskyns returns to the region where he once lived for a series of readings. He'll be at the Spotty Dog Books and Ale in Hudson on April 7 (with a screening of David McDonald's film Woodstock: Can't Get There from Here), the Golden Notebook in Woodstock on April 8, and the Kleinert/James Center for the Arts in Woodstock on April 9 with Warren Zanes and Holly George-Warren.
Would it be accurate to say Small Town Talk is an outgrowth of Across the Great Divide?
Yes, that's broadly accurate, in that it was my Band biography that first took me up to Woodstock, in 1991. And it was that first visit that brought me back there, to live, five years later. But I didn't know much about Woodstock's music history beyond Dylan and The Band. Paul Smart's book Rock and Woodstock opened my eyes to the richness of the story. Writing about Todd Rundgren, Karen Dalton, Tim Hardin, and others over the subsequent years—when I was corresponding for the UK's MOJO, and after I moved back to London to launch [online music journalism archive] Rock's Backpages—really planted the seed of Small Town Talk.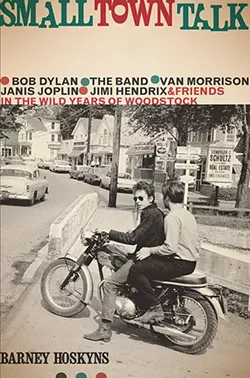 Besides the namesake festival's not being held there, what's the biggest misconception about Woodstock?
Perhaps that it was a kind of Haight-Ashbury in the Catskills, which I'm not sure it was—especially given that Dylan and The Band were, if anything, antihippies; a pronounced reaction to Haight-Ashbury and the 1967 "Summer of Love" that they chose to bypass. The Woodstock-Bearsville story really comes into its own in the early '70s, and it was a much more earthy, funky, boozy thing than Haight-Ashbury—though the two obviously have Janis Joplin in common, and she was the queen of earthy/funky/boozy.
How did your impressions of the town compare to those you'd had before you arrived?
I didn't have a very clear image of Woodstock in my mind before 1991, but it would have been based almost entirely on the images of [photographer] Elliott Landy. I was really beguiled by his shots of The Band on their first two album covers, and then I suppose at some point I saw his shots of Dylan outside the Woodstock Bakery, things like that. When I arrived in town in the summer of '91, it did look pretty much how I'd expected it to: an upstate country town with a tie-dye overlay.
Many of your books focus on the postpsychedelic/prepunk music of the early 1970s, especially that of American acts. What is it about that era and style of rock that has attracted you?
It's probably that groups like The Band—and The Band in particular—were such a part of my own adolescent journey. They were how I grew out of my first real teen pop crushes, which were mostly glam rock. You couldn't have gotten further away from Marc Bolan than Levon Helm. The Band were real men, with short hair and beards, not flouncing, spangly pop stars—and their music felt grounded in something genuinely emotional as well as authentically American. At secondary school in London, the really cool older boys all walked around carrying albums by the Dead, the Allmans, The Band, Quicksilver, and so on, so that's what one aspired to.
John Scheele
A weary Todd Rundgren at the board during The Band's Stage Fright recording sessions, Woodstock Playhouse, early summer 1970 (left to right: John Taplin, Robbie Robertson, Rundgren, and John Simon
I'm also really interested in charting the journey from the dizzy promise of the utopian '60s to the more bruising self-discovery of the early '70s: in Blakean terms, the journey from innocence to experience, sometimes from light to darkness...and hopefully back to the light again. I'm more interested in John Wesley Harding than I am in The Freewheelin' Bob Dylan, just as I'm more interested in Joni Mitchell's Court and Spark than I am in her Clouds.
Small Town Talk is in a way the counterpart to Hotel California, your examination of the Laurel Canyon scene that roughly paralleled the one happening in Woodstock. What were the differences between the two scenes? Other than music, hippies, and drugs (cocaine in California versus the heroin that continues to plague Woodstock), what were the similarities?
There were important differences, and not just climatic and geographical ones. Laurel and the other LA canyons were smack-dab in the middle of a huge urban sprawl, which Woodstock clearly isn't. In Laurel Canyon you could kid yourself you were getting away from it all, but the Sunset Strip was 15 minutes away—plus LA had the ocean, whereas Woodstock is about lakes and waterfalls. You had (and have) to be a lot more rugged to live year-round in the Catskills, however New Agey you are. I think the best music that came out of Woodstock reflects the environmental differences: It's grittier, more physical, less cerebral.
Lisa Law
Albert and Sally Grossman at the Monterey Pop Festival in California, June 1967.
The similarity is that you have a concentration of very talented, more-or-less damaged individuals in a very small area, most of them interacting through sex, drugs, and music. I've always been fascinated by scenes, and Woodstock/Bearsville was one hell of a scene!
It's dismaying to hear that heroin is still prevalent in and around Woodstock, but I suspect it will always follow where music goes. Damaged people are drawn to rock and roll like moths to flames, and sooner or later they'll intersect with dope. I'm reminded of a quote I used in the book from Greil Marcus's book Mystery Train, which was Robbie Robertson's wife Dominique saying, in 1972, that all she found in Woodstock was "dope, music, and beauty." That's all?
The scene that grew up in Woodstock around Bob Dylan, The Band, and the Basement Tapes was largely a reaction to the explosion of pop culture, a retreat from an increasingly technology-driven society. Given today's wired, short-attention-spanned youth culture and the pervasiveness of the Internet, could something like it ever occur again? Have you seen evidence of any contemporary 1960s/'70s Woodstockesque scenes happening anywhere today?
Bob Gruen
Todd Rundgren and Bebe Buell, Mink Hollow, summer 1975
I think it's very difficult to recreate something like the Woodstock/Bearsville scene, and one shouldn't really want to do that anyway. Somebody like Dylan simply couldn't disappear in the way he did in Woodstock in 1966/67, for a start. On the other hand, what the Woodstock story does represent is a kind of resistance to the disconnected and disembodied nature of contemporary culture as we experience it through the Internet and social media. I see evidence in the lives and the music of many younger people of what one might call a "slow revolution"—a recognition that we might have to get "off-grid" to save our souls and our sanity. Or it may be too late. "When you awake, you will remember everything."