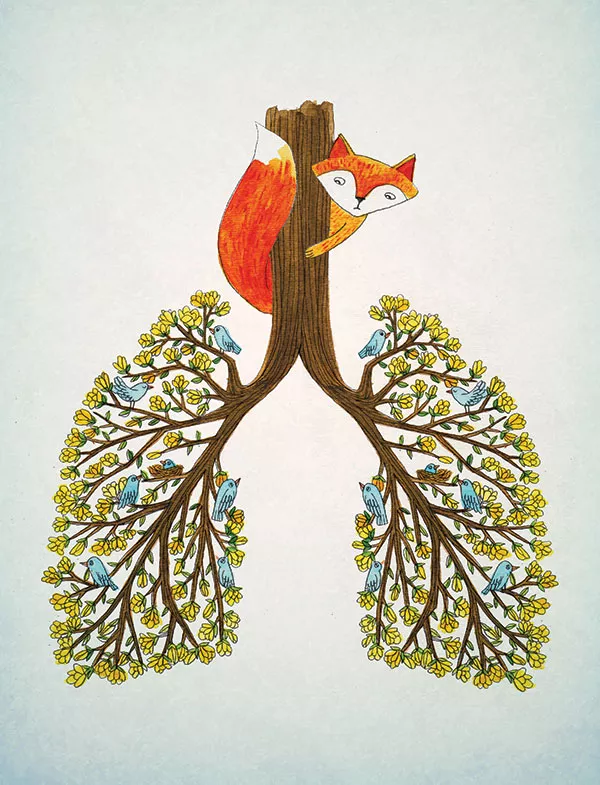 Call it kismet, call it luck—call it being in the right place at the right time. Two years ago, Robert Linscott just happened to see a flyer about a lung cancer early-screening clinical trial at White Plains Hospital, where he punches his card as an operating room custodian. A former smoker for 40 years who'd been exposed to asbestos in the Navy, Linscott, then 60, fell squarely into the high-risk group eligible for the trial; as a participant, he would receive a free low-dose CT scan of his chest annually. Little did he know that his first scan, in May 2013, would save his life. "I was totally asymptomatic," says Linscott. "I had no clue that I had cancer." Yet there it was—a walnut-size tumor in his right lung, confirmed by a follow-up PET scan that lit up the tumor like a fluorescent bulb in the center of his torso. The next step: minimally invasive, video-assisted thoracic surgery (VATS), which allowed Cynthia Chin, MD—the lead thoracic surgeon on the study—to remove the tumor through three one-centimeter incisions in his chest. The cancer gone, he was back to work in eight weeks. Says Linscott, who neatly side-stepped a very different fate, "If I had waited a year, it could have been much, much worse."
In Preventive Medicine, a Breath of Fresh Air
It's about time that we had some defense against lung cancer. Responsible for about 27 percent of cancer deaths, it is by far the leading cause of cancer death in both men and women. Every year, lung cancer kills more people than colon, breast, and prostate cancer combined. "The problem with lung cancer is that it's found very late for the most part," says Clifford Connery, MD, FACS, medical director of the Dyson Center for Cancer Care at Vassar Brothers Hospital, and the director of thoracic oncology and surgery at Health Quest hospital group. "That's because you don't feel pain or other symptoms when you have it. We have a phenomenal amount of lung capacity that is given to us with our original equipment. Look at Olympic athletes, cyclists in the Tour de France—we all have that kind of capacity if we're properly trained. So you wouldn't notice that you were getting short of breath until you lost nearly half of your lung capacity." Because most lung cancers are found at a later stage, the cure rate is a mere 17 percent. But when they're detected earlier, says Connery, the cure rate leaps up to 80 percent—a much sunnier statistic.
Breast cancer has its mammograms and colon cancer has its colonoscopies, but until now lung cancer has had nothing comparable to screen an individual before symptoms have developed and the disease has spread like a runaway train. Finally, that's changing. Just last year, the US Preventive Services Task Force recommended the low-dose CT scan screening for adults aged 55 to 80 with a history of smoking comparable to a pack a day for 30 years. Thanks to the Affordable Care Act, the screening is now covered for eligible people as a basic health insurance benefit; Medicare agreed to pay for it in February of this year. It's been a long time coming: Claudia Henschke, MD, and her pioneering team at Mount Sinai Medical Center in Manhattan have been working to standardize the low-dose CT lung scan for over 20 years, and only now has the medical establishment caught on. "It's been hard for me to stand by knowing that there are over 150,000 people dying each year of lung cancer in the US alone," says Henschke, professor of radiology and director of Mount Sinai's Lung and Cardiac Screening Program. Through the International Early Lung Cancer Action Program (I-ELCAP) over the years, the I-ELCAP investigators have diagnosed more than 1,000 lung cancers through low-dose CT scans, and have cured most of them. "The recommendations aren't perfect yet," adds Henschke, who would like to see the screening available to a wider range of people, "but it's a great start."
A Ray of Hope for Long-Time Smokers
Modern medical advancements never just burst onto the scene in a dramatic debut; instead, it's an achingly slow process of randomized control trials and peer-reviewed journal publication. Getting the low-dose CT scans in place has been decades in the making; hopefully, it won't take too much longer before primary care doctors start prescribing them. "I think the real piece now is to educate health care providers and patients that [the low-dose CT scan] should be considered part of your annual physical exam if you're in the high-risk category," says Connery. Since the 1950s, doctors have prescribed chest x-rays to individuals at risk for lung cancer—but this less-precise technology falls short at detecting tumors when they're in the small, curable stage. (Linscott himself had a chest x-ray for pneumonia just months before his screening, and it failed to reveal his growing cancer.)