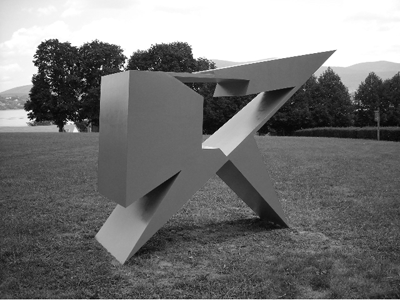 "Aleph" by Alejandro Dron, 13 feet tall welded steel.
With the warm weather of summer rolling in why not take an art tour outside? A jury of three art authorities selected 20 national and international artists to display their sculptures at five outdoor locations. Including work by artists Alejandro Dron and Sarah Sedgwick the tour makes stops at Boscobel, Garrison's Landing, Manitoga, the Desmond-Fish Library, and Cold Spring Waterfront Park. All members of the community are welcomed to take pictures of the exhibit and the sculptures to be entered in a photography contest. All photos entered will be put on display at the Garrison Art Center on July 19 and 20. Photos will be eligible for awards and sale with a portion of the proceeds going to the Gillette Scholarship Fund.
As part of a preview tour and party on May 31, guests can take a self guided tour through the exhibit and join the artists at Garrison's Landing for music, wine and dining the day before the tour opens to the public. All the proceeds from the party will go to the Gillette Scholarship Fund which is available to art students of any age for classes and workshops.
"CURRENT: A Sculpture Tour" will run from June 1 to August 10 at five Garrison Landmark locations, with a preview on May 31 from 2pm-6pm at the Garrison Art Center. For more information, (845) 424-3960; www.garrisonartcenter.org