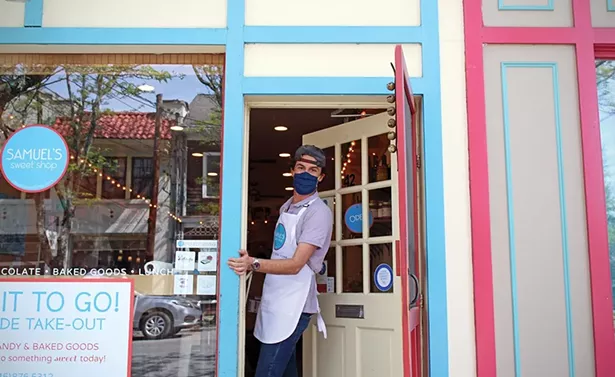 Photo by Abby Foster
Rhinebeck in the pandemic.
At the close of a year, it's interesting to look back and see what articles our readers gravitated toward, as a sort of organic, crowdsourced map of the year's events and emotional tenor. And 2020 was certainly one for the books.
Below, we share the top 20 most-read articles from Chronogram.com in 2020. A few trends we noticed: In the era of social distancing, more and more people hit the Great Outdoors, so readership on pieces like picnicking, hiking, and paddling increased. This year, our community spotlight profiles, which generally capture a town or city at a moment in time, focused on how communities came together to confront COVID. These articles were red-hot as people rooted for their neighbors and sought inspiration from neighboring municipalities. Our articles on racial justice and Black-owned businesses also garnered big attention, in a year when many people woke up to their white privilege and institutional racism. And finally, come hell or high water, people love to eat. They wanted to know the best restaurants before lockdown hit, and when things started reopening they wanted to know where to go to eat outside and what was new on the dining scene.
We definitely see 2020's themes echoing throughout this list: community, racial justice, COVID, small business. Across our publications and platforms we have endeavored to inform, entertain, distract, and support the community through this historic year. Let us know what your favorite article was in the comments below, and enjoy safe and happy holidays! Here's to a deliciously boring 2021.
10 of the Best Restaurants in Dutchess County
In the pre-pandemic dead of winter, we released this guide to Dutchess County's 10 top dining destinations, chronicling the best-in-class of what was once commonplace activity—dining out—that we now realize how much we took for granted. And we take a minute to mourn those restaurants, like Francesco Buitoni's beloved Mercato in Red Hook that closed this year.
The lamb shank at Cinnamon in Rhinebeck.
6 Superior Sunset and Stargazing Spots
Though we published this vista-heavy round-up over a year and a half ago, people were extra eager to get out this year and see the sunset. Makes sense. Natural beauty was one of the few balms for the loss and solitude we all experienced this year, and one of the foolproof ways to spend time with others safely.
Two Potential Treatments for COVID-19 Unfold in the Hudson Valley
This June article offered a flicker of hope in our own backyard, at a time when the phased reopening of New York State was setting a hopeful tone. Since then, two vaccines have been approved for emergency use as the US angles toward an inoculation-based strategy to contain COVID. Still, some of the work being done in the Hudson Valley on treatment for those already infected, including a natural therapy using one of the body's main antibodies, shows promise.
Black-Owned Businesses in the Hudson Valley / Resources for Racial Justice
In the wake of George Floyd's murder and the protests that followed, many non-BIPOC Americans realized how far our country has to go toward equality. Part of the work we have to do is self-education, part is activism and day-to-day anti-racism advocacy. And another way to show your solidarity for Black empowerment is through supporting Black-owned business. In early June, we put together a list of Black-owned businesses in the Hudson Valley. This crowdsourced compendium is far from comprehensive but it's a great resource for folks hoping to put their money where their mouth is. Our list of resources for racial justice in the Hudson Valley was another top article of the year, offering a compilation of ways to support the racial justice movement locally, from backing local advocacy groups to marching to educating yourself.
Photo by Chris Rahm
The June 3 protest in Kingston.
Poughkeepsie, NY: Ripe for Development
Post-industrial boom and post-IBM, Poughkeepsie struggled to find an economic and cultural foothold. The wave of revitalization that swept over other waterfront towns like Beacon, Kingston, and Hudson lagged in reaching the Queen City. At the beginning of 2020, we wrote about how the tides had started changing for Poughkeepsie, which was seeing new levels of investment and development. While some projects have been delayed, the city is still ripe for a bright next chapter.
Picturesque Rhinebeck Braces Itself Against COVID-19
Rhinebeck's perfect storefronts and walkable village are primo postcard material—small-town America at its finest and most fiscally insulated. But nowhere was spared the ravaging economic impacts of the pandemic, and members of this community had to come together in a county that reported some of the first COVID cases upstate.
Where to Get Your Lobster Roll Fix in the Hudson Valley
Along with the cold beer and the smell of sunscreen, lobster rolls are a staple of summer in the Northeast. Happy to be out of lockdown, our hungry, hungry readers gobbled up this list of crustacean-on-a-bun purveyors , rona be damned. You'll want to bookmark this list for next summer.
Courtesy of Mill House Brewing Company
The drool-worthy lobster roll from Mill House Brewing.
These Hudson Valley Distilleries Are Pumping Out Hand Sanitizer
In March, at the height of COVID anxiety, national TP shortages, and hand sanitizer hoarding, many local craft distilleries switched gears to use their alcohol supply in service of the public good. Our round-up of where to buy artisanal hand sanitizer locally was a useful and timely guide when the local pharmacy was all out.
Praise Be We're in Phase 2! 17 Places to Eat Outside in the Hudson Valley
This was one of the most exciting articles we got to write this year, directing people where they could eat al fresco after three seemingly endless months of quarantine. With back gardens, patios, decks, and make-shift street seating, these eateries shone bright this summer and all the way into late fall—a rare pocket of normalcy in the midst of the chaos.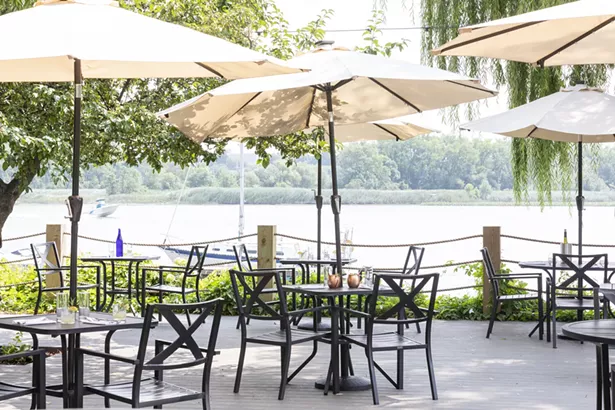 The River Grill at the Stewart House in Athens.
10 of Our Favorite Restaurants in Putnam County
We don't write about dining in Putnam County so much, so this February article was an invitation to ourselves and our readers to explore the culinary gems tucked between the thousands of acres of preserved land in this lower Hudson Valley county. Little did we know, everything would shut down just a few weeks later. Still, most of these restaurants are open for takeout, and make a good bucket list for post-pandemic dining.
A Star Reborn: Borscht Belt-era Starlite Motel in Kerhonkson, NY Gets New Life
New year, new you—that's how we were all feeling when this profile on the restored and refreshed Starlite Motel opened back up in Kerhonkson in January 2020. While the height of the pandemic was certainly not the start the new innkeepers were hoping for, they made up for lost time this summer with tons of bookings of city folks eager to escape the concrete jungle for this Minnewaska-adjacent retreat.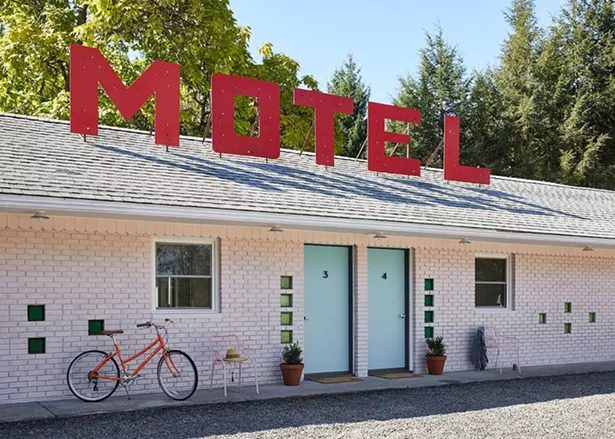 Metamorphosis in Saugerties, NY
This was the last community profile we wrote before the pandemic hit. In blissed out naivete about what was to come, we highlighted the evolving identity of Saugerties, with its clustered historic architecture and the current roster of well-appointed stores and quality restaurants. Well, at the end of 2020, we're glad to report that the quaint village and its businesses are still standing.
Four New Kingston Restaurants Set to Open in Coming Months
This January 31 article was so hopeful—an eager, forward-looking preview of new establishments set to open in 2020. On the bright side, three of the four did end up opening (Lunch Nightly, Masa Midtown, and Kingston Bread + Bar). We're still waiting to see what happens with Tanma Ramen Tavern—but the delay may have more to do with zoning and permits than the pandemic.
Kayaking & Canoeing the Hudson Valley
If ever there was a year for water sports, 2020 was it. Each boat is its own personal space pod. So this 2018 guide to some of the top spots to paddle in the Hudson Valley hit a sweet spot.
10 Lovely Outdoor Dining Spots in the Hudson Valley
It's no surprise this 2018 article came back around for a victory lap in the golden year of outdoor dining. The restaurants detailed in this round-up go beyond just offering fresh-air dining, they've put in the work to have truly darling spots.
The Perfect Hudson Valley Campsites for All Kinds of Campers
At some point or other, we all got totally and utterly sick of our houses this year. After all the DIY projects were done and people still had cabin fever, they took to the woods. This 2019 round-up offers a guide to local campsites based on your needs/camping style from those who want to hike in to a remote spot to the trowel-shy folks who'd rather have access to a public toilet.
Three Republicans Have Filed to Challenge Antonio Delgado in 2020
It's hard to imagine there was ever a time we talked about political races other than the radioactive fallout from the presidential election. But this August 2019 article was popular with new and longtime residents hoping to better understand the political landscape of New York's 19th District and the stakes of this race.
Defense Visual Information Distribution Service
Cap Off Your Hike with Cold Beer at These 7 Brewery-Side Hikes
We're not surprised this July round-up made the most-read list. It combines two v. Hudson Valley pastimes that never go out of style: craft beer and hiking. It's timeless. It works as well in summer as it does in fall, and as well during a pandemic as it does outside when there's no public health catastrophe unfolding. Here's to many more seasons of hiking and drinking. Skol!
The Tortilla Taco Bar Opens in Kingston
After Lunch Nightly's impressive mid-pandemic opening, the opening of the Rondout's newest Mexican joint was the next culinary beacon of light that told us: Not all is lost.