Harvey Fite's sculpture The Bather next to Fite House.
The management of Saugerties outdoor sculpture center
Opus 40
recently announced plans to work with Bard College and local philanthropists to purchase the adjacent Fite House, which was designed and built by site founder and artist Harvey Fite in the 1930s, in order to preserve it as part of the historic park. Fundraising websites for the effort and a
benefit concert
have been set up.
Harvey and Barbara Fite's private home, the house has also been the home of their descendants for over 30 years. Opus 40 and Bard College, where Harvey Fite studied and taught, have united in an effort to acquire the house in a way that continues the Fites' vision of an integrated Opus 40. Their aim is to prevent Fite House from going into private hands, likely for commercial purposes, and separating Harvey Fite's masterpiece sculpture from his home. With Fite's descendants desiring to sell the house, the transaction needs to take place by the end of the year.
Fite House, as seen from the adjacent Opus 40 sculpture.
"We all know the Fite House belongs with Opus 40," says Jonathan Richards, Harvey Fite's stepson. "It is an integral part of the living, planning, and working environment that went into the creation of Harvey's masterpiece. Harvey designed and built his house to be a vantage point to observe and plan his work on the quarry, he configured it to be a part of the artistic whole, and he and Barbara spent many evenings sitting at the upstairs picture window contemplating and discussing the growth of the sculpture as it evolved."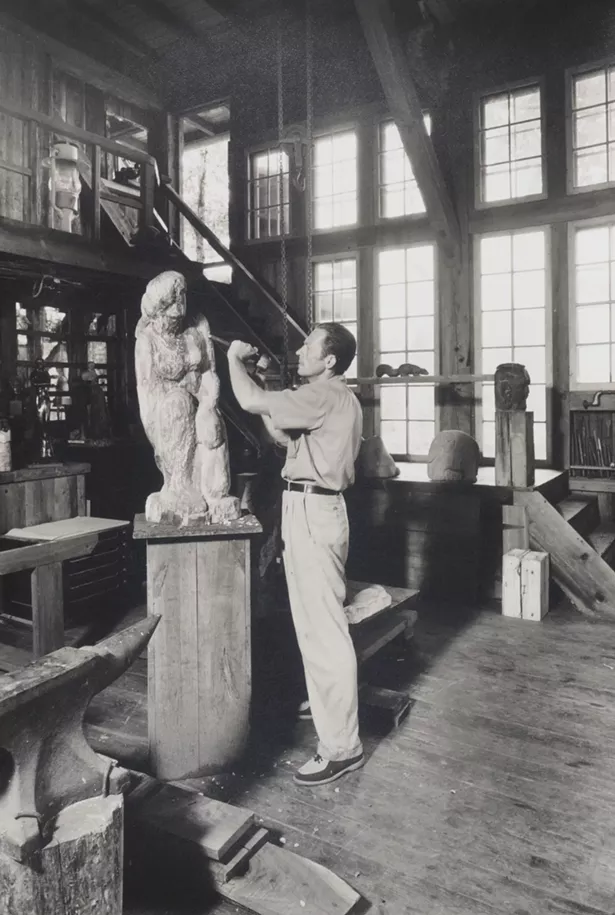 Harvey Fite carving a sculpture in his Fite House studio.
"We have already raised most of the purchase price through our board, a foundation, and several generous individuals, and are now working together to raise the final $300,000 within the next month, if possible, in order to acquire the house at the amount and on the timetable that works for the Richards family," explains Dr. Jonathan Becker, executive vice president of Bard College and president of Opus 40's board of directors.
Information about contributing
directly
or via
Indiegogo
is available online.