Co-owners of Hotel Dylan, Paul Covello and David Mazzullo
One of the 11 rooms at Hotel Dylan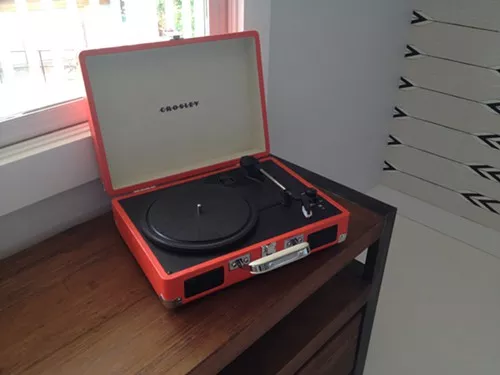 A vinyl lending library is a guest perk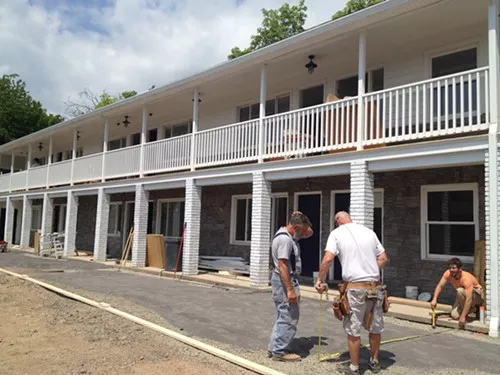 Construction team making the final touches
Last week, Hudson Valley Good Stuff got a tour of the new Hotel Dylan, which is on the corner of Maverick Road and Route 28 in Woodstock. The 11 room hotel is set to open up for business in late June. For years, the old Bear restaurant sat there on Route 28. I've been wishing someone would transform the eyesore into something hip and exciting for tourists. Owners Paul Covello and David Muzella are doing just that with the Hotel Dylan. Covello grew up in the Hudson Valley and works in finance in the city, and retreats to the Hudson Valley on the weekends. He used to always drive past the abandoned hotel and wonder when is somebody going to do something with that. "Until finally I said, I guess that someone is going to be me." He had the idea of redeveloping it, and pitched his idea to his business partner David Mazzullo, who has been coming up to the Catskills as a kid, and loved the idea. Paul Covello credits his wife for the idea of reaching out to celebrity designers and HGTV stars, The Novogratz."She is a fan of their show, and thought that they'd bring a great vibe to Woodstock. I reached out them, they loved it," says Covello.
"I grew up here, and this is my favorite place on earth so I'm always rushing up to get here on the weekends," says Covello, who rattles off a list of local businesses owned by family members, including 28 West Gym, across the street from Hotel Dylan, that is owned by his brother. Buying the property was another way for him to re-establish roots here. He will be passing the baton to Karen Ridder Stuart, who he has hired to be the hotel manager during the week.
When the restaurant re-opens in 2015 they plan on turning the second floor into an event venue, which will be perfect for intimate "un-plugged" type acoustic concerts.
Two of the eleven rooms were photo ready during my visit, and very chic and comfy. Stuart mentioned that The Novogratz will still be tweaking the room decor. One room was a loft-like 2-story suite that sleeps five, the other was a bright and airy room with two beds. The rooms at the music-themed hotel also include whimsical Woodstock touches: a record player, Elliott Landy photographs, and iconic tie-dye flower artwork by Michael De Feo. (The hotel plans on having a record lending library so guests can borrow records to play during their stay).
The breakfast will be catered by Bread Alone. The yellow house across the street will be where the lobby and spa will be. There will be a bocce ball court, outdoor movie screening, and a fire pit for guests. Next summer, guests will be able to enjoy an outdoor pool and hopefully the restaurant will be open too. The owners are interviewing restauranteurs now.
Though the hotel isn't officially set to open until late June, they are taking reservations via their website, and certain Summer weekends are already sold-out. Room rates will start at $189 for weekdays, and start at $229 per night on weekends. (Two-night minimum may be required, depending on time of year).
Despite the 91F heat on Tuesday, there was a buzz in the air from the construction workers to the giddy owners. I have a feeling Hotel Dylan is going to be the new hot spot in Woodstock.
Hudson Valley Good Stuffhttp://www.hvgoodstuff.com is a blog Vanessa Ahern started in January 2009 which focuses on where to eat, play, and recharge your spirit in the Hudson Valley.