Photo: Kari Giordano
Mother Tree. Eastern white pine, steel. A majestic full-growth eastern white pine tree nurtures a broad sweeping community of younger trees.
August sunlight streams through a mixed canopy of hardwoods and conifers, casting dancing geometries of light on the leaf litter below. The path branches. A massive felled log curls impossibly around the base of a towering pine, like some slumbering mythical beast. Two fan-like sprays of milled boards form a casque that sunlight flits across.
Around the bend, two storm-downed trees have been milled and reconstituted with mortise-and-tenon joinery in a zig-zag pattern, using the stumps as anchor points.
Photo: Kari Giordano
Siblings. Two full-growth hemlocks, steel connectors. Two siblings playfully cascade down the hillside over rocks and through ferns on the forest floor.
"You don't see them at first. They're dancing through the woods," artist Laura Brown says. "It's a discovery, not a screaming statement." We are trailing her and her husband Rick as they lead us through their installation of large-scale, site-specific sculptures in the old-growth forest at the Chesterwood historic site in Stockbridge, Massachusetts.
For the piece entitled Siblings, wedges of the trees have been cut away in places while in others, the full diameter of the trunk has been left intact, bark on, offering a rare and concise revelation about the milling process, which produces the foundational building blocks for nearly all of our modern structures. "They read like planks, and at the same time they resonate back to the origin of the trunk," Rick says. Source and derivative, existing in tandem.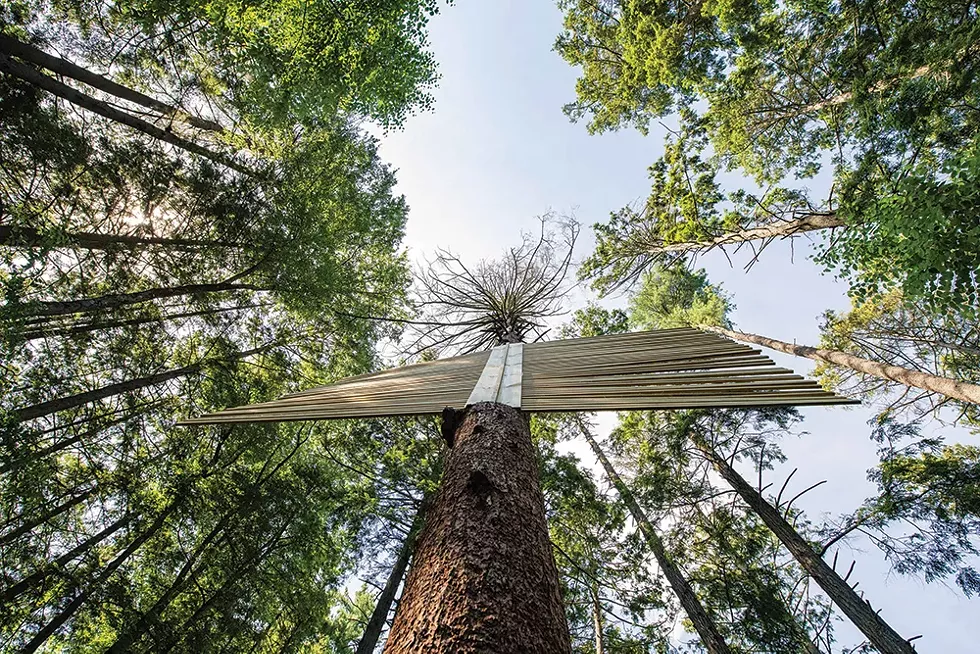 Photo: Kari Giordano
Rouse. Hemlock, steel connectors. A storm-damaged hemlock reconfigured to reflect trees' tendencies to send out warning signals when sensing danger.
The collection of nine sculptures, conceptually developed during the Browns' artist residency in 2018 and installed this spring amidst torrential rain showers, were all milled and built onsite from standing dead and downed trees. "We both have a passion for making big things," Rick says. "We are attracted to the physicality of building—that's just part of our gestalt. But you never know if it's going to work or not." The installation takes loose inspiration from the research of botanist Suzanne Simard, who was one of the first to study the symbiotic relationship between trees.
For the install, the Browns, who have been making art together for 48 years, created custom steel fasteners and connectors in their blacksmith studio outside of Boston, but the onsite assemblage was a one-shot deal. "We had the drawings, we had the model," Laura says. "You get all the components together, but it's never actually been here until it's here, so the unknowns are huge. It's quite a challenging and exciting install. You have to hit the mark."
Photo: Kari Giordano
Wisdom. Eastern white pine, ceramics, steel. A very old, standing dead tree continues to provide vital information and resources for younger trees.
Like Mother Tree, which spirals upward with unnerving levity, Dreaming, whose suspended loop-de-loop is simultaneously archetypal and out-of-place, and Singing Tree, whose spray of milled lumber echoes the dead lower branches of a lanky, forest-grown tree, all the installations in "One Impulse from a Vernal Wood" are confounding—altered yet at home, contrived yet collaborative, familiar yet off-kilter. "It's the form that is unnatural, not the materials," Rick comments. The premise is simple, and yet amidst a sylvan setting, to a score of birdsong, the result is profoundly disorienting.
Photo: Kari Giordano
Artists Laura and Rick Brown stand beforeDreaming, which was created by connecting lumber from a storm-downed hemlock to a living ash tree.
As the mind bends and flexes to accommodate the paradox of the installations, what the artists have achieved is to get you to pause in the forest and contemplate the wonders before you. A fitting effect for an exhibition that takes its title from the Wordsworth poem "The Tables Turned," which ends with the entreaty, "Come forth, and bring with you a heart that watches and receives."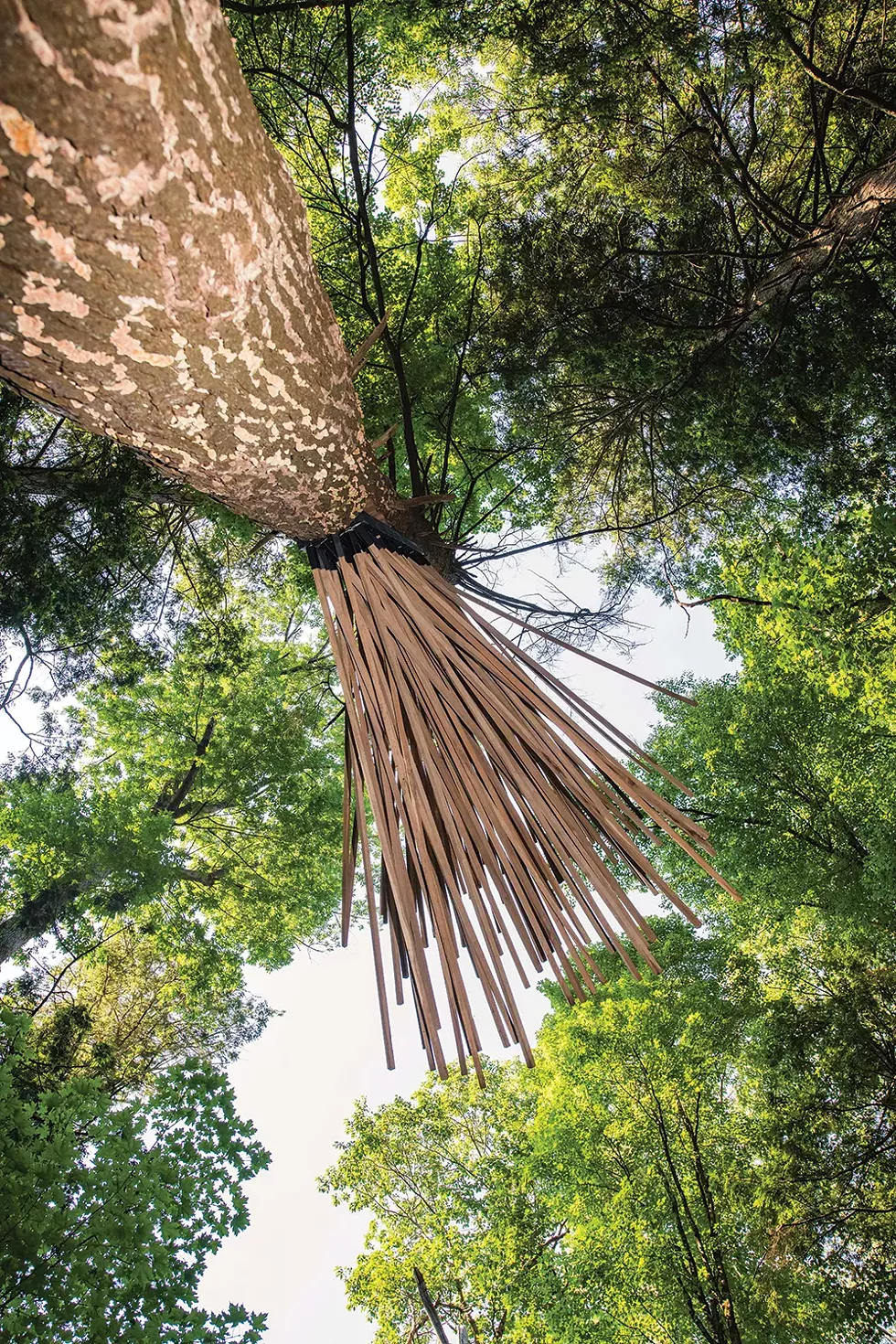 Photo: Kari Giordano
Singing Tree, made from a standing dead hemlock tree, is reconfigured as if singing to the surrounding forest.
"One Impulse from a Vernal Wood" is on display at Chesterwood in Stockbridge, Massachusetts, through October 27. Chesterwood.org.