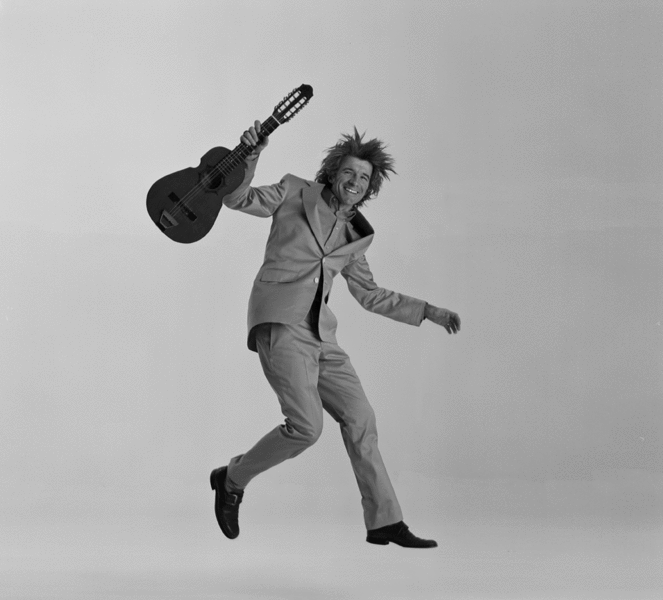 Dan Zanes plays two shows for the kids at the Bardavon on September 29.
At first glance, Dan Zanes's Grammy Award-winning CD Catch That Train! appears to be all about the kiddies. But Zanes, who plays two afternoon shows at Poughkeepsie's Bardavon on September 29, prefers to call it "all-ages music."
"I think there's a real difference," Zanes says. "There's children's music and it's particular to the experiences of children, and it's a great genre. But there's really no need for me to add to it. There were people doing a great job of it already, but what I didn't find was the type of all-ages music, or family music, that I was hearing in my head. And that's what I decided to do."
Zanes, formerly of the Boston-based garage pop band The Del Fuegos, grew up listening to records on the Folkways label, which included the likes of Pete Seeger, Woody Guthrie, and Ella Jenkins. So in honing his own craft he began searching for that same spirit in music that was geared more toward the 21st century.
"Records that sound like people in a house having fun together, things that sound loose and homespun and artful all at the same time," he explains. "I wanted to be a part of the fun that I listen to with my daughter. We have plenty of children's music and it's great, but I really wanted music that the two of us would be able to connect to together. I didn't just want to pull out Beatles records and leave it at that. It seemed like there wasn't enough in it for her."
Here's what's in it for her—and you, if you choose to catch Zanes's train. Catch That Train!, his latest release, jumps right into that folk tradition and features appearances by Nick Cave, Natalie Merchant, The Kronos Quartet, Father Goose, The Blind Boys of Alabama, and the children of South Africa's Agape Orphanage. The album includes Zulu folk songs, an early labor-organizing tune, a song about farming, and some good old train numbers. Zanes is not afraid to employ lap steel, trombone, saxophone, tambourine, mandolin, accordion, balalaika, tuba, tin whistle, fiddle, or anything else that helps step up the fun.
"We used to be a very musical country and we did a lot of casual music-making just for our own enjoyment," he says. "With the advent of electronic media, for the most part people now leave it to the professionals. When we do that, we miss out on a lot of the fun. We can do this, too. Music-making brings families together, neighbors together, people of different backgrounds together. It builds bridges. Regardless of your abilities or perceived abilities, you can be making music with other people."
It might feel like a step down from his sold-out run of performances on Broadway or at Carnegie Hall, but Zanes and six of his friends (which he calls "an orchestra, by family music standards") are looking forward to bringing bring their hootenanny to the Hudson Valley.
"When we think of the shows, we try to think of how we could make the biggest possible party. The audience is as much a part of it as the band, so there's a lot of singing along and by the end it evolves into a big dance party. We try to make it as much like a little Grateful Dead show as possible," he laughs. "It's so satisfying. Kids are amazing because they really set the tone. They're much more uninhibited than we are. So, people are much more willing to throw themselves into it to sing a-long and get up and dance than they ever were when I was playing in a rock and roll band! It's a much wilder and looser crowd than I'd ever experienced."
Dan Zanes and Friends will play the Bardavon in Poughkeepsie on September 29 at 1 and 4pm. (845) 473-2072; www.bardavon.org.