Page 3 of 4
While trackers–young folks who follow opposing campaigns relentlessly to hopefully capture a gaffe on tape–are a staple of political campaigns, they are usually employed by parties or PACs, not campaigns themselves. Trackers are also usually direct and transparent about their presence, and don't normally lie to gain entry to events. This tactic gave off an air of underhandedness that may rub North Country voters the wrong way.
NY22: An Un-Tenneyble Situation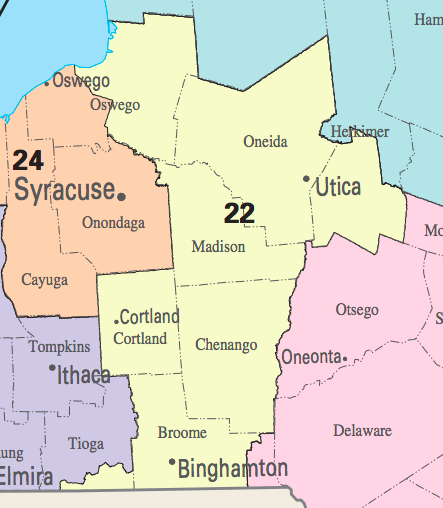 US Geological Survey
New York's 22nd district covers much of Central New York, including Binghamton and Utica
Claudia Tenney is a scrapper. As a state Assemblywoman in 2014, she mounted a bold primary challenge against incumbent Republican Richard Hanna, a moderate Republican who went so far as to endorse Hillary Clinton for President in 2016. Tenney ran to Hanna's right as a Tea Party insurgent and came within striking distance, losing 46.5 percent to 53.5 percent. In 2016, when Hanna opted to retire from Congress, Tenney narrowly defeated Democrat Kim Myers and Independent Martin Babinec to ascend to Hanna's seat. She has since racked up a solidly conservative record.
The district, which covers much of Central New York including Binghamton and Utica, is somewhat more Republican-leaning than NY21 or NY19. But despite that conservative lean, Tenney seems to be the most vulnerable of the three incumbents; a Zogby poll showed her trailing Democratic State Assemblyman Anthony Brindisi by 7 points. Much of this is due to the wide perception of her as a hardline, Trump-aligned conservative and a rhetorical bomb-thrower. By contrast, Brindisi is an on-message, centrist Democrat, perfect for such a conservative-leaning district.
Tenney has made national headlines several times for her often outrageous remarks. The most notable of these came in February when, while discussing gun control on a conservative talk radio show, Tenney said, "it's interesting that so many of these people that commit the mass murders end up being Democrats." She refused to backtrack on this statement despite the ensuing controversy.
WNBF
Claudia Tenney has a history of making controversial statements.
She's also had a notably combative relationship with the press. She often takes to her social media accounts for a series dubbed "Fact Check Friday," wherein she criticizes local news outlets for not properly reporting on the work she is doing. She said of one local paper, Utica's Observer Dispatch, "They have been instrumental in causing a lot of the decline in our community by not telling the truth to a lot of our residents here." She has also gone so far as to call the media, "the single biggest destructive force in our country."
For his part, Brindisi initially took a firm stance against negative campaigning, stating, "I think that we are going to have policy disagreements. But I would hope that [Tenney] keeps the political sniping to a minimum." But, according to the Utica College Center of Public Affairs, "17 out of 42 Tweets (40 percent) from 'Anthony Brindisi for Congress' (@ABrindisiNY) [in March] were personal attacks on Tenney."
One tweet suggested that Wall Street companies donate to Tenney "because they know with her representing them the system will continue to be rigged in their favor." Another tweet read, "Who's right up there with the data thieves & internet privacy voyeurs? Well, @RepTenney who after thousands of dollars in campaign contributions from special interests, voted to give away our privacy." Whether these and other tweets of the like rise to the level of personal attack is in the eye of the beholder.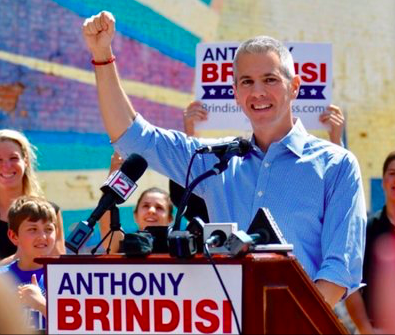 Anthony Brindisi for Congress
Anthony Brindisi, a centrist Democrat with a solid record, is giving Tenney a run for her money.
But Tenney's campaign has also put out a fiery ad that excoriates Brindisi by tying him to Nancy Pelosi–a common boogeywoman for GOP attack ads–in his stance on immigration. The ad (featured in the main graphic) states that Brindisi wants to have open borders and abolish ice over shots of immigrants and refugees climbing the Mexican border fence and photos of the notorious MS-13 gang.
But Brindisi has said he would not vote for Pelosi for Democratic leader, and, according to WRVO, "Brindisi breaks from some prominent members of his party by not opposing the construction of a border wall along some parts of the Mexico border and not calling for abolishing the Immigrations and Customs Enforcement agency."
"These attacks are beyond the pale," Brindisi said in a statement to Chronogram. He noted that, "She started this campaign with attacks that an editorial board called 'disgusting' and 'highly insulting.'" He also believes "[Tenney]'s ads reflect [a] strategy of campaigning on fear and misinformation rather than the facts of her record." His campaign has also put out a mostly positive ad debunking Tenney's claims about Brindisi's positions on immigration and Nancy Pelosi.