Claudia Tenney for Congress
Claudia Tenney is trying to tie her opponent to Nancy Pelosi and left-wing immigration proposals.
Negative campaigning is the tobacco of democracy: Shamefully prevalent, effective at eliciting its desired effect, and detrimental to our well-being as a nation. One study shows that despite voters' oft-professed repugnance, going negative can be highly effective at shoring up both two-party vote share and voter turnout (as long as it comes from a campaign and not a PAC).
It's no surprise, then, that it is the most common form of campaign advertising, a commonality that increases with each successive cycle. Upstate New York is no exception to that phenomenon. In fact, contests in competitive districts being waged from the Hudson Valley to Utica have been ground zero for some of the most mean-spirited campaign ads and tactics this election cycle. Several Republican incumbents determined to keep their seats, and some Democratic challengers running against their records, have embraced negativity to achieve their goals.
NY19: A Tale of Two Carpetbaggers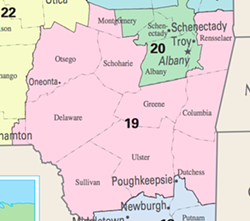 US Geological Survey
New York's 19th district encompasses the upper Hudson Valley, the Catskills and parts of Central New York and the Capital Region.
Shortly after Antonio Delgado captured the Democratic nomination in New York's 19th congressional district–which covers much of the Hudson Valley, the Catskills, and the Albany suburbs–incumbent John Faso's campaign sent out an ostensibly congratulatory press release that didn't take a breath before morphing into an efficient and ruthless onslaught.
"I congratulate Mr. Delgado on his victory in the Democratic Primary Election," it began, "this November, Mr. Delgado will cast his first ever general election vote for Congress in our district after just moving here from New Jersey." It went on to state that "our neighbors do not look kindly upon candidates who have just moved into our district and presume to represent us" and gave a laundry list of Mr. Delgado's policy positions, casting all in a negative light.
John Faso for Congress
John Faso is going on the offensive to counter attacks on his record.
However, Delgado himself is no conscientious objector when it comes to the bloodsport of negative campaigning. He has blasted Faso's record, calling him a liar and an advocate for the richest and most powerful Americans. At times, Delgado and his supporters call Faso his a "no show," a reference to Faso's aversion to holding town hall meetings.
Delgado has also launched his own carpetbagger attacks, pointing to the fact that Faso himself moved to Kinderhook shortly before mounting an Assembly campaign in 1986. He's originally from Long Island. Members of grassroots progressive groups like Indivisible and Citizen Action–aligned with Delgado–have been relentless in their attacks, setting up weekly "Faso Friday" protests outside Faso's Kingston office where attendees often carry signs saying things like "Faso, sold to the billionaire Mercer family" and "Death panel Faso".
While none of these attacks are particularly out of the ordinary for a congressional race, they are evidence of this being an especially brutal campaign.
The one truly controversial instance of negative campaigning came in response to the allegedly offensive rap lyrics of "AD the Voice," a social-justice oriented hip hop persona that Delgado adopted while living in Los Angeles over a decade ago. Following a New York Post article—which noted that in his music, Delgado "frequently hurls the N-word, slaps the two-party political system, rips the "dead" presidents as "white supremacists," blasts capitalism, likens blacks to modern day slaves, calls poverty the 'purest form of terrorism' and boasts of 'having sex to a porno flick'"—Faso and his allies went on the attack.
Antonio Delgado for Congress
Antonio Delgado has attacked Faso's record as one of absenteeism and broken promises.
Faso blasted the lyrics as "troubling and offensive," and argued "the tone and tenor of his lyrics are not consistent with the views of most people in our district, nor do they represent a true reflection of our nation," but one of his allies, SUNY New Paltz professor Gerald Benjamin, was less equivocal. He explained to the Daily Gazette that Faso's argument against the lyrics was "a cultural argument. It's saying that this guy [Delgado] is not like us," and told the New York Times "Is a guy who makes a rap album the kind of guy who reflects our lifestyle and values? People like us, people in rural New York, we are not people who respond to this part of American culture."
The Congressional Leadership Fund, a House Republican super PAC that has donated millions to Faso's campaign, put out a scathing radio ad (apparently not getting the memo that negative ads from PACs are generally ineffective at shoring up votes) which referred to Delgado almost exclusively as "AD the Voice" and said "the extreme views he represents would probably fit better in New York City or San Francisco, not NY-19."