David McIntyre
The beer garden at Grand Cru Beer & Cheese Market is a relaxed destination for beer lovers (and their kids).
For Andy Imperati, it was the end of May when it finally sank in—there would be no Dutchess County Fair in 2020. Imperati showed his first cow at the fair when he was eight years old and worked just about every job at the fairgrounds on his way to becoming CEO. The event is his life's work. Calling it off was painful. "This fair is like coming home for a lot of people. Canceling it was depressing. It was heartbreaking," Imperati says, emotion in his voice, less than a year later. "We were getting calls and condolence cards like someone had passed. It affected so many people."
Straddling the border between town and village, the fairgrounds is the rural heart of the county, attracting hundreds of thousands of visitors each spring and summer for a packed lineup of events, highlighted by the massive fair itself in August. Last year was to be the 175th anniversary of the fair.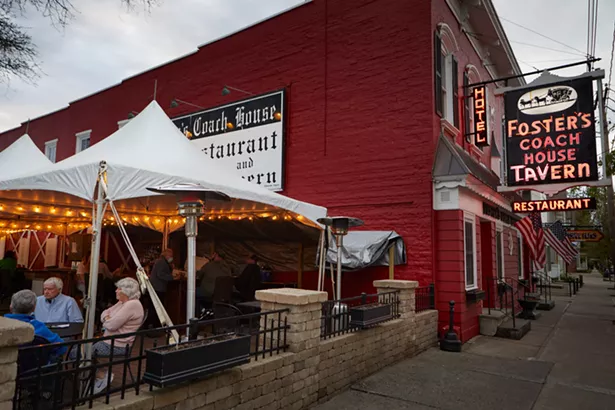 David McIntyre
Outdoor dining in the parking lot next to Foster's Coach House Tavern in downtown Rhinebeck.
Imperati says plans for this year's fair (August 24-29) are underway as though everything will be normal. When August rolls around, the fair will adjust to shifting federal and state regulations accordingly. In the meantime, the grounds hosted Barn Star's Antiques Show over Memorial Day weekend, the first public event since the Sheep and Wool Festival of October 2019.
Rhinebeck is a party town—a classy party town—with dozens of events throughout the year at the fairgrounds but also in the streets of the village, like the beloved Sinterklaas holiday celebration. So, the extroverted municipality was hit hard by the pandemic. Lockdown meant loss of revenue, yes, but it also entombed the community's outgoing collective character.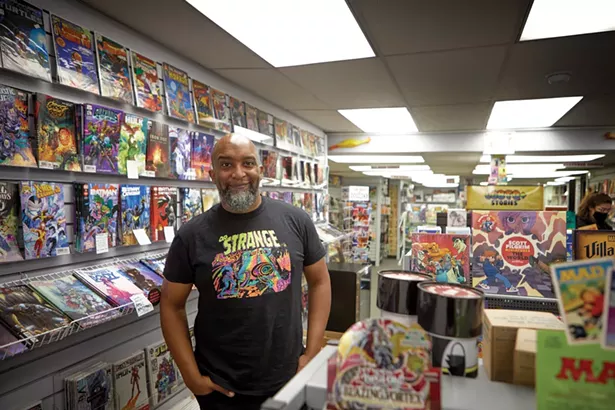 David McIntyre
Jean Michel, co-owner of Megabrain Comics & Arcade
Rhinebeck Responds in Force
After the onset of the pandemic, it didn't take long for Rhinebeck's citizens to gather themselves and begin working together to help vulnerable neighbors and businesses in an effort to cobble back together a recognizable simulacrum of their patented community spirit.
Town and village government stepped in to quickly create safe outdoor dining and shopping options during the spring of 2020, but it was clear from the beginning of the pandemic that funds would need to be raised quickly to support individuals "outside the safety net" and businesses in crisis. Inspired by a similar startup aid organization in neighboring Red Hook, a group of Rhinebeck residents created Rhinebeck Responds to connect people who had means with those in need.
David McIntyre
Elena Rose, owner of Land of Oz Toys, in her shop on East Market Street.
It was anarchic at first, says Steering Committee Chair Mark Fuerst, with so many people wanting to help, but the group quickly gained nonprofit status and worked in tandem with town government to create a grant program through which struggling businesses could access up to $5,000. Another arm of the ad hoc organization focused its energy on supporting residents and families. They strategically gave to Hudson River Housing initiatives, school supply programs, and significantly funded a number of food drives and pantry programs.
Fuerst was surprised to find there was little precedent for a nonprofit designed to support businesses. COVID was creating a new kind of crisis but the community was coming up with working solutions on the fly. A veteran nonprofit media consultant, Fuerst says he was advised early on by a fundraising colleague to temper expectations and not publicly project that they would raise more than $15,000. To date they've raised over $260,000 and awarded over 30 business grants.
David McIntyre
Ted McKnight of Breezy Hill Orchard and Cider Mill at the Rhinebeck Farmers' Market.
"We created a vehicle by which people could help," Fuerst says. "There were no restrictions on the grants. Much of the money was used by businesses to pay rent. It meant so much to people. It was emotionally important, not just financially.
"Rhinebeck Responds is a little miracle," Fuerst continues. "It didn't have to happen. It didn't have to work. I'm happy money got to people who needed it, especially those who wouldn't have asked for help."
A Business District Keeps on Rolling
"Rhinebeck Responds helped us get through the darkest days, when we didn't know what was going to happen," says Carolyn Bernitt, executive director of the Rhinebeck Area Chamber of Commerce. "People are still cautious, but they're seeing the light at the end of the tunnel and that's exciting. Business is picking up; foot traffic is picking up."
She acknowledged that some businesses have closed, but new ones are moving in. Face Stockholm's Rhinebeck outpost closed, as did the Lucky Dragon restaurant, but in both cases, the owners are still in business elsewhere nearby. Face still operates its flagship in Hudson and Lucky Dragon was opened by Howard and Chris Jacobs, owners of The Amsterdam, a restaurant that pivoted to a take-out and market focus during the pandemic.
David McIntyre
Bruce Lubman of Hummingbird Jewelers, which has been serving Rhinebeck for 36 years.
At this point, everyone knows the plight of restaurants during the pandemic. Switching to takeout only, adjusting to limited indoor dining and a thousand other regulatory hoops greatly impacted beloved restaurants like The Amsterdam, Gigi Trattoria, Terrapin, Market Street, the Tavern at Beekman Arms, Foster's Coach House, and many others. The adjustment was a little easier for more casual but equally delicious spots like Rhinebeck Bagels and Buns Burgers, but it was still a massive struggle. Almost every eatery had to close at one point or another due to COVID exposure.
As soon as restaurants were allowed to reopen for outdoor dining the village put up concrete barriers along the street, sacrificing on-street parking for expanded outdoor dining as well as retail space for the village's diverse shops like Haldora Clothing & Home, Winter Sun & Summer Moon, Paper Trail, Pegasus Footwear, Samuel's Sweet Shop, and so many more that a complete list would fill this article.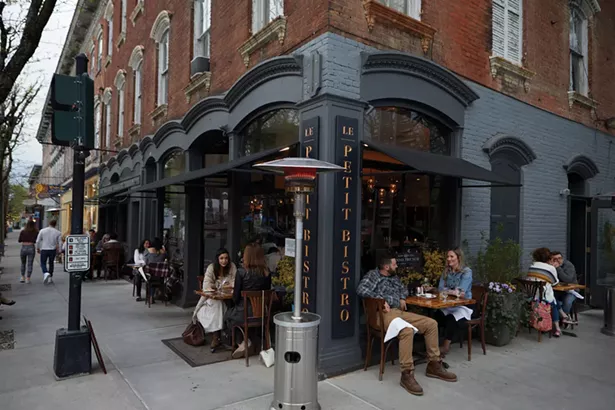 David McIntyre
A neighborhood staple since 1986, Le Petit Bistro sits at the corner of Market and Montgomery Streets in Rhinebeck.
"Outdoor dining and shopping was a lifesaving move," says Village Mayor Gary Bassett. "The pandemic has also forced us to look at how we want things to be in the future. I'm excited to look at how we operate as a municipality with the lessons we've learned."
Bassett is also optimistic about the future due to the boom in real estate sales over the past year, as young families fleeing New York City have been settling in the town in droves. He added that the school district's previously shrinking student population has risen 10 percent. "Families coming and investing in the area is wonderful, but I've always been concerned about affordable housing here and we are really going to have to take a hard look now," says Bassett.
Residents Rely on Literary Vacations
When Rhinebeck residents couldn't go out, they took to their books, and comic books, for escape.
Jean Michel, co-owner of Megabrain Comics & Arcade, moved from a tiny shop on out-of-the-way Garden Street to a super visible big storefront on Market Street in the middle of the village…three weeks before lockdown began.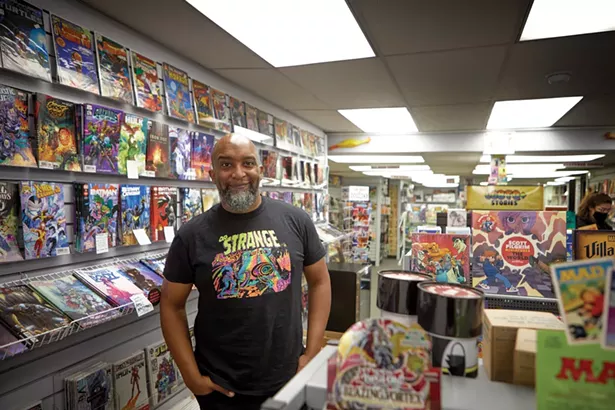 David McIntyre
Jean Michel, co-owner of Megabrain Comics & Arcade
"It took the wind right out of us," says Michel, who co-owns Megabrain with Brian Tamm. "We thought that was that, but after a while we saw it as an opportunity to build our online store. Then people went stir crazy and we were there for them. We actually did comic deliveries—and that sustained us."
The larger size of the new shop allows people to spread out, and putting the Board Room skate shop in the back has been a draw, as well as a way for the two businesses to share resources in tight times.
"The village has really been just throwing spaghetti at the wall to try and see how we can get through this," Michel adds. "Thankfully a lot stuck."
David McIntyre
Caitlin Millard and Suzy Morris at Zephyr.
A local couple who are closely involved in a number of community projects, as well as being big-time Hollywood superstars, Jeffery Dean Morgan and Hillary Burton, strategically wielded their fame over the past year to draw attention and raise funds for Rhinebeck's pandemic needs. Morgan, who stars on the hit AMC series "The Walking Dead," signed hundreds of comic books about his zombie-slaying antihero that could only be purchased through Megabrain, bringing a spotlight and lots of sales to the shop. "That paid the rent for five or six months," Michel recalls with gratitude. The couple also had Michel on their impromptu pandemic talk show on AMC, "Friday Night in with the Morgans." "They said to me many times, we have this platform most don't," Michel recalled. "They used it to help a lot of people."
Like Michel, around the corner at Oblong Books and Music, owner Suzanna Hermans also saw increased interest as readers craved escape while society collapsed around them. From the start Oblong had a leg up with its preexisting online store, but it needed expansion, and processing online orders takes longer than ringing up a live customer. Hermans says she and her employees have stuck together and "lived like nuns," being super safe for the past year, protecting themselves and each other.
David McIntyre
Outdoor dining at Cinnamon Indian restaurant
"We've all been through so much," Hermans says. "I feel like I've found out how strong I am as a business owner and a leader. None of us have been tested like this. People really looked to books for a place to escape."
Arts and Culture Hang On
Nonprofits and arts venues in town, which rely on crowds, ticket sales, and fundraising, have been stymied during the pandemic but many continue to hang on.
The beloved Upstate Films independent movie theater closed for months, screening some movies outside and only recently reopening at limited capacity. The Rhinebeck Center for the Performing Arts was able to adapt more quickly, taking advantage of their large property to put on socially distanced theater outside and hosting numerous online events. While they've made the best of it, and patrons have been generous with donations, the center's box office revenue is down 75 percent, according to artistic director Kevin Archambault.
David McIntyre
Chris and Emily Fleisch birdwatching at Burger Hill Park.
"During our outdoor season, we kept really busy," says Archambault. "It was important to all of us that we keep the arts thriving in the community."
When it started getting cold in October the center hosted drive-in movies. Around Christmas they kept a 15-year tradition alive by staging "A Christmas Carol" on their loading dock. While performers froze their tights off, the appreciative audience watched from the warmth of their cars, tuning in to live audio through their radios and honking horns instead of clapping. On May 16, they reopen their outdoor stage with "As You Like It."With current restrictions, they will be able to seat 200 patrons on the lawn, up from just 50 last season.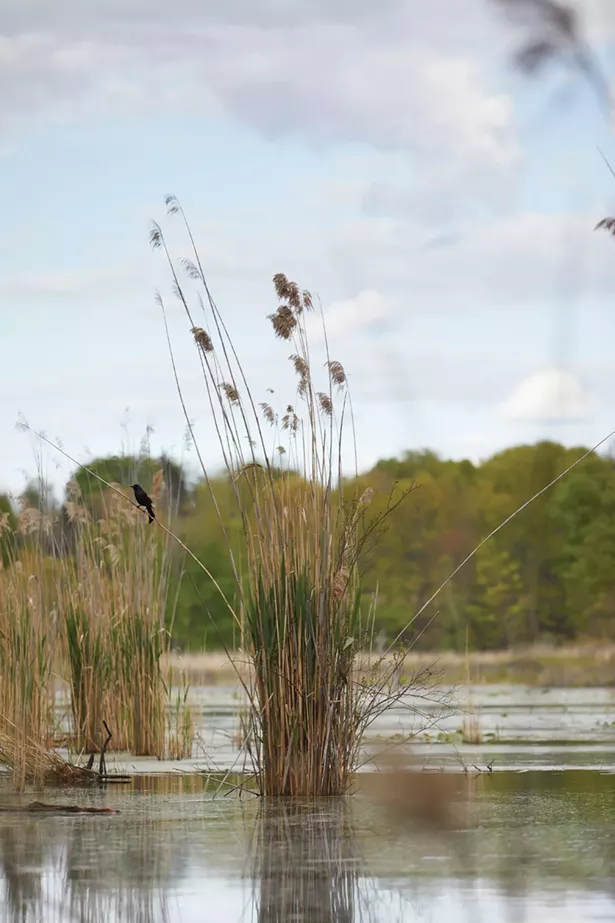 David McIntyre
Overseen by Winnakee Land Trust, the 1.5 miles of multi-loop trails at Vlei Marsh opened to the public for the first time on June 1, unlocking sweeping views of Rhinebeck's second-largest wetland.
At the majestic Wilderstein Historic Site, Executive Director Gregory J. Sokaris says that while online exhibitions and outdoor tours were successful, it's certainly been a challenging year for organizations like theirs. Fundraising is much harder when you can't throw yearly galas. Wilderstein in particular is known for throwing quirky and inventive parties, which often involve themes and costumes. Last year's event was sorely missed. "We've kept the grounds open in a limited way, we've put safety protocols in place. It hasn't been the same. We are here for the public, so not being able to let people in is hard," says Sokaris.
Rhinebeck was vibrant before the pandemic. It was easy to miss all the idiosyncratic little details that made it hum. COVID turned down the fidelity and muted the town's dynamic personality. Now it's getting hot, and the streets are alive again. It feels like the volume has been cranked back up. Despite trauma and tragedy, it's evident that the community's quick, instinctive response not only preserved the cultural details that made Rhinebeck a draw but brought them into bright relief.