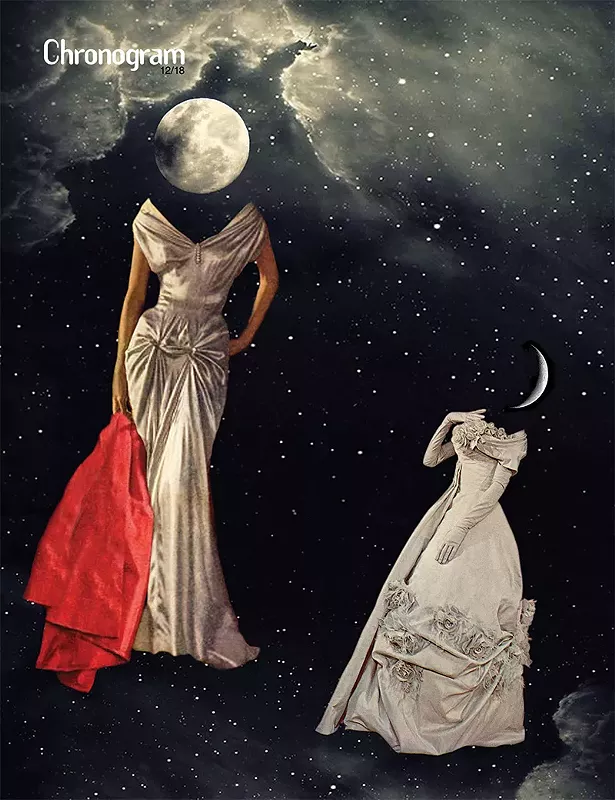 Growing up in Rochester, the erstwhile American capital of photography, artist Nadine Boughton came of age looking at the world through a viewfinder. Though she has primarily worked in digital collage since 2003, Boughton says she "learned everything about color and composition from all the millions of hours staring through that little square."
Through her collage work, Boughton deconstructs vintage Midcentury imagery and advertising and reassembles the pieces in a distinctly modern exploration of polarity, politics, gender, and societal norms. She scours flea markets and second-hand bookstores for paper ephemera, stockpiling troves of inspiration. "My work has a very strong narrative component. I want to know, 'What is the story that appears?' 'What sets me on fire?'" Boughton says. "It takes a lot of looking. Then once you land on an idea, the execution can take weeks, even months to finalize."
Boughton's latest series, The Modess Women, takes as its subject the glamorous, gown-and-glove-clad ladies who were the face of a wildly successful ad campaign for Modess sanitary napkins in the 1950s. "The campaign made these women beautiful objects—pure, with no grit," she says. "I wanted to keep some of that quality of interiority and beauty, but get them down on the earth, relating to natural cycles that happen outside the body."
5 slides
This series shows women in haute couture, exploring forests and caves, at first tentatively then more boldly possessing space, enacting rituals around fertility and the feminine. "The series is about bringing women into themselves—into these dark, rich places," Boughton says. The works employ accents of blood red and archetypal female iconography from the egg to the conch to the moon in an overt reclamation of the female body that is at times dripping with irony (two women à la mode, trapped in sundae glasses) while in other moments, utterly sincere and arrestingly beautiful, like this month's cover, Meeting the Great Fullness.
In this image, a demure crescent moon beholds the radiant splendor of the full moon female, who stands tall, unapologetically inhabiting her body and her sensuality. "It feels initiatory," Boughton says. "It's just about rising to the fullness of being a woman, rather than being just lost in yards and yards of draped material." Set against a dark celestial backdrop, the piece quietly proclaims a eternal, universal truth.
"It was extremely satisfying to take these images from my indoctrination as a child and bring in my personal study of indigenous, earth-based cultures and the symbology of the feminine," Boughton says. "It was very personal. I think women everywhere carry a certain element of shame. For me, this was a reclamation of women's power and the beauty of the female form."
Nadine Boughton's work will be on view as part of the exhibit "Outspoken: Seven Women Photographers" at The Tremaine Gallery at Hotchkiss through January 13.