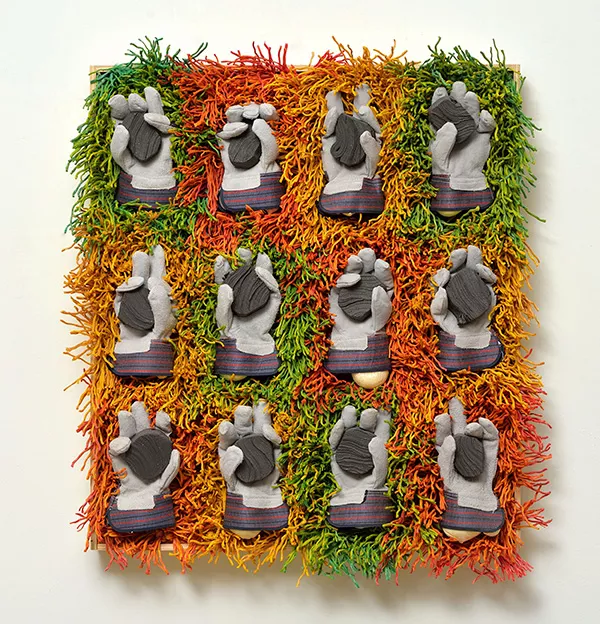 Douglas Baz
"Hands," Steven Siegel, gloves, paper, sand, poly-twine, paint, 39"x33"x8", 2014
When I meet Steven Siegel at his rural Red Hook studio, he'd recently returned from Lincoln, Montana, where his largest paper installation to date was just completed in October. Hill and Valley is an undulating wall of paper 12 feet high and 50-feet long, composed of 30,000 lbs. of stacked paper. It took Siegel and an army of volunteers three physically demanding weeks to assemble the piece on site, piling layer upon layer of paper and nailing it together with five-inch-long nails. "My right arm is still suffering as a result of that one and will probably never recover," says Siegel, who pounded in his share of nails onsite. To Siegel, his installation pieces are as much about the process of creating them as they are about the outcome. "The memory is as much about the experience of building the project and having a good time as it is about the finished piece," he says. "It's like a barn raising. The work is easily taught and it just happens, but there's this real bonding that happens on the site."
Hill and Valley is the 40th or so site-specific paper work Siegel has done since he began his paper installations in the late 1980s, beginning with a piece at the Snug Harbor Cultural Center on Staten Island. Siegel works in the Land Art tradition of James Turrell and Robert Smithson, and worked as an assistant to site-specific artist Michael Singer in graduate school. Siegel has created site-specific works out of various materials besides paper, including glass, plastic bottles, discarded electronics, aluminum car parts, grass, and bespoke Italian sneakers, though he is turning his attention to less large-scale sited work of late.
His current series, "Building Pictures," from which the cover image is taken, continues an idea Siegel began exploring in Biography, a 156-foot-long mixed media piece that he created over five years, adding on sections over time and bringing in new materials and discarding old ones. Siegel is very much a process-oriented artist, and ideas about evolution and geology heavily influence the way he works. "When I develop a craft, the craft is not a means toward an end," says Siegel. "The craft is the end. To imply otherwise is to be a creationist, in a sense. You're saying: You have the tools, now design something and make it. And that's not the way it works in evolution. The way it works is by contingency and mutation and environmental factors—no one knows where it's going to evolve."
For all the talk of process, however, it's the aesthetics that matter most to Siegel. "In the end, if it doesn't look good, I don't really care about it," he says.
Film by Stephen Blauweiss. Produced by ArtistFilmDocs.