When asked about the origins of Plank, Emil Alzamora cites the chaos surrounding the governmental response to the recent economic crisis. "It was a concept I had right around the time of the TARP bailouts for the banks in early 2009. Hence the limited edition of 700,000,000,000," says Alzamora, who has created 66 thus far. The sculptures, each signed and numbered, sell for $299.99 each. "I liked [the Plank figure] because he represented both the politicians and the bankers. All of them deserved to walk the proverbial pirate's plank, in my book, for being reckless and unthinking."
Normally, Alzamora works on a larger scale, taking the human form in unexpected directions, like in his gypsum sculpture Afterlife Afterthought. Ten feet off the ground, a serene head floats above a neck cascading down like a fire hose to a slumped body on the floor, at once disturbing and grandiose, as well as a commentary on bodily estrangement. This strain of muscular use of materials and pensive mood pervades his work.
Alzamora, who does not work from models—"I've been very obsessive about studying the body, figuring out how it works and what muscles connect to what bones, just the mechanics of it," says Alzamora—likes to create life-sized sculptures as a way to control the readings of his work. "When you make something small, it's an idea of something else because it's once removed in scale and you have to use your mind to fill in the blanks. Whereas, when it's life-sized, there's no filling in the blanks, it's there and on your scale."
A solo show of Alzamora's work was exhibited at the Artbreak Gallery in Brooklyn during February (www.artbreakgallery.com). This month, Alzamora will be featured at the Arte America Fair in Miami by Aldo Catillo Gallery as well as the Affordable Art Fair in London with Mauger Modern Art. This summer, Alzamora will be part of a two-person show with Andrea Hersh at the Albany Center Gallery from June 15 through July 24. www.emilalzamora.com.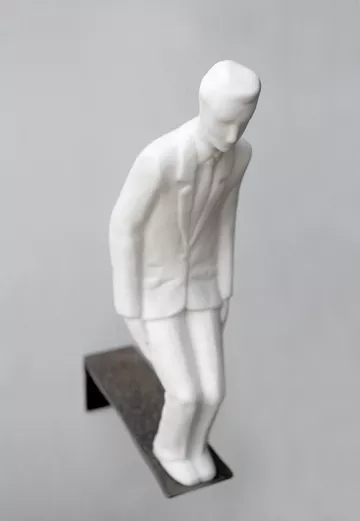 "Plank" Emil Alzamora, porcelain and steel, 8.5 inches tall; 2009.