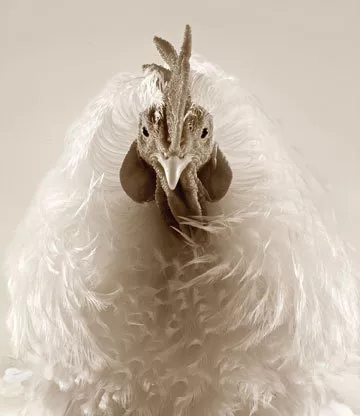 Chas 3, Eric Bean, archival pigment print, 2008
When aspiring photographer Eric Bean moved to New York City in 1989, he entered the trade in the traditional way, as an assistant to an established photographer. Bean, however, disliked the subservient nature of assistant work and got a night job at a photo lab instead, chasing his own photography clients during the day. Within two years—an exceptionally short period of time­ in this field—Bean had established himself as a professional photographer.
For the past 20 years, Bean has worked primarily in the fashion industry, shooting for clients including Salvatore Ferragamo, Bill Blass, Avon, Harry Winston, and De Beers. Currently, Bean is focusing more on his fine art work, the languid pace and autonomy of which he enjoys, in contrast to the often frenetic world of fashion. "If I'm on a fashion shoot, there are 10 people making decisions," says Bean. "It's creativity by committee. You have to fight for your vision." Drawing on his experience in the world of fashion, Bean has authored two books with Jennifer Bidner, on the view from both sides of the lens: Complete Guide for Models: Inside Advice from Industry Pros for Fashion Modeling (Lark Books, 2004) and The Lighting Cookbook for Fashion and Beauty Photography: Foolproof Recipes for Taking Perfect Portraits (Amphoto Books, 2005).
Eighteen months ago, Bean and his partner decided to raise bantam chickens at their home in Kerhonkson. (Bantam chickens are one-third the size of standard breeds, usually only three to four pounds.) An unforseen adjunct to this foray into animal husbandry has been a series of photos featuring his chickens. The portraits look an awful lot like fashion photography, a fact not lost on Bean. "I had to laugh at myself at some point, because I realized I was shooting like fashion photography," says Bean. "I was waiting for just the right pose; waiting for the turn of the head over the shoulder." And chicken behavior, Bean confides, is not all that different from the ways of urban fashionistas. Describing one of his chicken's states of general excitement, Bean says, "He's like every fashion queen I know in New York—always out of his head over something."
Photographs by Eric Bean will be exhibited through May 31 at High Falls Mercantile, 113 Main Street, High Falls. (845) 687-4200.
www.highfallsmercantile.com
Portfolio: www.ericbean.com
­