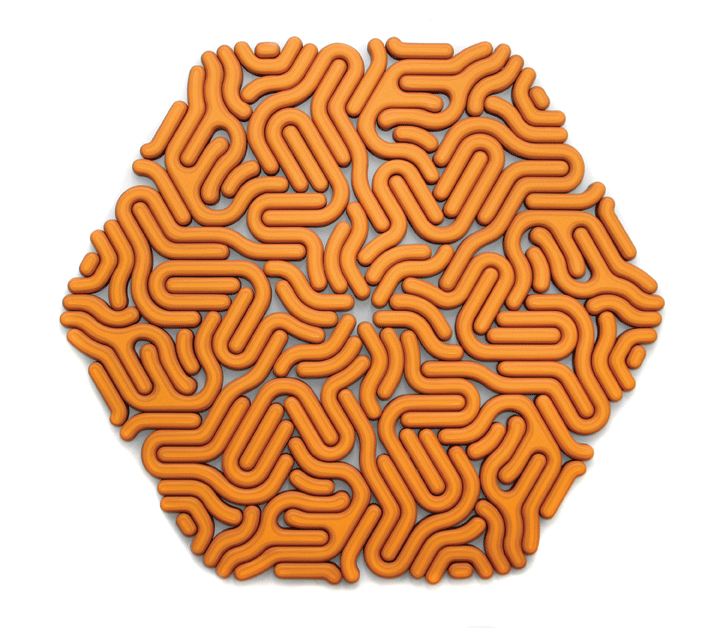 peter barrett | oil on urethane | 30" x 40" | 2011
Art has been a defining influence throughout Peter Barrett's life. "When I was two, my mom had a long phone call and I covered the entire kitchen floor drawing patterns with blue magic marker," he says. (The kitchen has also played an integral role in Barrett's creative development: The Woodstock resident is Chronogram's Food and Drink editor and an award-winning food blogger.)
Since his early days as a precocious interior designer, Barrett has created abstract works and designs in the forms of paintings, drawings, three-dimensional objects, large installations (some spanning over 70 feet), photography, video, and reliefs. He says one of the defining advantages to abstraction is that it can stay open ended. "I try and give titles that are evocative but not too specific," Barrett says. "My work can evoke a lot of things without being any of them."
Barrett's Burner, made up of numerous squiggles of urethane foam, is one of his first relief works not entirely handcrafted from start to finish. He first drew the image using CAD software then sent the fiberboard to be cut, and finally he hand-painted each segment—a process that enabled a more intricate and ambitious piece. Up to his most recent works, Barrett meticulously hand cut and painted every element. "The most exciting part about Burner for me was that I was able to achieve levels of precision that I wouldn't have been able to if I were creating by hand," says Barrett.
Damarys Ocaña noted in a 2003 article in Art Seen on Barrett: "Every last inch of surface on his paintings and objects, is considered, mapped, accounted for, and obsessively worked over with orderly layers of paint and pattern. Even the paintings on fancifully shaped fiberboard are just so."
With swirling, trippy, loud-colored motifs and worm-like objects, his work references ideas of science, nature, sacred geometry, and pop psychedelia. Dating back to the early 2000s, Barrett's work incorporates a mix of bright and occasionally garish colors with fascinatingly murky hues in between.
The bulk of his art employs complex and elaborate patterns reminiscent of textile designs. Barrett says he has always been obsessed with textiles because they date back thousands of years. A longtime fan of mosaics, especially from Islamic design, Barrett had the opportunity to spend a few weeks in Morocco during college, where he drew mosaic patterns constantly. These designs still directly impact his work today.
Barrett studied painting both in undergrad at the Rhode Island School of Design and at the Art Institute of Chicago for his graduate studies. He has exhibited his work in numerous one-person and group shows in the US and Europe. Burner and other works in Barrett's series "Eppur Si Muove" will be displayed at the Woodstock Framing Gallery in Woodstock from February 4 through April 1. An opening reception will be held on Saturday, February 4, 5 to 7 pm. Portfolio: Barrettart.com