Jenny Morgan, Entering the Field At Night
Jenny Morgan's paintings are a striking combination of realism and surrealism––creating mesmerizing female faces on canvas. "I think painting is a kind of magic," Morgan says.
In her upcoming solo exhibition, "To Bathe the World in a Strange Light" at Mother Gallery in Beacon––opening on April 17––Morgan explores the notion of a mental landscape playing with different sides of femininity like witchcraft and spirituality. "I am looking for that spirit and ghost in people, that emotion and that invisible energy," Morgan says.
Morgan painted Entering the Field at Night during March and April of last year, just as the lockdown began. "I worked on this piece deep into the new orb of isolation," she says. "Living in the city is isolating in itself, and I think that many people turn to painting landscapes because we crave it. There's the idea of being in a field in this sort of dreamscape and connecting to nature in this psychic space when we're sleeping and deeply unconscious."
Morgan says creative inspiration struck after uprooting from her Bushwick studio after nine years to be closer to home, allowing her to relax and just create. "I feel safe to let go and paint, and that dynamic is a push-and-pull thing," she says. "Painting is my sacred meditation."
Paola Oxoa, owner of Mother Gallery, has witnessed Morgan's artistic development since their time as undergrad students together. Morgan is grateful for their connection, and calls the opportunity to showcase her work at Mother Gallery a gift. "Painting has been my saving grace during the pandemic, and it has helped me process and survive what's happening in the world," she says.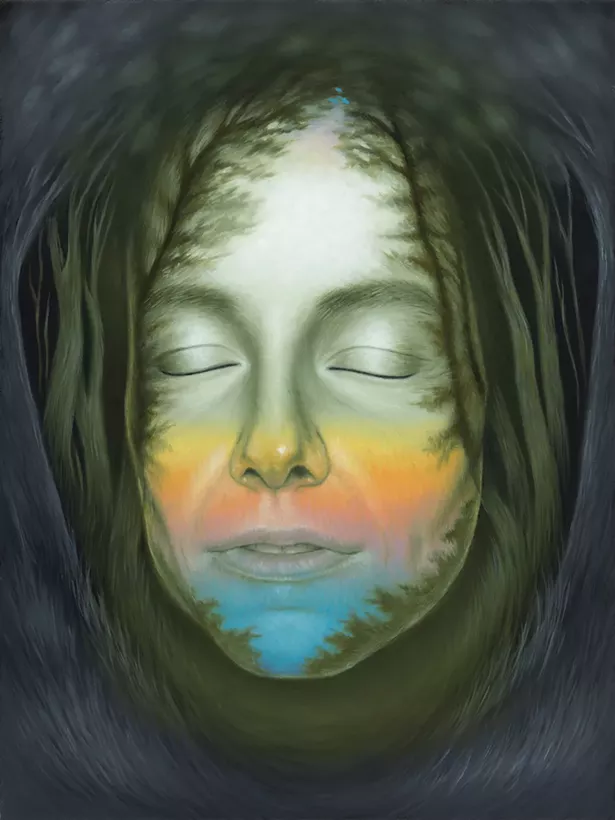 Morgan's upcoming show at Mother Gallery will be her first solo exhibition in New York in over five years, and in light of the pandemic, she is craving the interaction with other artists and art lovers. "As a painter, I spend my time sitting in a room alone and I crave that human connection," she says. "There is this social aspect to art that works in this complex ecosystem. And I feel like I'm just starved for seeing others work in person. It's so much more powerful and valuable."
Morgan has taken all her energy and thrown it into this body of work in the midst of the pandemic. "Artists work in isolation and this time has just been a real test of that," she says. "The art world is changing and I think that museums are important public spaces. I have a deeper appreciation for them now."
"To Bathe the World in a Strange Light" opens at Mother Gallery on April 17 and will run through May 23.