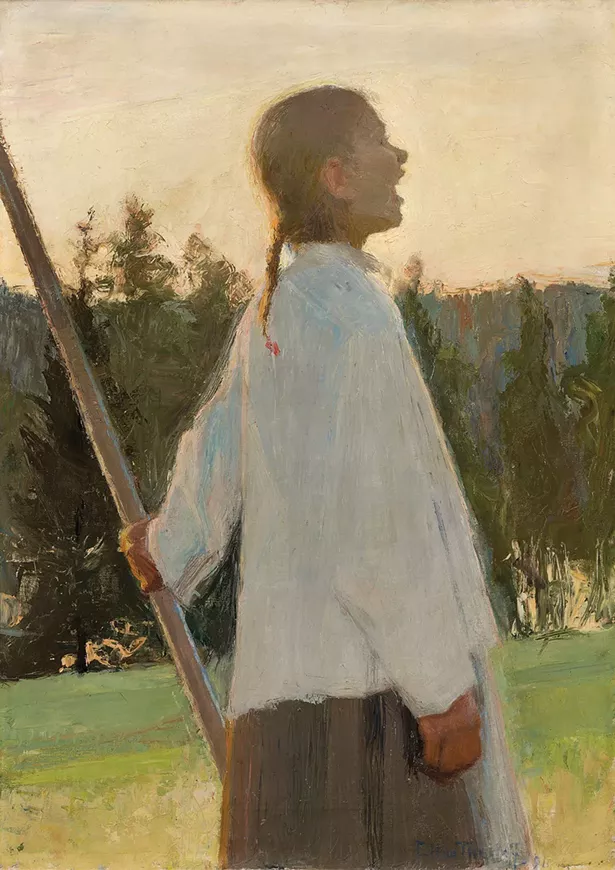 Echo | ellen thesleff | oil on canvas | 1891
In the late 19th century, women began chipping away at the glass ceiling of the mainstream art world. "Women realized that they couldn't stay in their own separate sphere if they wanted to be considered serious artists and make a living," says Alexis Goodin, curatorial research associate at the Clark Art Institute in Williamstown, Massachusetts. Female artists began vying for their work to be shown alongside their male counterparts, their dogged efforts ultimately catalyzing the female art renaissance of late 19th-century Paris.

"At the time, Paris was the most important place in the western world to train [in painting]," says Laurence Madeline, curator of the "Women Artists in Paris, 1850-1900" exhibit, which opens at Clark Art Institute on June 9. Paris offered private studios with professors who were willing to teach women—a rarity at the time. "The museums and all the exhibition places (salons) also afforded the opportunity to view a large range of art, from past works to contemporary," Madeline says. As such, Paris was a gathering place, and young and striving artists gathered like moths to a flame to learn, converse, and grow their careers alongside like-minded peers.
"Paris was the center of the art world, and, despite restrictions, there were many opportunities for women artists to train," Madeline says. "Women formed female networks and supported new organizations, such as the Union of Women Painters and Sculptors, which advocated for women artists and opened up a new exhibition venue," Madeline says. Women did all they could to both work alongside and emulate their male counterparts. In terms of style and subject, Madeline says that "women artists painted many of the same subjects as their male peers, but approached the subject from a different perspective." All throughout, women fought for their work to be shown alongside men's and for their paintings judged on merit, not gender.
The cover artwork, Echo, is by Finish expressionist Ellen Thesleff, who moved to Paris in 1891 to join the movement after studying drawing in her home country. She was inspired by the many great painters producing in France at the time. "She obviously studied Eugène Carrière and Whistler," Madeline says. "She saw Manet and the Impressionists and certainly naturalist painters like Jules Bastien-Lepage, who was very important at that time." Despite the conservative nature of the Paris art scene at the time, Thesleff, like her female contemporaries, was able to break into the art world. "Like any artist, [she was driven] by the need to create, whatever the conditions."
Madeline describes Echo as a symbolist work. "There are several meanings to this painting," Madeline says. "First, the scream of a very young girl in the country. Behind that, the discovery of the nature, of the 'me,' of one's position in the world—being part of it—and the power that can have on this world."
"Women Artists in Paris, 1850-1900" will be exhibited from June 9 through September 3 at the Clark Art Institute in Williamstown, Massachusetts.