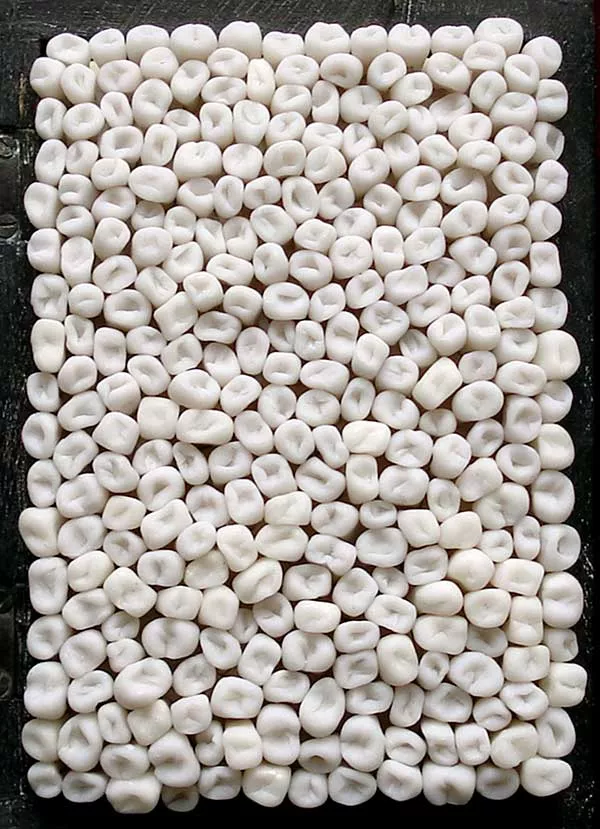 Teeth Boxes; Victoria Manning; wooden boxes, hand-sculpted porcelain clay teeth; 2009.
Losing teeth means different things depending on your stage in life. In childhood, it means growing up, perhaps earning a dollar from the Tooth Fairy, and believing the pieces we lose of ourselves will return to us. As we age, losing teeth signals loss of youth, decay, and the weight of our own mortality.
Looking as if she raided the Tooth Fairy's closet, Victoria Manning captures this dichotomy in Teeth Boxes, which contains hundreds of hand-sculpted porcelain clay teeth—resembling ivory tombstones—housed in five wooden containers.
What started as a cursory knowledge of history has become a "voracious curiosity" that often influences and roots itself in the foreground of Manning's work. Teeth Boxes—which is part of her "Wedgwood" series, inspired by Thomas Wedgwood's lost photographic attempts—explores the relationship between the past and memory, and reveals what is retained and forgotten after we have been ravaged by time.
Manning, whose background is in photography, had never worked with sculpture before. For an entire summer, her house was filled with trays containing tiny teeth in various states of finish. The teeth are not anatomically perfect, because she was aiming for an organic, free-form, and random collection. Manning believes the clustering of these referential pieces creates something nonreferential. "It's little parts of a person," she says. "En masse, in this large accumulation, these parts become something else."
That "something else" is subjective as she describes this piece as a "looser, less direct" project.
Repetitive gathering of objects—whether found or created—is a recurring theme of Manning's work. In Teeth Boxes, this repetition is tinged with irony because, like fingerprints, no two teeth are the same. "You can identify people by dental records," she says. "There's not going to be a repetition of that." Despite the mass quantity of teeth, the piece still feels personal and individualistic.
Teeth Boxes spells out what we already know but won't say—when we're gone, all that will be left is pieces. Despite the fact that the teeth are artificially made, Manning recognizes a "certain realness" in her representation. She compared her mass accumulation to the physical, sentimental mementos people keep, like a strand of hair from a first haircut or a few baby teeth. "It's collecting remains or traces of people, the little bits that stay behind," Manning says. "It's an obsessive piece in a way—obsessive, compulsive grouping."
Victoria Manning's Teeth Boxes will be exhibited at Ann Street Gallery in Newburgh as part of the group show "Abstractions: New Modernism," which will be on view though April 13. There will be an opening reception on Saturday, March 2, from 6:30 to 8:30pm.